Smokey the Bear is a national icon in the United States. He is best known for his role as the fire prevention spokesbear for the State Foresters. Smokey first appeared in 1944 in an advertising campaign for the Cooperative Forest Fire Prevention Program. We take a look at some Smokey Bear collectibles,  Smokey Bear merchandise and Smokey Bear memorabilia with a price guide of a few items. (Click to view current Smokey the Bear items on ebay).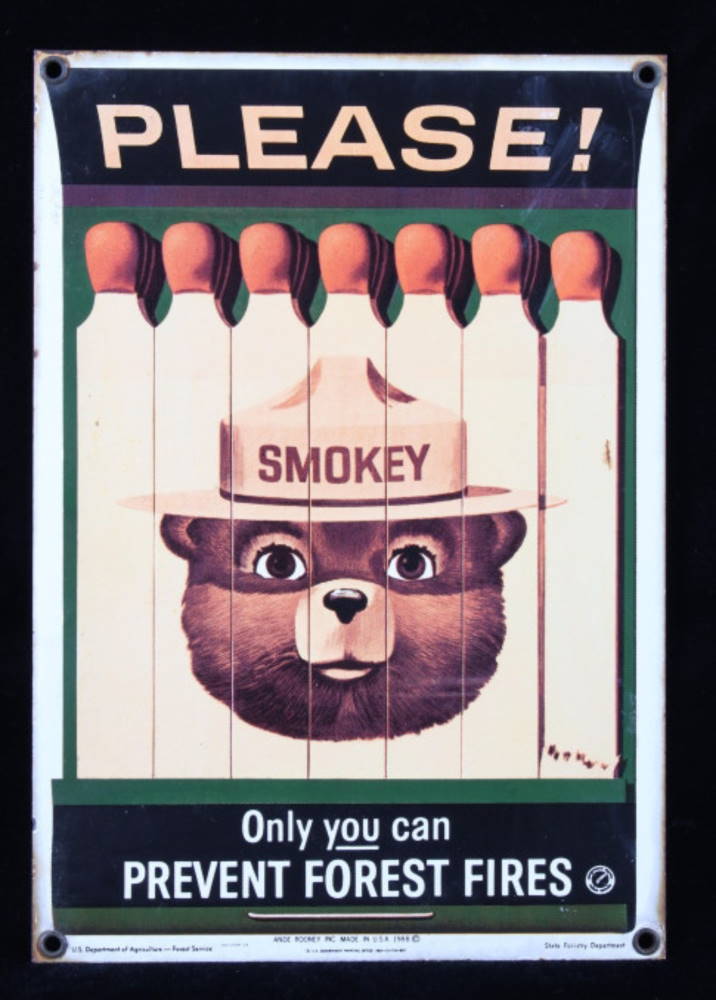 In his early years, Smokey was shown wearing jeans and a forest Ranger hat, and he quickly became a popular figure with both children and adults. In 1947, Smokey's message was expanded to include the prevention of all outdoor fires, not just forest fires.
In 1951, an artist named Rudy Wendelin gave Smokey a new look. Rudy made Smokey more humanlike and gave him a friendlier appearance. Rudy also changed Smokey's catchphrase to "Remember… Only YOU Can Prevent Forest Fires!" This new look and catchphrase are the ones we know today. Over the years, Smokey has appeared in countless public service announcements, commercials, and movies. He remains one of the most recognizable symbols of fire prevention today. Thanks to Smokey's efforts, countless acres of forest have been saved from destruction by fire.
Did you Know? Bambi was considered as the mascot but eventually a bear was chosen.
Smokey Bear Collectibles
Smokey was a popular character and a great number of different collectibles have been created over the years by a number of companies such as Ideal, Dakin, Knickerbocker and Okay Industries. Items included dolls, plush toys, and plastic bears. Lunch boxes and Cookie jars were especially popular with Smokey Bear designs.
Smokey also appeared in books and of comics including a series Smokey the Bear published by Dell in 1955 and later including The True Story of Smokey the Bear by Western Publishing in 1959 and later Gold Key comics issued 13 Smokey the Bear comics in a series that ran until 1973.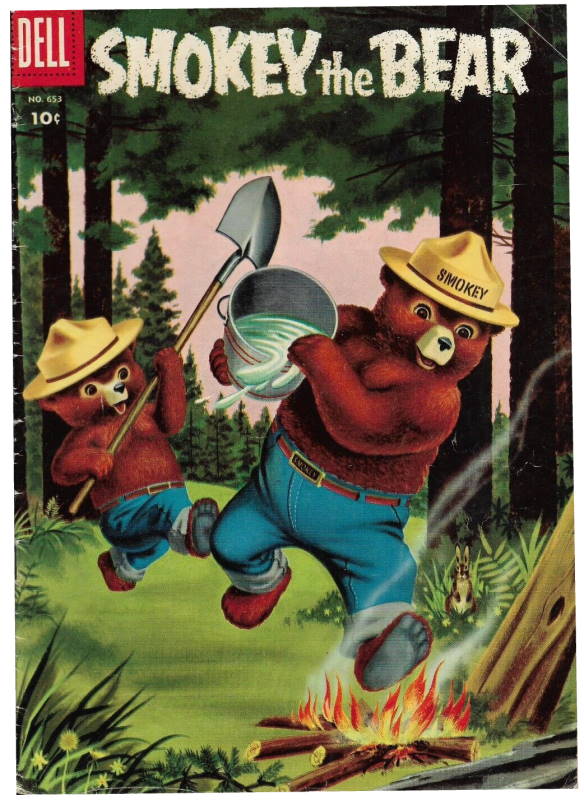 The Gabriel range of Smokey Bear die-cast are very popular and the collection includes Smokey Bear and His Jeep, and the Smokey Bear Ranger Set.
Three Facts about Smokey the Bear
1. Smokey the Bear is a well-known symbol of fire prevention. He was created in 1944 by the U.S. Forest Service and the Ad Council. The character of Smokey the Bear was inspired by a real-life bear who was rescued from a forest fire in 1950. Smokey has been featured in countless public service announcements and is one of the most recognizable characters in American pop culture.
2. The message of Smokey the Bear is simple: only YOU can prevent forest fires. This message has resonated with generations of Americans and has helped to reduce the number of wildfires that occur each year. According to the National Park Service, wildfires are now occurring at half the rate they did when Smokey first appeared on television screens across America.
3. While Smokey the Bear is primarily known for his work in preventing wildfires, he also helps to promote other forms of conservation such as energy efficiency and water conservation. In recent years, Smokey has even been featured in ads encouraging people to vote! No matter what his latest message may be, one thing is clear: Smokey the Bear is an American icon who will continue to educate and entertain people for years to come.
Smokey Bear or Smokey the Bear? Up until the 1960s the character was referred to as Smokey the Bear and later as just Smokey Bear.
Smokey Bear 50th Anniversary Collectibles
In 1994 Smokey Bear celebrated his 50th Anniversary and a number of collectibles were created including plates, cookie jars, badges, bandanas, plush toys and even baseballs.
Smokey Bear Related
The Smokey Bear Association

Advertising Collectibles Related
Mr Peanut Collectibles information and price guide
Charlie Tuna Collectibles information and price guide
Reddy Kilowatt Collectibles information and price guide
How the Jolly Green Giant became an American Icon
Cap'n Crunch Collectibles information and price guide