Created in 1916, Mr Peanut was the advertising logo and mascot of Planters, an American snack-food company owned by Hormel. He was depicted as an anthropomorphic peanut in its shell, wearing the formal clothing of an old-fashioned gentleman, with a top hat, monocle, white gloves, spats, and cane. He has been a regular feature on Planter's advertising ever since. We take a look at some Mr Peanut collectibles,  Mr Peanut merchandise and Mr Peanut memorabilia with a price guide of a few items. (Click to view current Mr Peanut items on ebay).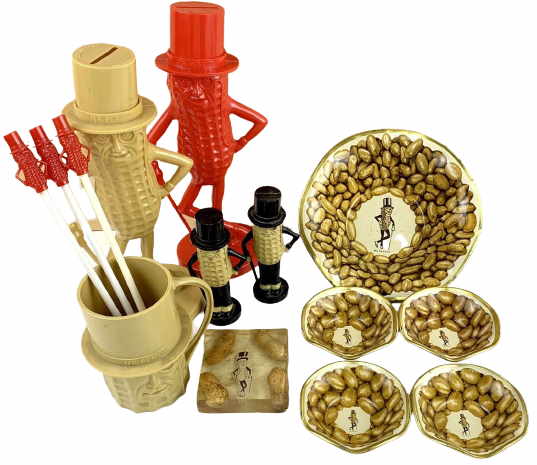 Mr. Peanut was created in 1916 by Antonio Gentile, a schoolboy who submitted his sketch to win the Planters brand contest for a brand icon. Commercial artist Andrew S. Wallach completed the iconic image by including the monocle, top hat, and cane after his design was chosen.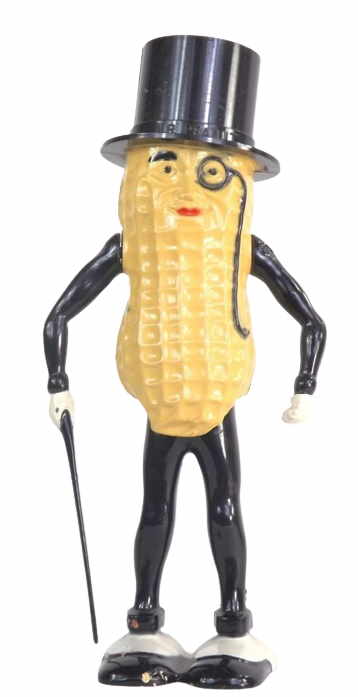 Mr. Peanut first appeared on a billboard in Times Square in 1937 and in the 1950s he started appearing in commercials on TV.  In 2004 the Mr. Peanuts character earned a spot on Madison Avenue's Advertising Walk of Fame. He remains one of the most iconic advertising characters in history.
The Mr. Peanut has appeared on many promotional items like signs, mugs, pins, badges, pens, mirrors and glasses. He can also be found on lamps, lunch boxes, clocks, money banks, wind up toys and also in figural form in many advertising and marketing items. A number of special pieces have been created for various Mr. Peanut anniversaries including 50th, 75th and 100th year.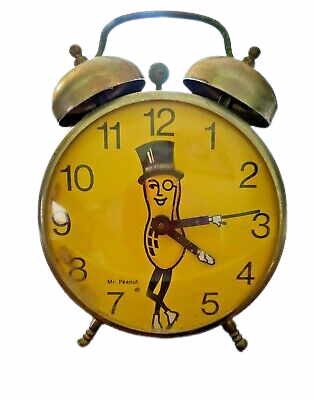 The Death of Mr Peanut in 1916
Planters announced that Mr. Peanut would be killed off in a 2020 Super Bowl commercial. The company said that the 104-year-old mascot would meet his end in a " heroic way ." Mr. Peanut, Wesley Snipes, and Matt Walsh appeared in the Planter Super Bowl LIV commercial trailer. After accidentally driving the Nutmobile off a cliff to avoid an armadillo, the group was shown hanging onto a branch. Mr. Peanut then decides to let go and fall to his death onto the Nutmobile, which then explodes.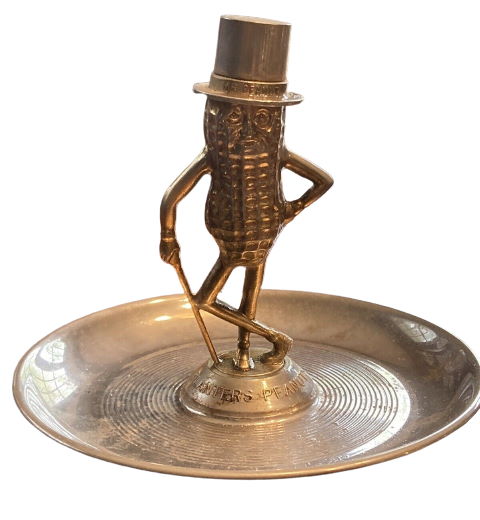 Mr Peanut's funeral was part of Planter's Super Bowl advertising campaign and featured Kool-Aid Man, Mr. Clean, and other mascots attending Snipes and Walsh's funeral for Mr. Peanut. In response to Kool-Aid Man's tears and sunlight, a new, younger version of Mr. Peanut known as "Baby Nut" emerges from the ground. There was lots of negative reaction and even more when Baby Nut aged 21 years. In February 2021 Mr. Peanut returned to full adulthood and original appearance.
Mr. Peanut A NUT ABOVE® 
A NUT ABOVE® What does this mean? It's a simple, it's the MR. PEANUT® character. He's a nut of substance and quality. He will push you to be better because if you know better, you will be better.
The Peanut Pals -The Associated Collectors of Planters Peanut and Mr. Peanut Memorabilia
In 1978 with permission from Planters President Douglas Lauder the Peanut Pals club was created. It was founded in 1978 by Judith Walthall after she and her family began collecting Mr. Peanut items and discovered many of the items they found had never been documented and that much of the information had been lost over the years.  The club also received permission to use the Mr. Peanut name and device.
The club offers membership and runs conventions dedicated to the Mr Peanut collectibles and memorabilia.
Related
The Mr. Peanut® Character In The Spotlight
Mr Peanut Facebook page
The Peanut Pals club
Charlie Tuna Collectibles information and price guide
Reddy Kilowatt Collectibles information and price guide
How the Jolly Green Giant became an American Icon
Cap'n Crunch Collectibles information and price guide