Charlie the Tuna is a longtime advertising mascot for StarKist, appearing in commercials from 1961 to present. The Star-Kist advertising character Charlie Tuna is one of the most enduring and recognizable brand mascots in American history. Charlie was created to communicate the message that Star-Kist tuna was "the best tuna for your sandwich." Over the years, Charlie has appeared in a wide variety of ad campaigns and public service announcements, endearing himself to generations of Americans.  We take a look at some Charlie Tuna collectibles and Charlie Tuna merchandise with a price guide of a few items. (Click to view Current Charlie Tuna items on ebay).
The Charlie Tuna character was created by advertising agency Young & Rubicam for the StarKist seafood company in 1961. Over the years, the Charlie Tuna character has undergone several facelifts, but his essential features remain the same: he is a humanoid tuna fish with a large head, big eyes, and a massive grin. He wears glasses and normally sports a bright red or yellow beret (sometime pictured with the name Charlie on it). With his friendly demeanor and love of all things seafood, Charlie Tuna has become one of the most recognizable characters in advertising history.
In the original commercials, Charlie was voiced by actor and comedian Harold Gould. The character was created by copywriter Bob Koch and art director Roger Gibbs of the advertising agency Dancer Fitzgerald Sample. Charlie is depicted as a anthropomorphic blue tuna who is eager to be caught and canned by Starkist, but is rejected because he is "too good" – he is "only caught in the deep blue sea" and "doesn't swim with just any school". Despite this rejection, Charlie remains optimistic, saying "Let's keep trying, I know Starkist will find me… someday." In later commercials, Charlie was voiced by Robert Ridgely (from 1976 until his death in 1997), and then by Glenn Wilder beginning in 1998. Charlie's catchphrase is "Sorry, Charlie".
The Charlie Tuna character has been a popular advertising mascot for Starkist canned tuna since 1961. Over the years, the company has released a wide range of collectibles and merchandise featuring the character, including toys, clocks, glasses, figures, money banks, watches, lamps, lunchboxes, clothing and even bathroom scales. Many of these items are now highly sought-after by collectors.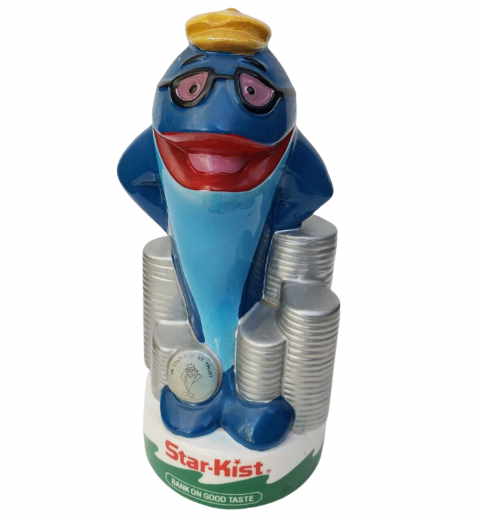 In 2019 Funko released a Funko POP! Charlie the Tuna model.
Related
Charlie's Favorite Moments at StarKist
Mr Peanut Collectibles information and price guide
Reddy Kilowatt Collectibles information and price guide
How the Jolly Green Giant became an American Icon
Cap'n Crunch Collectibles information and price guide
The Story of Charlie the Tuna video