Cap'n Crunch is the officious yet lovable mascot for the breakfast cereal of the same name. First introduced in 1963, the Cap'n has been a fixture of popular culture for generations. He is most commonly depicted as a bearded Naval officer, complete with traditional uniform and hat. We take a look at some Cap'n Crunch Collectibles with a price guide of a few items. (Current Cap'n Crunch Collectibles on ebay).
Seadog and the Cap'n Crunch Crew
Cap'n Crunch's first mate Seadog and his crew of sailor children are always up for a adventure on the high seas. Seadog is a strict but fair leader, and his crewmates Alfie, Dave, Brunhilde, and Carlyle are always ready to follow his orders.
They've been through a lot together, and there's nothing they can't handle as long as they're working together. Seadog knows that teamwork is the key to success, and he's never afraid to take on whatever challenges come their way. Whether it's battling pirates or searching for lost treasure, Seadog and his crew are always up for the task. Thanks to their courage and determination, they always find a way to succeed no matter what obstacles they face.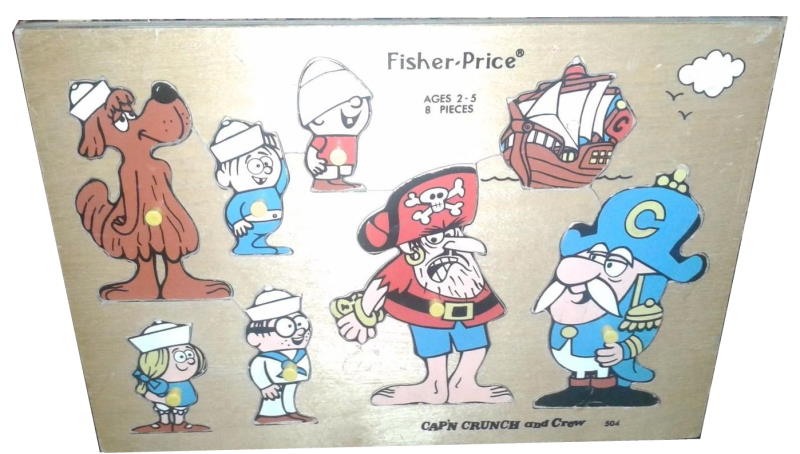 Cap'n Crunch Villains
Jean LaFoote is the primary antagonist of the Cap'n Crunch franchise. He is a French-speaking pirate with a peg leg and an eye patch who is always in search of Cap'n Crunch's secret formula. Jean LaFoote first appeared in 1968, in the cereal commercial "Pirate's Treasure." In this commercial, he unsuccessfully tries to trick Cap'n Crunch into giving away his secret formula. Jean is always trying to steal the Cap'n's secret formula. But no matter how many times he fails, he always comes back for more. While Jean may be a menace, he's also a pretty lovable character. In fact, his mischievous ways have even earned him a spot on the Cap'n Crunch cereal box.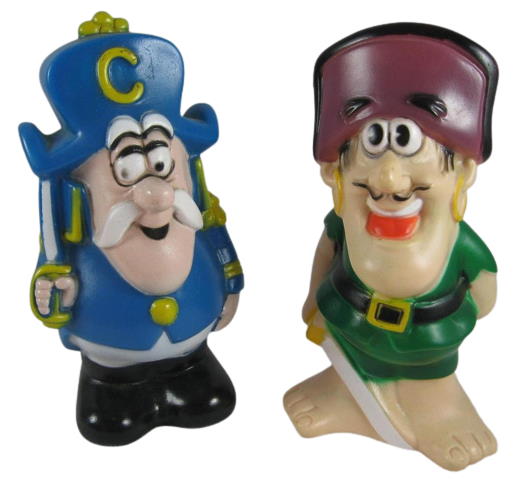 Over the years, Jean LaFoote has made numerous other appearances in Cap'n Crunch commercials and cereal boxes. He has also been featured in a variety of spin-off products, including a board game and a breakfast pastry. While Jean LaFoote is undoubtedly the most iconic villain of the Cap'n Crunch franchise, he is not the only villain; other antagonists include the Soggies. The Soggies are a group of villains who regularly appear in the Cap'n Crunch cereal franchise. They are distinguished by their green skin and unique clothing, which is made out of soggy seaweed. The Soggies reside in a underwater cave, where they plot to steal Cap'n Crunch's delicious cereal. In order to defeat them, Cap'n Crunch must use his trusty sword to cut through their seaweed clothes. Although they are not the most threatening villains, the Soggies have proven to be a nuisance for Cap'n Crunch on numerous occasions.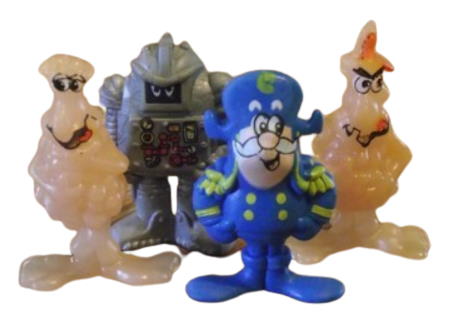 The Cartoon Commercials
Jay Ward Productions is best known for creating the beloved cartoon characters Rocky and Bullwinkle, but the studio also produced a series of popular commercials for Cap'n Crunch cereal in the 1960s. The commercials featured the eponymous Cap'n, a nautical adventurer with a crew of ragtag misfits, battling the evil pirate Jean LaFoote in an effort to protect his cereal from being stolen. The ads were incredibly popular, and helped to boost sales of the cereal. However, they also generated a fair amount of controversy, as some parents felt that the violence depicted in the commercials was inappropriate for young children. Ward himself was unapologetic about the ads, however, and defended them as harmless fun. Today, the Cap'n Crunch commercials are considered a classic example of Jay Ward's unique brand of humor, and continue to be enjoyed by generations of viewers.
Cap'n Crunch Collectibles and Merchandise
Fans have been collecting Cap'n Crunch collectibles memorabilia for decades. The Captain and other characters have appeared on items including money banks,  t-shirts, hats, keychains, cereal bowls, balls, Zippo lighters, PEZ and even inflatable rafts. In recent years, Funko has released a line of collectible Pop! Vinyl figures inspired by the Cap'n, his crew and boxes. For hardcore fans, there are even life-sized replicas of the Cap'n Crunch box available for purchase.
Collectors are also interested in the Free Gifts (Premiums) that were often given away with promotional packs and included plastic hand puppets, wiggle figures and bosun whistles. The premiums are some of the most valuable items. Vintage boxes and packets are also a popular aspect of collecting.
Related
Mr Peanut Collectibles information and price guide
Charlie Tuna Collectibles information and price guide
How the Jolly Green Giant became an American Icon