In the 1920s, electric power companies began using a new mascot to promote their brand: Reddy Kilowatt. Designed to appeal to both children and adults, Reddy was a jovial character with a large round head with a light bulb for a nose and lightning bolts for body, arms and legs. He was often seen engaged in various activities that require electricity. We take a look at some Reddy Kilowatt Collectibles with a price guide of a few items. (Current Reddy Kilowatt Collectibles on ebay).
He quickly became one of the most recognizable symbols of the electric industry and was used by many of the electric companies, appearing in ads, comics, and on many promotional items like signs, mugs, pins, badges, pens and glasses. He can also be found on lamps, lunch boxes, clocks, Zippo lighters and also in figural form in many advertising and marketing items.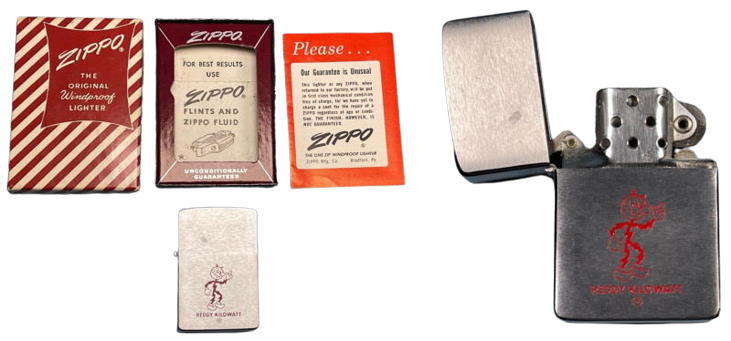 The Reddy Kilowatt character was created by Ashton B. Collins, Sr. an electrical engineer who is best known for creating the Reddy Kilowatt character. Collins was born in Florida in 1893 and graduated from the University of Florida with a degree in electrical engineering in 1916. He began his career working for an electric utility company in Jacksonville, Florida. In 1919, he moved to Birmingham, Alabama, to work for the Alabama Power Company.
A selection of Coffee Mugs featuring Reddy Kilowatt
It was during his time with Alabama Power that Ashton B. Collins, Sr. came up with the idea for Reddy Kilowatt. He saw a bolt of lightning that looked like a little man. The character, which was designed to promote the use of electricity, made its debut in 1926.
In 1992, for the 65th birthday of the Reddy Kilowatt character, a special line of Reddy Kilowatt  collectibles was created. There were 30 items created including figurines, keychains, and other items featuring the Reddy Kilowatt character. They were produced by several different companies and proved very popular. The collectibles were popular with collectors of both Reddy Kilowatt memorabilia and electric utility company memorabilia.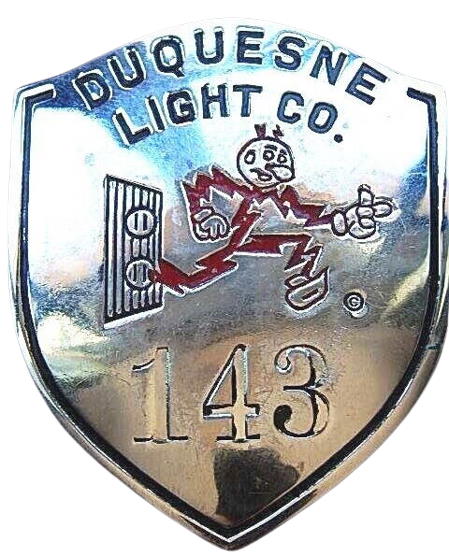 In terms of value the money is in original electric company signs with some rarer examples in excellent condition selling for over $5,000.
Today, nearly a century after he was first introduced, Reddy Kilowatt remains an iconic figure in the world of marketing. And although the electric industry has changed dramatically since the 1920s, Reddy's message of clean, safe, and affordable electricity is as relevant as ever. The Reddy Kilowatt is owned and licensed by Xcel Energy.
Related
Whatever happened to Reddy Kilowatt?
Mr Peanut Collectibles information and price guide
Charlie Tuna Collectibles information and price guide
How the Jolly Green Giant became an American Icon
Cap'n Crunch Collectibles information and price guide