Continuing our Halloween 2022 look at some of the horror themed editions released by Royal Doulton we feature the Royal Doulton Frankensteins Monster Character Jug. The Frankenstein's Monster jug was modelled by Martyn Alcock who is probably most well known at Doulton for his Bunnykins.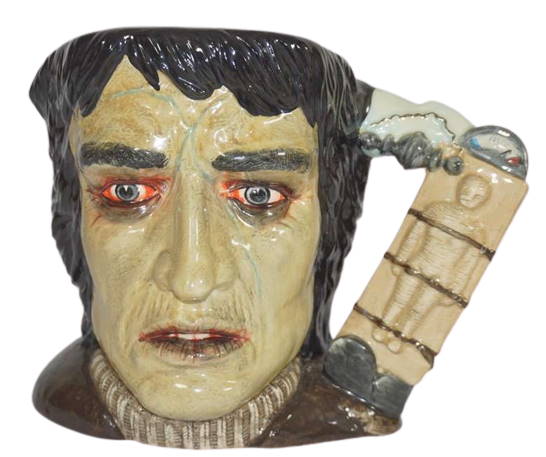 The Royal Doulton Frankensteins Monster Character Jug was released in 1996 in an edition of 2,500, and had a model number D7052. Other horror pieces we are featuring include Count Dracula and The Phantom of the Opera. The model shows a very menacing monster with a deathly green glazed face, bloodshot eyes and blood around the mouth. The handle features the Frankenstein's Monster on the slab with a volt meter above ready to take in the lightning electricity to awaken him.
The reverse of the handle features the tower from the Frankenstein Castle.
Frankenstein is a novel by Mary Shelley that was first published in 1818. The novel tells the story of Victor Frankenstein, a young scientist who creates a creature from the parts of dead animals. However, once the creature comes to life, it is hideous and Frankenstein abandons it. The creature then starts to kill people, leading Frankenstein to pursue it. Frankenstein is considered to be one of the first science fiction novels and has been influential in popular culture. It has been adapted into numerous films, TV shows, and stage productions. The novel continues to be widely read and is an important part of the horror genre.
Price Guide For normal edition £40-£50.
Related
Toby Jugs and Character Jugs