When Stuart Peabody, Borden's director of advertising, conceived Elsie the Cow in the 1930s, he might not have envisioned her transformation into a beloved cultural icon. Elsie was born from a mission to shift the skeptical perception of dairy processors, serving as an emblem of trust and quality for the Borden Dairy Company. In this feature we take a look and the history of Elsie the Cow with particular reference to Elsie the Cow collectibles, Elsie the Cow merchandise and Elsie the Cow memorabilia with a price guide of a few items.  (Elsie the Cow Collectibles on ebay

).
Her magnetic charm was undeniable. By 1939, Elsie graced the pages of general magazines. The public's embrace was so warm that a real-life cow was chosen to personify her, making appearances nationwide.
Elsie's fictional life was a fairy tale. She married Elmer the Bull of Elmer's Glue fame, and together they welcomed calves, Beulah and Beauregard. In 2000, her legacy was stamped when she was honored as one of the top 10 ad icons of the century. Beyond accolades like "Queen of Dairyland" in Wisconsin and being named honorary chief of the Seneca Indian Tribe, Elsie boasts whimsical academic honors, such as Doctor of Bovinity and Doctor of Ecownomics.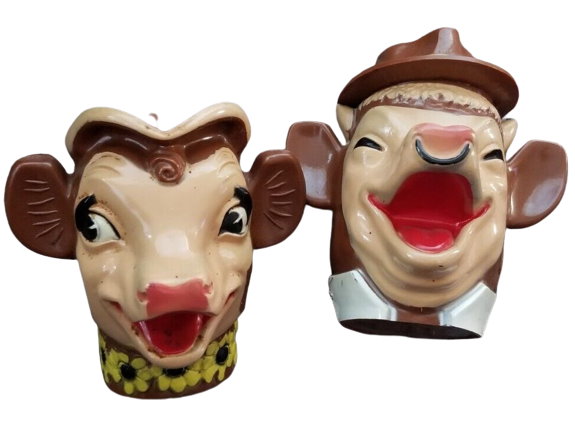 Beyond the Dairy Aisle: Elsie the Cow Collectibles Charm
Elsie's charm was not confined to ads. Her likeness inspired a vast array of collectibles, cherished by enthusiasts worldwide.
Ceramic enthusiasts revel in Elsie figurines, ranging from dainty trinkets to substantial decorative items. Toy collectors hunt for vintage Elsie plush toys and wind-ups from the mid-20th century. Home chefs and nostalgia lovers alike seek out kitchenware adorned with Elsie's face, be it milk bottles, plates, or mugs. Original magazine ads, especially from Elsie's earlier days, offer a peek into the bygone era of advertising, making them a favorite among collectors.
Additionally, pins, badges, postcards, and books featuring Elsie and her adventures offer not just a nostalgic charm but a testament to her lasting influence.
Elsie the Cow is a masterclass in branding. She transitioned from an advertising campaign to a cultural phenomenon, captivating generations. From kitchen counters to collectors' shelves, her legacy stands strong, reminding us of a simpler time when a dairy cow could capture a nation's heart.
Related
Charlie Tuna Collectibles information and price guide
Reddy Kilowatt Collectibles information and price guide
How the Jolly Green Giant became an American Icon
Cap'n Crunch Collectibles information and price guide