The Sheaffer PFM (Pen For Men) was a fountain pen aimed at the male market and was first introduced in 1959. It had a sleek, modern look and came in five different models, PFM1 to PFM5. In this post, we'll explore the design of the pen and include Sheaffer PFM (Pen For Men) price guide / value guide with realised auction prices. (Click for current Sheaffer PFM items on ebay.com and ebay.co.uk)
The design of the Sheaffer PFM
The pen was advertised as a 'Bold New Pen Designed For Men'. It features included:
New Bold Styling, With A Balance And Heft. A Solid Feel And A Man-Sized Grip.
Only Inlaid Point In The World! 14Kt Gold. Built To Take Man-Sized Pressure.
New Massive Capacity Is Provided By Man-Sized Barrel
The different models of the Sheaffer PFM
At last, a fountain pen proudly designed for men! Five models, in a variety of styles, masculine colours and hand-craftedb, precision ground points.
There were five models created from the PFM I to PFM V. The PFM I had a plastic barrel stainless steel clip and palladium silver nib. The specification for the pens increased with each model reaching the PFM V which featured a gold plated cap and plastic barrel, gold filled clip and plunger cap end plate, and 14kt gold nib. All the pens featured the Sheaffer inlaid nib a hallmark of the company. All the models featured the Sheaffer white dot except the PFM I.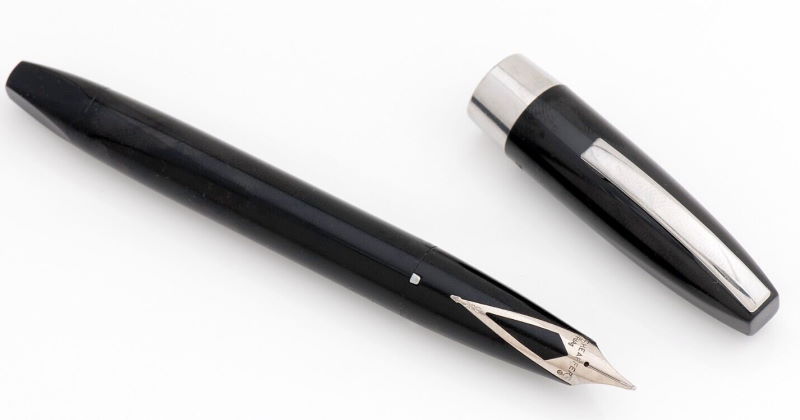 The White Dot, symbol of Sheaffer's Lifetime Warranty, was applied to Sheaffer pens. This simple hallmark automatically distinguishes itself as a leader and foundation amongst pen companies. The first pens introduced with the White Dot were marketed as, "Unconditionally guaranteed to work for a lifetime."
Matching pencils and gift sets were also available.
Price Guide / Value Guide
The market for pens is stronger in the USA than the UK. Prices are estimates for pens in very good and working condition.
PFM I $250-$350
PFM II $250-$350
PFM III $200-$300
PFM IV $250-$350
PFM V $250-$350
For fine, fully working and renovated examples prices can be doubled.
Related
The History and Art of Dunhill Namiki Pens
Mont Blanc 149 Fountain Pen information and price guide
Sheaffer PFM: The Pen For Men 1959-1968 at PenHero.com 
Sheaffer Company History at Sheaffer.com