The Legendary "Land of Legends" by Randy Gulliver "History that was and never was."
After launching Lilliput Lane in September, 1982, no one was more surprised than founder David Tate at the rapid success of his "cottage" industry. The company had done well with its models of vernacular English architecture, and, by 1985, it was ready to broaden its scope. To that end, Tate and assistant sculptor Tom Raine spent several weeks touring Germany, searching for potential models for a proposed German collection. It's likely that, during this trip, the dark, Gothic architectural style of the Teutonic castles that they visited helped to shape the "legend" that followed.
The Legend Begins
  Collectors were asking for miniature castles, and in July 1986, Lilliput responded by releasing the Castle Collection, sculpted by Tom Raine.
The tone of the collection was a far cry from Tate's original vision of "preserving vernacular architecture". The Castle Collection was about fantasy, a mixture of Arthurian legend, pseudo-Medieval poetry, and pop psychology. There was a tale to be gleaned from the sculptures, a symbolic journey, a spiritual quest to find "the hero within".
Pictured right: Dennis the Dragon
First out of the gate was the new line's Dealer's Sign, "Dennis the Dragon". In the 1986 interview that accompanies "Packhorse Bridge – Dealer's Sign", David Tate says,"Dennis the Dragon is our little flagship, our gate into the world of mythology." Only available for 18 months, this piece evokes a response that Lilliputs rarely achieve – a genuine sense of whimsy.
In its original release, the Castle Collection consisted of six models:
Castle of the Exiled Prince
Castle of the Golden Chalice
Castle of the Ransomed King
Castle of the Sleeping Princess
Other than "Castle of the Exiled Prince" – which is based on the Scottish castle, Blair Atholl – the magical sculptures were purely from the inspired imagination of  Tom Raine.
Pictured left: The Sorcerer's Retreat
All of the castles were produced and painted in the Penrith facility, and were made of Amorphite. The initial production run of the Castle Collection carried a "Lilliput Lane 1986" backstamp. Every model had its own poem, creating a six-poem cycle of one continuous – if slightly baffling – story. This original group of castles was retired by December, 1988.
As the company prospered, especially with the expanding North American market, a decision to diversify was made in 1987. An existing company, Albany Fine China, was purchased, and a new subsidiary – "Lilliput Lane Land of Legend Limited" – was launched.
"5L"
Known within the company as "5L", a separate facility for production was established in Stoke-on-Trent, about 150 miles from Penrith. It had 20,000 square feet of manufacturing space, and employed a work force of 175 people.
The first collections under the "5L" banner appeared in February, 1988 – Dream Castles, Dream Dragons, Fantasy Figurines, and The Secret of the Swan Princess. Prior to the opening of the new facility, Raine's Dream Dragons, under the brand name of "Enchanted Lands", were sub-contracted to Holland Studios for manufacturing. Holland Studios later launched their own fantasy line, "Enchantica".
During a trip to Annapolis in 1988, David Tate came across some work by a brilliant fantasy sculptor named Hap Henriksen. Tate tracked him down, and at the same time, found another fabulous sculptor – Real Musgrave. The "5L" team had just gained two more incredible artists.
Wizards, Dragons, and Other Critters
The figural line was divided into several smaller lines, and the figures were produced in resin, not Amorphite, at Stoke-on-Trent.
Hap Henriksen produced a series entitled "Wizards – Jesters – Dragons". He created a wonderful Dealer's Sign, "The Jester", which was only available for a few months in 1989. Lines under his direction were "Wizards" – such as "Moriah";   "Jesters" – such as "Baldrick. the Incredibly Simple", a limited edition piece; and "Fantasy Figurines" – such as the limited edition dragon, "Behemoth".
Real Musgrave created a line that is still thriving – "Pocket Dragons". This Fall, the "Pocket Dragons" will have their own cartoon show, as well as their own line of children's books.
In addition, the two sculptors created the "Under the Hedge" line together for "5L". Tom Raine continued his work in the figural lines with the "Ethelred Flametail" series and a line of four genies.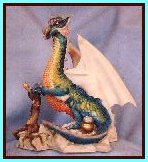 "Behemoth"
Beyond Fantasy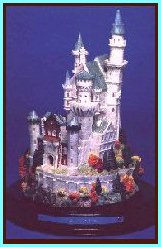 "Schloss Neuschwanstein"
 In the Fall of 1986, another castle was added to the line, this time based on the real German castle, Burg Eltz – "Schloss Rheinjungfrau". It was released as a hand-numbered, limited edition of 1,500 pieces, and it came with a wood plinth that made this castle the tallest at 9 ¾ ". "Schloss Rheinjungfrau" was retired in December, 1989.
Raine was involved with two more models before his departure from Lilliput Lane – "The Wizards' Tower", standing 9 ¼ " tall, was introduced in July 1987, and retired in December, 1989 – and "Schloss Neuschwanstein".
This castle is based on the Bavarian castle of King Ludwig II, and was actually sculpted by Raine's prodigy, Mike Atkinson. It was produced in resin at Stoke. On its base, "Neuschwanstein" is nearly 10″ tall and is considered by many to be the finest piece in the collection. It was released as a hand-numbered, limited edition of 1,500 pieces in the Spring of 1988, and retired in Spring, 1990.
These sculptures carred the "5L" backstamp, and, at some point during production, it was added to the original six castles as well.
The End of a Legend (sort of)
By 1990, Lilliput Lane's success had spawned enough imitators that it was time for the company to reassess its positioning in the market. It was decided that the company should shore up its defences and focus on what it did so well – producing miniature cottages.
Albany Fine China was sold off, and still continues in business today. And, in a major restructuring, Lilliput's CEO, Bill Dodd, left the company an d became owner of Land of Legends, which he set up with Musgrave and Henriksen. Dodd eventually changed his company's name to Collectible World Studios, the banner it still carries. And, bringing the story full circle, Collectible World Studios will be re-launching the Land of Legends line in 1999.
Rumour has it that David Tate does not consider the original Land of Legends series to be "legitimate" Lilliput Lane, which is why retired "5L" pieces do not appear on Lilliput's retired lists. To that charge, he responds, "Land of Legend was legitimate Lilliput, that is 5L, but after the two separated, it had to have it's own identity through Bill (Dodd) at Collectible World. That is why we do not publish any details."
Ultimately, collectors will decide whether the pieces are, indeed, legitimate or not. As with most collectibles, a company's change of direction can be a collector's good fortune.
Value Ranges
As with any collectible, a piece is worth whatever someone else is willing to pay for it. Here is a brief synopsis of some Land of Legends original and secondary market prices:
TITLE ORIGINAL U.S. PRICE ANNUAL AUCTION 1997
Dennis the Dragon $ 55 $ 250 – 300+
Jester $ 75 $ 200 – 250+
Castle of the Exiled Prince $ 225 $ 200 – 250
Castle of the Golden Chalice $ 60 $ 175 – 200
Castle of the Ransomed King $ 250 $ 200 – 225
Castle of the Red Knight $ 65 $ 150 – 175
Castle of the Sleeping Princess $ 235 $ 200 – 225
Schloss Neuschwanstein $ 700 $ 900 – 1000
Schloss Rheinjungfrau $ 335 $ 750 – 900
Sorcerer's Retreat $ 55 $ 225 – 250
Wizard's Tower $ 215 $ 225 – 275
Moriah $ 160 Not in auction
Behemoth* $ 220 Not in auction
Judging by current trends, there are strong indicators that these pieces will continue to rise in value.
With research and forbearance from: Claire Golata, David Tate, Bill Dodd, Didier Clairet, Bob Reilly, Mark Bleazard , Dan Komar, and "Gulliver's World". Some photos courtesy of "Lilliput Lane – The Complete Collectors Guide", available at 1-888-830-9465.
*Secondary market prices on this piece range from $700 – 1000.
Copyright Randy Gulliver 1998