When is a 50p piece not worth 50p? Some UK 50p coins are minted in smaller edition sizes than others. When this happens the 50p piece can increase greatly in value – the Kew Gardens 50p was produced in an edition of 210,000 (£50-£55). Occasionally a 50p coin or other coins will be printed with errors or a an earlier version – the London 2012 Olympics original aquatics 50p coin initially had water passing over the swimmers face (current value £800-£1200). A few of rare 50p coins and interesting 50p coins are listed below.
Kew Gardens 50p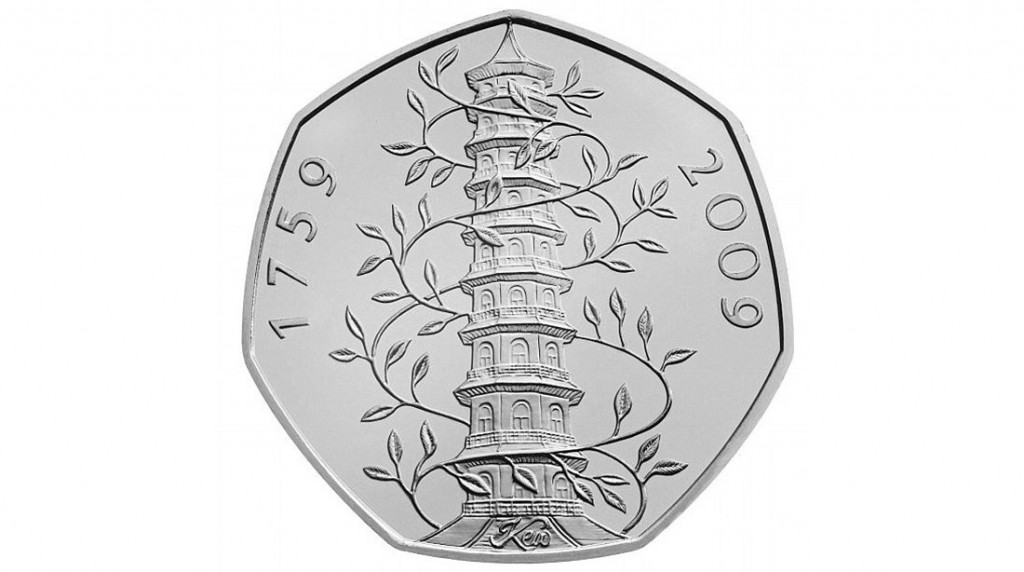 The Kew Gardens 50p was released in 2011 to celebrate the 250th Anniversary of the Royal Botanical Gardens.
The Kew Gardens 50p was released in an edition size of 210,000.
Current value £50-£55.
The London 2012 Olympics 50p Collection
To celebrate the 2012 London Olympics 29 different 50p coins were produced with some being in less quantities than others the rare ones include triathlon, judo, wrestling, football and handball. The original aquatic coin from the 2012 London Olympics showed water passing over the swimmer's face. Only 600 of these were produced before the the design was changed to show a clear swimmer's face. The value rocketed and has settled to between £800-£1200 for the rare version.
Current value for Olympic set £30-£40.
Current value for rare aquatic 50p coin £800-£1200.
Beatrix Potter 50p Coins

To Beatrix Potter 50p coins were launched in 2016 to celebrate the 150th anniversary of the author's birth. The first in the series was Peter Rabbit with others being released during 2016 – Jemima-Puddle-Duck, Squirrel Nutkin and Mrs Tiggy-Winkle. A coloured version was also produced. The circulating version of Peter Rabbit initially sold for £20-£30 and has now settled between £5-£10 for a mint version.
The designs for the coins were created by Emma Noble who commented: "It is amazing to be given the opportunity to work with such famous and treasured literary characters. I wanted to put Beatrix Potter's illustrations to the fore front of my design as they are lovely images and the characters are very well known.  I felt they were strong enough to stand alone and I designed them in this way as I thought they would work best for both the coloured commemorative and un-coloured circulating coins. I really hope people are pleased with them as a set."
Current value for Peter Rabbit 50p coin £5-£10.