A look at what Santa may bring us this years if we have been good boys and girls.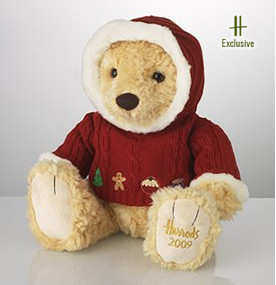 Maxwell the Harrods Chritsmas Bear 2009
2009 sees the newest Christmas bear 'Maxwell' join the twenty-four strong hug of furry friends. Made with a super soft caramel coat he has warm chocolate brown eyes and is snugly wrapped up in a cherry red hooded jumper which has embroidered Christmassy items such as a festive tree, gingerbread man and Christmas pudding around the bottom.
Maxwell is a friendly little soul and loves shopping at Harrods. His tag says that 'he buys lots of gifts to make his family and friends smile but because he is so special he is even invited into Father Christmas's secret Harrods workshop, a place where only select toys are allowed. Together with his friend George (another plush Harrods bear released this year) the two bears travel around the store with their favourite place being the Candy room where they eat lots of colourful sweets and plan their next exciting adventure!"
Read our Harrods Christmas Bear feature
Madame Alexander 2009 Christmas Wendy Doll & Bear

FAO Exclusive
This years FAO Madame Alexander exclusive pairs Wendy in her blue and gold Holiday dress with a miniature version of our annual bear in a coordinating dress coat.
Available from FAO Schwarz
Madame Alexander FAO Exclusives at Auction
Wade Betty Boop Christmas Cheer

This years Wade Betty Boop is entitled 'Christmas Cheer'.
Special Edition of 500.
Available from C&S Collectables
Ho Ho Ho from Adam Binder

This year's Christmas piece from Adam Binder is 'Ho Ho Ho'. It features four naughty mice dressing up as Santa. It is made up of three separate pieces and fits together as you can see in the photo.
Limited Edition of 250.
Longaberger 2009 Holiday Helper™ Treats Basket Set

The 2009 Holiday Helper Treats Basket features a whitewashed snowflake on the front and finished with a green outside band and red over whitewashed trim strip and a red stationary handle. Set includes Basket, Drop-In Liner with tri-color braided cording in Holiday Plaid, Protector and WoodCrafts Lid with knob set (includes wood knob and decorative knob). 7 1/8″l x 5 7/8″w x 7 7/8″h (includes handle)
Visit Longaberger.com for more details
Longaberger Holiday Baskets at Auction