Alice in Wonderland is a 2010 fantasy adventure film directed by Tim Burton, written by Linda Woolverton, and starring Mia Wasikowska, Johnny Depp, Helena Bonham Carter, Anne Hathaway, Crispin Glover, Michael Sheen and Stephen Fry. It is an extension of Lewis Carroll's novels Alice's Adventures in Wonderland and Through the Looking-Glass. The film uses a technique of combining live action and animation.
In the film, Alice is now 19 years old and accidentally returns to Underland, a place she previously visited 13 years ago. She is told that she is the only one that can slay the Jabberwocky, a dragon controlled by the Red Queen. Burton said the original Wonderland story was always about a girl wandering around from one weird character to another and he never felt a connection emotionally, so he wanted to make it feel more like a story than a series of events.
Tim Burton does not see this as a sequel to previous films or a re-imagining. It premiered in London at the Odeon Leicester Square on February 25, 2010 and was released in Australia on March 4, 2010 and the United States and the United Kingdom on March 5, 2010 through Walt Disney Pictures in 3-D and IMAX 3-D, as well as in regular theaters.
Pictured left: Red Queen Alice in Wonderland Heart Necklace by Swarovski available from the DisneyStore.com
. Inspired by the ruthless Red Queen from Alice in Wonderland, our red heart pendant necklace features a stunning heart inside a heart design with crystals on one side and dramatic enamel on the opposite.
Troubled by a recurring dream featuring strange creatures, nineteen-year-old Alice Kingsley (Mia Wasikowska) attends a party at a Victorian estate shortly after the death of her beloved father. She learns that the formal affair is actually an engagement party to eventually wed her into the Ascot family who now own her father's trading firm. Unsure of how to reply to Hamish Ascot's proposal, Alice runs away and follows the White Rabbit, Nivens McTwisp (Michael Sheen).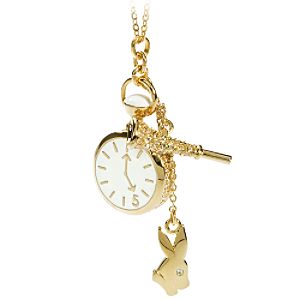 Pictured right: White Rabbit Alice in Wonderland Necklace by Swarovski available from the DisneyStore.com
. Don't be late for the Mad Hatter's next tea party! This White Rabbit Alice in Wonderland Necklace by Swarovski is perfect worn with our other Alice in Wonderland necklaces to keep you right on time for this season's trendy layered look!
She then falls down a rabbit hole into Underland, a bizarre world she previously visited as a child, although she has lost most memory of it and believes what she remembers to have been a dream.
It is explained throughout the course of the film that Iracebeth, the Red Queen (Helena Bonham Carter), conquered Underland by stealing the ruling crown from her sister Mirana, the White Queen (Anne Hathaway), but Alice will slay the Red Queen's guardian, the Jabberwocky, on the Frabjous Day using the Vorpal Sword.
Pictured left: Urban Decay Alice In Wonderland Makeup Palette. One of the more unusual items, but one that looks fantastic and is sure to be extremely sort after in the future.
However, a misunderstanding of words from Absolem the Caterpillar (Alan Rickman) makes everyone believe that she is "the wrong Alice". The forces of the Red Queen attack, and capture McTwisp, Uilleam the Dodo (Michael Gough), and Tweedledum and Tweedledee (Matt Lucas), whilst Alice escapes. The Knave of Hearts Ilosovic Stayne (Crispin Glover) informs the Red Queen of Alice's return; the Red Queen orders Alice's capture.
Pictured right: Barbie Alice in Wonderland Mad Hatter Doll. Direct from the Tim Burton Alice in Wonderland movie, this Pink Label Barbie Doll presents the incomparable Johnny Depp as the Mad Hatter! Featuring an amazing likeness of the very popular actor, it stands over 11 1/2-inches tall and comes in a displayable window box.
Alice is found by Chessur (Stephen Fry), a grinning cat, who leads her to Tarrant Hightopp, The Hatter (Johnny Depp), March Hare (Paul Whitehouse) and Mallymkun the Dormouse (Barbara Windsor). As Stayne searches for Alice, The Hatter flees toward the White Queen's castle with a shrunken Alice, but he is caught, with Alice narrowly escaping their notice. A bloodhound named Bayard (Timothy Spall), who was forced to work for the Red Queen due to his imprisoned family, aids Alice in sneaking into the Red Queen's castle to rescue The Hatter.

Pictured left: Alice in Wonderland Monopoly. Buy, sell and trade 22 locations from Disney and Tim Burton's Alice in Wonderland film! "Drink Me" and "Eat Me" cards replace the classic Community Chest and Chance cards. Includes 6 collectible Alice in Wonderland-themed tokens: Mad Hatter's Boot, Tea Pot, Round Hall Key, Oraculum, Red Queen's Scepter and Bandersnatch's Eye. Traditional Houses and Hotels are renamed Tea Cups and Tea Parties.
McTwisp, now a page for the Red Queen, gives Alice some food which makes her grow to a large size, but she fools the Red Queen into believing she is "Um from Umbridge", and The Hatter is made the Red Queen's hat maker. Alice learns that the Vorpal Sword is hidden in the den of the Bandersnatch, whose eye was earlier removed by Mallymkun.
Pictured right: Alice in Wonderland Mad Hatter Ultra Design Action Figure. It's time for a tea party! This 7-inch scale action figure features a striking likeness to actor Johnny Depp. From Tim Burton's version of Alice in Wonderland, it comes in blister-card packaging and is made of plastic.
Alice restores its eye, and it helps her escape from the castle with Bayard. Chessur saves the Hatter and Mallymkun from execution, and they lead all of the enslaved Underland creatures to flee the Red Queen's castle. Alice delivers the Vorpal Sword to the White Queen and returns to her normal size, but she remains unsure whether she can kill the Jabberwocky.
Pictured left: Alice in Wonderland Alice Ultra Design Action Figure. "Curiouser and curiouser!" This 7-inch scale action figure features a striking likeness to actress Mia Wasikowska. From Tim Burton's version of Alice in Wonderland, it comes in blister-card packaging and is made of plastic.
Absolem, going into his pupa stage, reminds Alice of her past visit to Underland and gives her the courage and belief to fight the Jabberwocky. On the Frabjous Day, the forces of the White and Red Queens converge on a battlefield to decide the fate of Underland. The White Queen offers her sister a chance for peace one last time, but the Red Queen declines, summoning the Jabberwocky (Christopher Lee). Alice fights the Jabberwocky and is nearly killed but the Hatter distracts it, starti ng an all out brawl between the Red and White Queens' forces.
The Hatter fights and overcomes Ilosovic as Alice beheads the Jabberwocky. Without the beast to instill fear, the Red Queen is deposed and banished with Stayne to the outlands forever. Alice returns home, where she refuses Hamish's proposal and becomes an apprentice for his father with the idea of beginning trade routes with China. The film ends with Alice sailing away on a ship with Absolem, now as a butterfly, fluttering off and away from her shoulder.

Related Alice in Wonderland Collecting Features
Alice in Wonderland Background and Collectibles Information
Alice in Wonderland Dolls