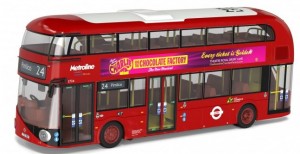 Just released from Corgi is the New Bus for London (NBfL) OM46609 featuring signage advertising the West End show Charlie and the Chocolate Factory the musical. The piece is a dual is a dual destination model being 24 Pimlico and 24 Parliament Square. The model looks great and a perfect miniature of the actual bus.
More about Corgi's New Charlie and the Chocolate Factory London Bus
In February 2012 the first New Bus for London (NBfL) hit the streets of the capital running on route number 38 between Victoria Station and Hackney. A further seven vehicles were in service by July. The new hybrid diesel-electric motor vehicles were first announced back in 2008 in Mayor of London, Boris Johnson's election manifesto and have since become commonly known as Boris Buses.
Reverting back to the popular open-platform of the old Routemasters, the NBfL offers the same hop-on hop-off rear platform as well as two other sets of doors, each with an Oyster card reader. With two sets of stairs and three entrances the NBfL is easy to get on, off and around.
Designed by Heatherwick Studios and built by Wrightbus using lightweight materials and with distinctive glass sides to the two staircases the bus has a light and airy feel inside. More than just a pretty face the 'green innards' of these red buses are twice as fuel efficient as standard diesel buses and are the most environmentally friendly of their kind.
OM46609 is a Dual Destination Model:
OM46609A – New Bus for London, Metro Line, 24 Pimlico
OM46609B – New Bus for London, Metro Line, 24 Parliament Square
For more details visit https://www.corgi.co.uk