Chitty Chitty Bang Bang Collectibles and Memorabilia – Ian Fleming's beloved children's novel, Chitty Chitty Bang Bang and the Magic Car, has become a classic over the past sixty years since its release in 1964. The movie adaptation that followed only increased its worldwide popularity as tales of a flying car and its eccentric creator enthralled audiences around the world. Today, it is one of the most iconic stories in film history. Along with this immense, lasting cultural influence come an abundance of merchandise devoted to everything from cars to dolls inspired by this special tale – all cast shadows on our collective memory of what remains an influential pop culture favourite.
In this feature we will take a look at Chitty Chitty Bang Bang and some of the collectibles and memorabilia it inspired, along with some realised prices at auction.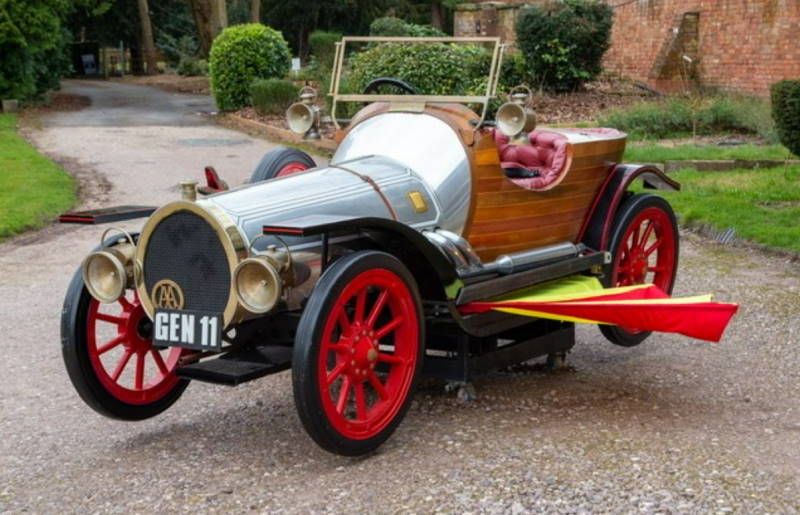 Chitty Chitty Bang Bang and Ian Fleming
Ian Fleming was born in 1908 in London, England. He was a journalist and worked for the British Naval Intelligence during World War II. It was during this time that he began writing spy novels, which would later include the James Bond series. In 1964, Fleming published Chitty Chitty Bang Bang, the story of a magical car that takes a family on an exciting adventure. It was first published in the UK in three hard-backed volumes by Jonathan Cape, each costing 10s. 6d. The first volume was launched on Thursday, 22 October 1964, the second on 26 November 1964 and the third on 14 January 1965.   It was later released in 1968 in a single volume by Pan Books.
As well as Fleming's story, the contribution of artist John Burningham to the success of the book can not be understated. Chity Chitty Bang Bang was Burnigham's second commission as an artist and he went on to be the UK's most noted children's illustrators.
Numerous editions of the books have been produced over the years including from the Folio Society and facsimile editions of the original three volume set. These included signed editions by Burnigham in which he re-worked some of the original illustrations.
The book was made into a movie in 1968 and has since become a classic children's story. Fleming died in 1964, shortly after publishing Chitty Chitty Bang Bang.
Louis Vorow Zborowski the Inspiration Behind Chitty
Ian Fleming was inspired to write Chitty Chitty Bang Bang by a true-life story he had heard of a man Count Zborowski (Louis Vorow Zborowski), who designed, built and raced racing cars known as "Chitty Bang Bangs". The original Chitty was an experimental racing car built by Louis Zborowski in the early 1900s. It is unsure whether Zborowski was actually a real Count or just assumed the title. Whatever the case he was one was one of the wealthiest young men in America in the 1910s. Zborowski designed and built four of his own Chitty racing cars in the stables at Higham Park, assisted by his engineer and co-driver Captain Clive Gallop. The first car was powered by a 23,093 cc six-cylinder Maybach aero engine and called "Chitty Bang Bang". A second "Chitty Bang Bang" was powered by 18,825 cc Benz aero engine. A third car was based on a Mercedes 28/95, but fitted with a 14,778 cc 6-cylinder Mercedes aero engine and was referred to as the White Mercedes.
Corgi Toys 266 Chitty Chitty Bang Bang – the most fantasmagorical CORGITOY in the history of everything!
The Corgi Chitty models are the most famous of all the Chitty Chitty Bang Bang collectibles. Originally released in 1967 it featured 4 characters from the film and was famous for its automatic flip-out wings. The box also included an inner cloudscape / skyscape scene.
Did you know? Although in the film the name "Chitty Chitty Bang Bang" came from the noise the car made for the real cars it actually comes from the words to a World War I bawdy soldiers song about Officers based in France. Officers would obtain a weekend pass or "chit" so they could go to Paris to "enjoy the favours of the ladies". Hence "Chitty Bang Bang".
Fleming used this as inspiration for his children's novel and created a magical flying car instead of a racing car. He used to tell stories of the flying car to his son and he decided to write up the stories.
Production, The Story and Musical
The novel Chitty Chitty Bang Bang was a children's book published in 1964, several months after Ian Fleming had passed away. Despite its success as one of the best-selling books of the year, Albert Broccoli, who produced the James Bond films based on Fleming's novels, was not excited about turning it into a movie. However, after the success of Mary Poppins he changed his mind. In December 1965, it was reported that Earl Hamner had completed a script for the movie version of Chitty Chitty Bang Bang. In July 1966, Broccoli announced that he would be producing the film independently from his work with Harry Saltzman on James Bond films. To star in the movie, Broccoli selected Dick Van Dyke and Sally Ann Howes. Ken Hughes was hired to direct the movie with a screenplay by Roald Dahl.
Did you know? The part of Truly Scrumptious had originally been offered to Julie Andrews, to reunite her with Van Dyke after their success in Mary Poppins. Andrews rejected the role specifically because she considered that the part was too close to Poppins. Sally Ann Howes was given the role.
The film premiered on December 16th, 1968 and became an instant success. It went on to become a beloved classic for children and adults alike, winning two Oscar's for Best Music, Scoring of Music (Adaptation or Treatment) and for Best Visual Effects. The film was also nominated for an Oscar in the category of Best Sound.
Chitty Chitty Bang Bang Collectibles and Original Props
Original Props from the film appear rarely at auction and along with the original car are the ultimate piece of memorabilia for any collector. Although out of the price range of most collectors.
The story follows an eccentric inventor, Caractacus Potts, who restores an old race car from a scrap heap with the help of his children Jeremy and Jemima. With the help of Truly Scrumptious, a beautiful woman he meets at a village fair, they embark on many adventures in their magical flying car called "Chitty Chitty Bang Bang". Along their journey they encounter evil Baron Bomburst and his henchman Childcatcher who are trying to steal Chitty for their own nefarious plans.
In order to save Chitty from destruction, Caractacus and his family must use all their wit and courage to outsmart the villains and restore peace to Vulgaria once again.
The Inventions of Caractacus Potts
Other than the car itself there were two things that I still remember from the first time I saw the film – the terrifying Childcatcher and the inventions or 'thingamabobs' created by Caractacus Potts. The contraptions / inventions in the film were created by Frederick 'Rowland Emett' who was a cartoonist with a great element of whimsy and the ability to turn them into fantastic kinetic sculptures. Albert (Cubby) Broccoli hired Emett to make eight contraptions for the film. (click to read more about The Magical World of Frederick Rowland Emett).
Chitty Chitty Bang Bang has been adapted into stage musicals and comics and was selected for preservation in the United States National Film Registry by the Library of Congress as being "culturally, historically, or aesthetically significant".
Chitty Chitty Bang Bang Related
Chitty Chitty Bang Bang items at auction
Chitty Chitty Bang Bang page at IanFleming.com