Freaked Out!!!!! Speed Freaks!
I am the first to admit that I know next to nothing about cars and to be honest, was not really interesting in learning anything about them either – but that was until I met Terry Ross, an enthusiast on the subject, it didn't take him long to convert and introduce me to the fascinating world of Speed Freaks!
Terry has a passion for cars, for thirteen years he wrote for a motoring magazine on the subject and owns an amazing display of small models cars that he has built from scratch.  Each of these models could take up to 2 years to complete and one in particular – the "Dragster" has won him a real car when it was entered into a competition.  "I am a class 1 petrol head and wanted to do a MA in car design when I left school, but I was introduced to the world of advertising and ended up owning my own agency."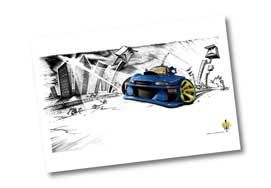 Terry worked as a Creative Director and Art Director for many years but his passion for cars was always at the forefront of his social life. He came up with the idea of Speed Freaks around 5 years ago; using his artistic background he began to sculpt three-dimensional abstract cars. Terry makes sure that each model is based on an existing car; however, there is a slight twist to the design being that they are really miniature caricatures rather than straightforward replica models.
For the first year Terry concentrated on creating private commissions. He produced very limited production runs of the Ferrari 355, McLaren M8D and Valentino Rossi on the motorbike that won him the 2001 500cc MotoGP season (Valentino himself is the proud owner of the last in the production run). Each of these exclusive limited editions retailed at £995 as they were exceptional pieces, made to order. Terry's first small car piece was the classic Ford Anglia based on the 1200 Super, then the Cortina joined the family, shortly followed by an Escort and a Capri. Demand was high as everyone who owned a car wanted one of Terry's Speed Freaks especially as he also offered a custom made service allowing purchasers to order exact replica's of their own cars.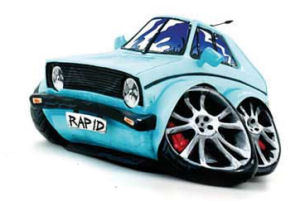 By this point Terry no longer owned the Advertising Agency and realised that he had discovered a whole new lifestyle but he would have to look down the lines of mass production to meet with the demand and make a living out of the hobby that he was so passionate about. A friend introduced Terry to Country Artists just 2 years ago, the company loved his models and snapped him up immediately, the rest – as they say – is history!
Country Artists launched 12 of Terry's original Speed Freak Cars at the NEC Spring Fair in January 2004 – they were greatly received by retailers ensuring that the same year Terry's Speed Freaks were awarded "Gift of the Year" – which is a major achievement for someone so new to the market. Country Artists are now exclusively responsible for getting Terry's innovative designs into the market place.
A great deal of work goes into the production of Speed Freaks with Terry working on each of the master models from his home in London. A master can take up to four weeks to complete from beginning to end.  Once the master has been sculpted it is placed into the oven to bake at 100 degrees for ½ hour. The car is then sanded and blocked down to smooth (this is the principal when preparing to paint a real car). Terry then uses real car spray paints to ensure he gets the exact colour that the car should be.  Once Terry is completely satisfied that he cannot improve on his master Speed Freak, it is then sent to Country Artists who start the process of reproducing the retailed amounts in resin, issuing them with boxes and certificates before going on sale.
These little cars are both original and wacky.  Each one has so much character that even if you are not a Speed Freak yourself, but have a good eye for the unusual, you just have to own one.  Terry's passion for the subject really comes out in his art and you know that he has created each one with love and affection, making them even more desirable to own.
Speed Freaks Cars and Speed Freak Collectables  are a fun product, so different to anything else on the giftware collectables market. The vibrant colours of the cars, the abstract design and the workmanship that goes into making each piece could only have been created by someone like Terry who lives cars.  He takes pride in his work by paying attention to every detail; including painting the windscreens to reflect a fantastic sun set.
Collectors are always on the look out for something new and innovative; and I think that these models are just what collectors are looking for. Speed Freaks Cars and Speed Freaks Figurines have all the credentials that make them a hot collectable – high quality, unusual in design, great fun, and most of all – affordable. I have never really classed myself as being a Speed Freak but after spending the morning with Terry and peering into his world I am most definitely converted.