When it comes to design innovation, in my opinion the Italians have always gotten it right. Now this may be a piece of hand blown glass created on the Island of Murano, or a fashion garment that resembles a work of art rather than an everyday outfit. However, for me, the pinnacle was when I recently discovered the Art Deco ceramic offerings from the Italian Lenci factory. Renowned for their beautiful felt dolls which can realise hundreds of pounds from collectors, the Lenci ceramic figurines are also speedily gaining in popularity, thus finally commanding the reputation and respect that is so deserved.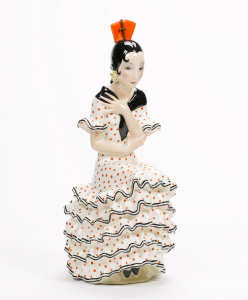 Although very little information is available about the Lenci factory, we are aware that it was established on 23rd April 1919 in Turin by Elena (Helen) Konig and Enrico Scavini. We are also know that the factories name 'Lenci' is an acronym from the Latin motto 'Ludus Est Nobis Constanter Industria' which translated means 'Play is our constant work.' Although some believe that Lenci was actually an Italianism of Elena's pet name 'Helenchen' which her friends gave her whilst she lived in Germany. This explanation could also be the reason why Elena adopted the nickname 'Madam Lenci' by those who worked at the factory.
However, in my mind it does not really matter where the name originated from as it is the actual products that Lenci created which are of far greater importance. In the first instance, the factory began with the production of felt dolls and decorative objects for the children. These dolls were meticulously executed as each was delicately hand painted and possessed a sense of refinement and sophistication rather than being every day playthings for children. The public adored the dolls and they were exhibited all over Europe starting with Zurich, then Paris, Rome and Milan. Even Mussolini congratulated Elena on her doll creations when they were on show at the Monza Biennial Exhibition and the famous entertainer Josephine Baker also fell in love with the dolls, so in return Elena created a special one in 1926 as a portrayal of the star.
However, sadly with any production that gains great success and esteem there is the worry that other factories will jump on the bandwagon and create cheaper imitations. This is exactly what happened with the Lenci dolls. The cheaper competition was to be the cause of great financial troubles for Lenci and even though Elena had the opportunity to move production to Japan in order to keep the manufacturing costs down, she refused, and remained insistent that production should stay in Turin.
In order for Elena to keep her company alive she made the wise decision to begin production in ceramic figurines. Ceramic production began in 1928 under the original founder's guidance as Elena had already trained as a designer at Art School before her ma rriage to Enrico.  Responsible for designing many of the ceramic pieces herself, Elena did however collaborate with the many other talented and skilled designers which were employed by Lenci such as Sandro Vacchetti, Giovanni Grande, Essevi and Jacobi.
Together they worked on many different elements of design and created various ranges; although Elena's remarkable talent ensured that she instilled the same sense of playfulness into each piece that was already evident in the Lenci doll designs. The ceramic figurines also carried much of the fashionable Art Deco style along with the individual designers own personal distinctive traits.
Nudity had become extremely popular during the late 1920's and 1930's with the celebration of the female form and so Elena's "Nudino" range was well received by the public. Supposedly modelled on herself, Elena and the other designers would incorporate the nude in various poses, although the nude girl would always carry the same boyish figural form of a typical 1920's/1930's woman. These particular nude designs have become highly regarded with collectors and can achieve thousands of pounds when sold at auction.
Recently a nude figurine of a lady wearing a black & white chequered cap with a dog sitting at her knees dating to 1925 realised £1,600 at Bonhams, whilst a1930's  Elena Konig Scavini nude kneeling and wearing only a floppy sun hat sold for £1,000.  Lenci frequently used the model of a nude girl on many designs with one of the most well known being that of a young woman either kneeling or sitting on the back of a Hippo or an elephant.
Only last year I was fortunate enough in my capacity as an Auction Valuer to discover three rare Lenci pieces at a lady's house in Essex with one of them being the 'Nudino Su Ippopotamo' (Nude on Hippo.) When sold under the hammer it achieved an astonishing £4,600 whilst one of the other pieces 'Nude in Pond' depicting a lady bathing in the water with geese and ducks made £1,900. However, the highest recorded auction price for one of Lenci's nude figurines was achieved for the polychrome figure 'Abissina' which was designed by Sandro Vacchetti. This piece realised a staggering £38,400 when sold at Christies in 2005.
Aside from the popular nude figurines many other clothed varieties were also produced in the Art Deco style nearly all of which were female figural pieces. "Day Dreaming" a figurine of a fully clothed young girl relaxing in an armchair was created in various colourways and the version depicting a lady wearing a red and white polka dot dress was the third piece that I discovered at the Essex home. When sold at Stacey's Auctioneers it made a fantastic price of £3,600, proving that even those that are not scantily clad can still achieve remarkable prices.
Throughout the 1930's Lenci were prolific in producing many varied ceramic designs which mainly consisted of figural and animal subjects. The majority still held the Art Deco stylistic traits such as the lady standing on top of the Art Deco building although some such as 'Angelita alla Corrida' a pottery figure of a Spanish Dancer and 'Testa Paesanella' a bust of a lady wearing a headscarf were not necessarily synonymous with Art Deco style.
Even though the ceramics were successful there were still financial problems, and the factory was becoming submerged with debt. Another devastating blow was that some of the original skilled designers and modellers had decided to leave the Lenci factory and set up their own rival studios. In 1933 the skilled modeller Sandro Vachetti departed with Jacopi, Ronzan and Essevi also gradually leaving to set up their own works.
During this unsettling time provisions had to be made in order for the company to survive, so it was agreed that a partnership would have to be formed. The new partners became sole owners just after 1937 meaning that Elena Konig Scavini no longer owned the factory. However, she still managed to keep her hand in by becoming Artistic Director. a role which she continued with until finally leaving in 1940.
Shortly after another disaster occurred when during World War II a bomb landed on the factories warehouses, destroying much of the archives and storage. A kaleidoscope of problems the factory still managed to continue to operate. However, the ceramic production finally ceased in 1964 as the talented artists and designers was lacking under the new partnership.
Throughout the ceramic manufacturing phase of the Lenci factory much of the success was largely due to the talents and foresight of the factories founder – Elena Konig Scavini. Her lyrical and expressive creations showed just what a remarkable talent she had for design, which when combined with her evocative style, encapsulated the whole meaning and essence that are Lenci figurines.
FACTS
The Lenci factory was in operation for 83 years.
The Lenci motto has been used through three generations of the Garella family who owned the factory.
 It is said that Walt Disney was so impressed with Elena's designs that he asked her to work for him, but she refused his offer.
It is also believed that the Lenci style was the influence behind the creation of the Disney characters Bambi and Fantasia
In the 1950's a series of Disney figures were produced under license.
The ceramic production came to an end in 1964 although in 1999 a limited number of pieces were re-created to celebrate the 80th Anniversary.
Doll production continued until 2002 when the factory finally closed.
The vast majority of Lenci Ceramic figures are signed on the base and marked 'Lenci Turino' with a date and an incised signature
Essevi is one of the few designers who is highly regarded in his own right, these pieces carry the 'Essevi, Torino' mark.
Recently a rare Essevi figure "Little Mussolini" dating to 1937 sold for £840