Ida Rentoul Outhwaite Her Fairies and Postcards

Ida Rentoul Outhwaite (1888 – 1960) was an Australian illustrator of children's books and most noted for her work depicting fairies. Born on 9th June 1888 in Carlton, Victoria to Rev. Dr. John Laurence Rentoul and Annie Isobel.
She married Arthur Grenbry Outhwaite on 8th December 1909 and thereafter was generally known as Ida Rentoul Outhwaite. Her works can be signed in a number of formats including I.S.R. and at some point changed this to I.R.O. She also occasionally used I.S.R.O. and full spellings rather than abbreviations.
Her first illustration was published by New Idea magazine in 1904 when she was just 15 years of age – it accompanied a story, entitled The Fairies of Fern Gully, written by her older sister, Anne Rattray Rentoul. In the years that followed, the sisters collaborated on a number of stories. Following her marriage to Grenbry Outhwaite in 1909, she also collaborated with her husband – most notably for The Enchanted Forest (1921), The Little Fairy Sister (1923) and Fairyland (1926). In a number of cases, her children – Robert, Anne, Wendy and William – served as models for her illustrations.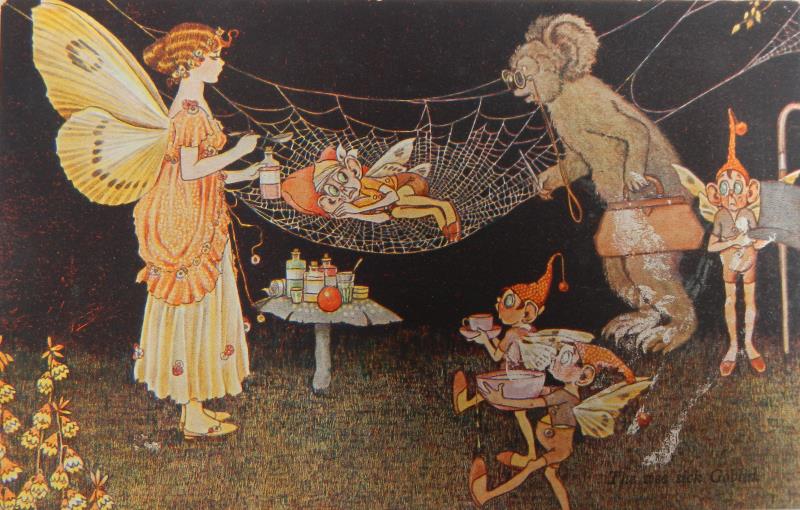 Outhwaite worked predominantly with pen and ink, and watercolour. Her work was very popular in her native Australia combining a love for fairies and native wildlife including koalas, kookaburras and kangaroos. Her work was made even popular in the UK when Queen Mary wife of George V by sending postcards to her friends in the 1920s. Her illustrations were exhibited throughout Australia, as well as in London and Paris between 1907 and 1933. She died in Caulfield, Victoria, Australia.

There are normally 150-250 Ida Outhwaite postcards on ebay click on link to view – Ida Outhwaite on ebay
. Values of Outhwaite postcards in very good condition vary from £10-£50 each.
Ida Rentoul Outhwaite Postcard Price Guide