With Ghostbusters celebrating its 30th Anniversary this year, and a new Ghostbusters film being released in 2016, there is renewed interest in this classic film and we look at some of the collectables and merchandise being released for the event.
HotWheels Elite GHOSTBUSTERS ECTO-1 30th Anniversary Edition
The Ecto-1 is the legendary vehicle that the Ghostbusters used to travel throughout the city busting ghosts. The vehicle used for the Ecto-1 was a 1959 Cadillac professional ambulance, built by the Miller-Meteor company and converted by Universal Studios. "GhostBusters" is the famous 1984 American comedy film about three eccentric New York City parapsychologists-turned-ghost exterminators.
---
MattyCollector Ghostbusters 30th Anniversary Figures
Pack 1: Ray Stantz™ and Winston Zeddemore™
Pack 2: Peter Venkman™ and Egon Spengler™
---

LEGO Ghostbusters™ Ecto-1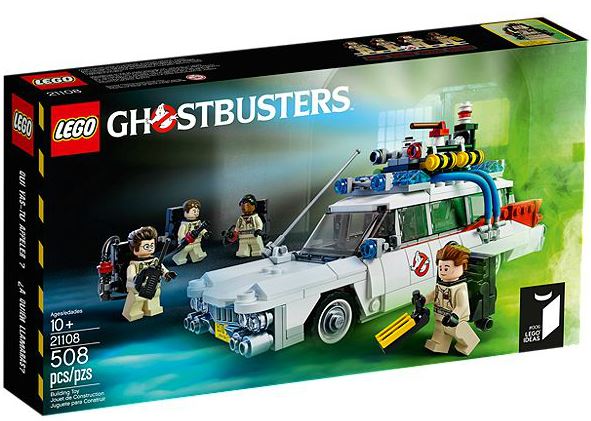 Celebrate 30 years of ghost-busting action with the iconic Ghostbusters™ Ecto-1 car! Selected by LEGO® Ideas members (formerly known as CUUSOO), this fun and iconic vehicle from the blockbuster '80s movie is fully loaded with all the paranormal detection equipment needed to track down those ghastly ghosts. It also features cool Ghostbusters™ logo decoration, removable roof, tracking computer and seats for 3 minifigures. This unique set also includes a fascinating booklet containing building instructions, selected images and behind-the-scenes details about the classic Ghostbusters™ movie. So if there's something strange in your neighborhood, strap on your proton pack and get ready to help Peter Venkman, Ray Stantz, Egon Spengler and Winston Zeddemore bust some ghosts! 4 minifigures with proton packs included.
---
Ghostbusters 30th Anniversary Commemorative Print Collection
A number of fantastic prints have been created  by artists such as
Dan Mumford, Scott C, Anthony Petrie, Rich Kelly, Tara McPherson and others
visist 
https://www.ghostbusters.com/
to view all the wonderful 30th Anniversary prints
---
Ghostbusters: Stay Puft Edition Super Deluxe Vinyl

The Traveler has come! Legacy Recordings celebrates the 30th anniversary of the classic comedy Ghostbusters in the biggest, fluffiest way. The Stay Puft Super Deluxe Edition Vinyl is a limited edition collectible vinyl package in honor of the terrifying but tasty Stay Puft Marshmallow Man. This package contains the No. 1 hit single "Ghostbusters" by Ray Parker Jr. and the fan-favorite "Ghostbusters" rap by Run-DMC for the film's hit sequel featured on a white 12" single in a deluxe collectable package.