Ettore Sottsass Italy's Greatest 20th Century Designer by Tracy Martin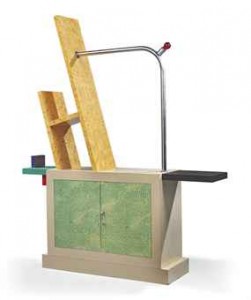 When considering the work of Ettore Sottsass, the greatest Italian designer of the first half century, you have to understand the meaning of his work as well as the design concept. The father of postmodernism he is probably best known for forming the Memphis Movement in 1981.
Pictured right: Beverly Cabinet –  1981 produced by Memphis, the laminates produced by Abet Laminati, plastic laminates and briar veneer over wood case, chromed tubular steel, light bulb 90 in. (228 cm.) high; 71½ in. (112 cm.) wide; 17¾ in. (45 cm.) deep metal tag to plinth Memphis Milano, Ettore Sottsass designer, anno 1981, No. 04. Sold for £13,750 ($21,959) at Christies, London, October 2011. Image Copyright Christies.
Rebelling against conventional taste and injecting energy and colour into his work, Ettore was constantly insistent that everyday items should be considered for their design intelligence as well as their functional being.
Pictured left: Ettore Sottsass for Olivetti, a rare green 'Valentine' typewriter, designed 1969. Sold for £384 at Bonhams, London, June 201. Image Copyright Bonhams.
A design genius his work is now very much sought after and prices continue to rise as true enthusiasts of Italian craftsmanship appreciate not only the innovation but also the meaning encased within Ettore's inventive works.
Pictured right: Ettore Sottsass Murmansk Centrepiece, Designed 1982 – produced by Rossi & Arcandi for Memphis 11 5/8 in. (29.5 cm.) high; 14 1/8 in. (36 cm.) diameter stamped Memphis Milano, and Italian poinçon. Sold for £8,750 ($13,974) at Christies, London, October 2011. Image Copyright Christies.
Born in Innsbruck, Austria on 14th September 1917, Sottsass moved to Turin in Italy with his parents in 1929. His father, an architect, believed that Sottsass would follow into the same line of work and, as it was Italy which boasted the best architecture faculty it was thought that Sottsass would be able to study this trade better in this particular country than anywhere else.
Graduating with a degree in architecture in 1939 from Politecnico di Torino, Sottsass wasn't given the opportunity to use his skills as he was immediately called up to join the Italian army where he spent most of WW II in a Yugoslavian concentration camp. It wasn't until after the war had finished that Sottsass started to put his degree into use and worked on housing projects with his father.

Pictured left: Ettore Sotsass for Memphis, a 'Diva' mirror, designed 1984 the glass applied with laminate veneer geometric shapes applied plaque for Memphis Milano, Ettore Sottsass, 1984, Made in Italy 109cm. Sold for £720, Bonhams, London, April 2007. Image Copyright Bonhams.
Although Sottsass had a good relationship with his family he had been brought up with his father stressing that everything in design should be "Functional," however Sottsass disagreed as he believed that design should also be sensual and exciting. In 1946 he decided to put his theory into practice by leaving his father and moving to Milan. It was here that Sottsass curated a craft exhibition at the Triennale, wrote for magazines, painted, designed stage sets and formed his own architect and industrial design practice.
He also carried a camera wherever he went, and is said to have taken over 1,700 photographs on one twelve day trip to South Africa. He took pictures of everything from kitchens to billboards and doors to windows. In fact whilst in Egypt he photographed a rotting window and was pounced on by the police as they insisted the window belonged to the police station and shouldn't be photographed. It was Sottsass's plan one to day to produce a book full of pictures of the everyday things we take for granted such as walls but this never materialised as his successful design career kept him busy.
Pictured right: Ettore Sottsass, Model 198 Vase And Cover, 1959-1960 produced by Bitossi, for Il Sestante, stoneware, with partial volcanic glaze 5¾ in. (15 cm.) high underside painted Il Sestante, Sottsass, Italy, 198. Sold for £3,000 ($4,617) at Christies, London, April 2010. Image Copyright Christies.
In 1956 Ettore had married Fernanda Pivano and together they travelled to New York where he found work for a short period with George Nelson, one of the founding fathers of American modernism. Ettore created a line of ceramics whilst working at the Nelson studio but also was encouraged to concentrate on industrial design. He soon returned to Italy and accepted a Creative Consultant position for the furniture factory Polotronva, as well as more consultancy work with the electronics division of Olivetti.
Heavily inspired by the Pop Art and Beat Culture Ettore set about designing aesthetically pleasing products from materials such as, plastics and laminates. He was also responsible for creating the first Italian calculator which won an award in 1959 and revolutionised the typewriter with his most iconic being the bright red, poppy plastic 1970's 'Valentine' typewriter. Another iconic piece of workmanship was the 'Superbox' closets which Sottsass created in the mid 1960's for Polotronova.
He continued to produce hundreds of innovative designs and by the late 1970s was working with Studio Alchymia, a group of furniture designers. In the group were Andrea Branzi and Alessandro Mendini, two designers renowned for producing Avante Garde creations and it was during this period that Sottsass began to experiment with materials such as fibreglass which he used to create multi-functional furniture.
However it was the forming of the Memphis Movement which really took Sottsass to the forefront of design, although now aged in his 60's (a time when most think of retirement) he created a collaboration with other like minded designers such as Matteo Thun and Nathalie du Pasquier, who adopted his train of thought and designed with cheap materials, experimented with vivid colours and incorporated kitsch motifs.
It wasn't long before the Memphis movement had captured media attention and were deemed the designers of the future. This liberating form of design ethics opened up the path for young designers to create a more conceptual approach to design, rather than sticking to the rigid form that they had all been taught at Art College. The Memphis group soon became so popular that their work was exhibited right around the globe, capturing the hearts of all those that appreciated modernistic styles.
By 1985 Sottsass had decided to move on again and left the Memphis movement to concentrate on forming Sottsass Associati, an architectural and design group. This group also included former Memphis members as well as the industrial designer James Irvine. This paved Ettore's way back into architecture, which he began by designing a chain of shops for Esprit.
Work in this field continued with private and public houses, as well at the Malpensa airport near Milan and various other industrial design projects. However, Sottsass had always had a passion for working with glass and ceramics and it was this area of design that he started to concentrate on. Quoted as saying "I am not a specialist in glass I learnt to work with it, and I am not a specialist in ceramics, I learnt how to make them – I'm just curious" Sottsass has without doubt used his skill to create some amazing pieces, with some of his best works being classic forms shot with colour for the Venini glass factory in Italy and ceramics made into objects worthy of reverence.
In 2007 the exhibition "Work in Progress" was held at the London Design Museum to celebrate Sottsass's life achievements as well as his 90th birthday. A huge success the exhibition included everything from ceramics to glass and mainframe computers to architectural design.
Ettore Sottsass's was an accomplished, skilled and talented designer in everything from furniture, ceramics and glass to architecture, industrial design, jewellery and silver. Even today the young designers at Sottsass Associati are still producing functional but beautiful objects under Sottsass's design initiatives, ensuring that his name forever lives on and is celebrated through quality, Italian design.