Dusty Rhodes Collectibles Collecting The American Dream – In the world of professional wrestling, there have been few performers as charismatic, passionate, and enduring as Dusty Rhodes, "The American Dream." Born Virgil Riley Runnels Jr. on October 11, 1945, Rhodes became one of the most influential and beloved figures in wrestling history. His career spanned multiple decades, and his impact is still felt today. In this blog we look at life and career of this iconic wrestler with particular reference to collectibles and memorabilia associated with Dusty.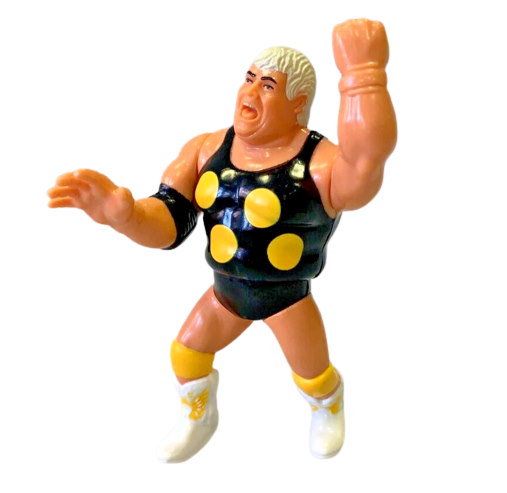 From humble beginnings to the squared circle
Born in Austin, Texas, Dusty Rhodes grew up in a working-class family. His father was a plumber, and young Virgil developed an appreciation for hard work and dedication from an early age. This would later become a cornerstone of his wrestling persona, as he embodied the aspirations and struggles of the everyday American.
Rhodes began his career in professional wrestling in the late 1960s, competing in regional promotions before moving on to the National Wrestling Alliance (NWA). It was there that he would first adopt the moniker "The American Dream." Dusty's charisma and natural talent for storytelling would soon propel him to the upper echelons of the wrestling world.
Career highlights and achievements
Dusty Rhodes achieved considerable success in the ring, winning numerous championships and engaging in memorable feuds with some of the biggest names in the industry. Some of his most notable accomplishments include:
NWA World Heavyweight Champion: Dusty won the prestigious title on three separate occasions, defeating legends like Harley Race and Ric Flair.
NWA World Tag Team Champion: Rhodes also found success in tag team competition, partnering with the likes of Dick Slater, Manny Fernandez, and Magnum TA.
Jim Crockett Sr. Memorial Cup: Dusty and his partner Nikita Koloff won the prestigious tag team tournament in 1987.
He first appeared on World Wrestling Federation roster in 1989 and he would have several feuds including with Ted DiBiase, The Big Boss Man and Randy Savage. In 2007, Rhodes was inducted into the WWE Hall of Fame, solidifying his place in wrestling history.
One of the most fascinating wrestling relationships in the history of the sport is that of Dusty Rhodes and Andre the Giant. Both men were larger-than-life figures in the wrestling world, and their paths crossed multiple times during their illustrious careers.
Rhodes' matches were marked by a level of intensity and drama that few could match. His infamous "Hard Times" promo in 1985, where he passionately spoke about the struggles of blue-collar Americans, is still regarded as one of the best promos in wrestling history. Dusty Rhodes' impact on professional wrestling extends far beyond his own career. As a booker and creative force behind the scenes, Rhodes was responsible for some of the most memorable storylines and characters in wrestling history. He was particularly instrumental in the rise of Sting and the development of the iconic nWo faction. Rhodes was also known for his mentoring and training of young talent. As a trainer and producer in WWE's developmental system, he helped shape the careers of many of today's top stars, such as Seth Rollins, Roman Reigns, and Bray Wyatt.
Dusty Rhodes Collectibles and Memorabilia
The legacy of Dusty Rhodes has inspired a dedicated community of fans who collect memorabilia and merchandise related to "The American Dream." From action figures to autographs, there is a wide variety of collectibles available for enthusiasts to celebrate the life and career of this wrestling icon. In this section, we'll explore some of the most sought-after Dusty Rhodes collectibles and memorabilia.
Wrestling action figures
Throughout the years, various companies have produced action figures of Dusty Rhodes. The most popular and collectible figures include those produced by companies such as LJN, Hasbro, and Mattel. Each of these manufacturers has captured the essence of Rhodes' character in their unique style, making them must-have items for fans and collectors.
Autographed memorabilia
Autographed items are always a cherished part of any memorabilia collection, and Dusty Rhodes is no exception. Signed photos, event posters, and magazines featuring Rhodes can command significant value in the collector's market, especially if they are in excellent condition and come with a certificate of authenticity.
Vintage event programs and magazines
During the peak of his career, Dusty Rhodes was frequently featured in wrestling magazines and event programs. Collectors often seek out these vintage publications, as they provide a snapshot of wrestling history and offer a glimpse into the world of "The American Dream" during his heyday.
Ring-worn gear and robes
While more challenging to come by, authentic ring-worn gear and robes from Dusty Rhodes' wrestling career are highly prized by collectors. These items offer a unique and tangible connection to the man himself and his in-ring performances. Due to their rarity and historical significance, these items can fetch a premium price when they appear on the market.
Trading cards
Wrestling trading cards have long been a popular collectible, and Dusty Rhodes has been featured on numerous cards throughout his career. From his early days in the NWA to his time in WWE, collectors can find trading cards that capture memorable moments and iconic images of Rhodes.
DVDs and VHS tapes
For fans who want to relive the classic matches and moments of Dusty Rhodes' career, collecting DVDs and VHS tapes of his wrestling events can be a rewarding pursuit. Many of these releases feature rare footage, interviews, and behind-the-scenes content that offer a deeper insight into the life and career of "The American Dream."
Dusty Rhodes, "The American Dream," was more than just a wrestler; he was a symbol of hope and perseverance for millions of fans around the world. His incredible career, both in and out of the ring, has left an indelible mark on the sport of professional wrestling.  Collecting Dusty Rhodes collectibles and memorabilia is a labor of love for many fans who cherish the memories and legacy of this wrestling legend. Whether you're a casual fan or a dedicated collector, there is a wealth of Dusty Rhodes-related collectibles available to help you celebrate the life and career of "The American Dream."
Related
Dusty Rhodes Wrestling Figures and Collectables on ebay
Andre the Giant Collectibles Collecting The Eight Wonder of the World
Rowdy Roddy Piper Collectibles Collecting The Hot Rod