Collecting Thongor of Lemuria – A Retrospective on Lin Carter's Lost World Epic: When one delves into the fascinating world of pulp fantasy, it's impossible not to come across the iconic Thongor series, penned by the late, great Lin Carter. His vivid imagination and remarkable storytelling skills birthed a protagonist and a world that have entranced readers since their inception in the mid-1960s. In this Collecting Thongor of Lemuria feature we take a look at the Thongor of Lemuria books, the characters and the stories as well as look some various editions and prices.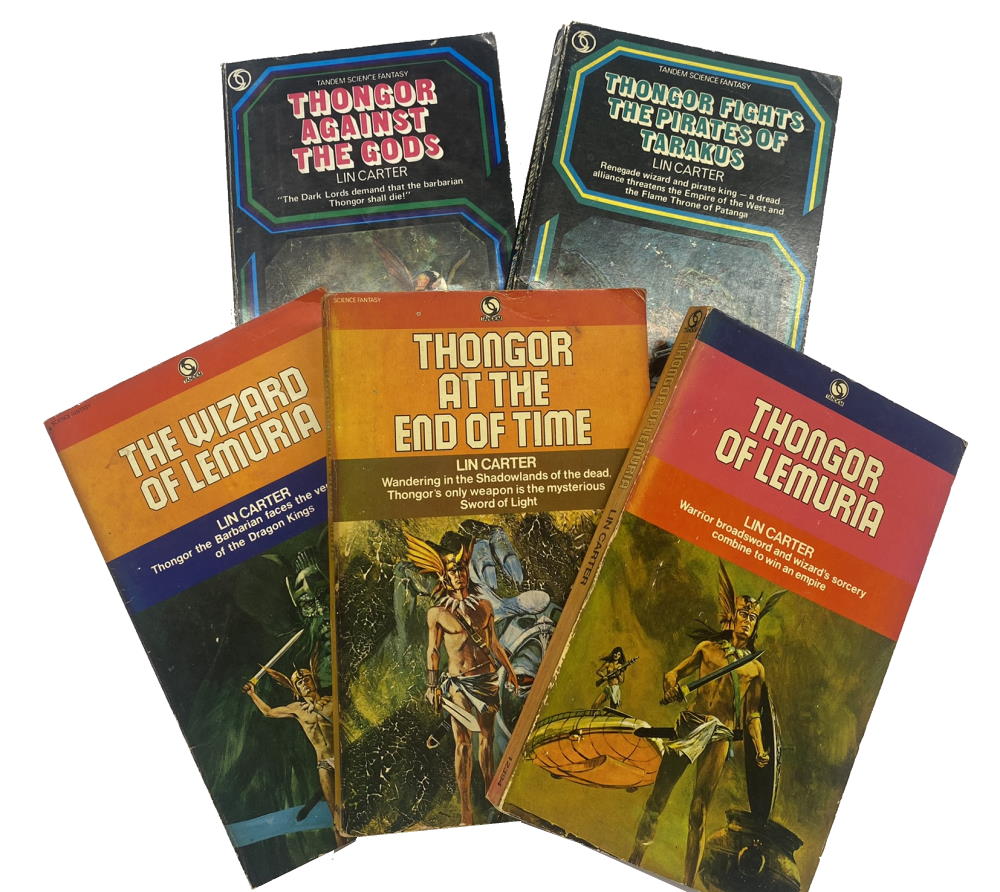 Carter, heavily influenced by the works of Robert E. Howard (creator of Conan the Barbarian) and Edgar Rice Burroughs (creator of Tarzan), established an engaging narrative in his own right. Thongor of Lemuria was his answer to the high demand for sword-and-sorcery stories during the '60s and '70s. A series of seven books, beginning with "The Wizard of Lemuria" (1965) and concluding with "Thongor Fights the Pirates of Tarakus" (1970), chronicled the rise of Thongor from a penniless rogue to the liberator and eventual lord of ancient Lemuria.
Carter's Lemuria is a prehistoric realm, a time-lost continent situated in the Pacific Ocean. This primeval world is teeming with fantastical cities, ancient magics, and prehistoric beasts, with dragon-like creatures known as 'flying reptiles' serving as the primary mode of transportation. Not only does it serve as an exotic backdrop for Thongor's adventures, but it also creates an atmosphere of high stakes and otherworldly peril.
The character of Thongor himself is an archetypal hero of the sword-and-sorcery genre. He starts as a young thief, survives as a mercenary, rises through gladiatorial battles, and eventually becomes a hero of legendary proportions. He's physically imposing, morally unambiguous, and fiercely courageous, echoing the attributes of Conan and other pulp heroes. Yet, Carter imparts Thongor with a unique sense of vitality and heroism. Thongor's quest for justice and peace for Lemuria constantly tests his strength and resolve, ensuring he's never reduced to a simple caricature.
Characters in the Thongor series:  Sharajsha of Zaar, the wise and cryptic wizard; Princess Sumia, the brave and resilient love interest; and Kaman Thuu, the vile sorcerer-lord are but a few of the vibrant personalities that populate Carter's Lemuria. Each character is crafted with a distinctive voice, adding texture to Thongor's world and enhancing the series' overall appeal.
The Publishers:
Ace Books: The original publisher of the Thongor series, Ace Books published the first five novels between 1965 and 1968. Ace was known for its extensive science fiction and fantasy catalog and played a crucial role in popularizing the paperback format.
Berkley Books: This publisher released the sixth book in the series, "Thongor Fights the Pirates of Tarakus", in 1970. Berkley also reprinted the other books in the series.
Paperback Library: The Paperback Library reprinted several of the Thongor books, making them accessible to a wide audience. Later, after the company was purchased by Warner Communications, it evolved into Warner Books (now known as Grand Central Publishing), which continued to publish a wide range of popular and genre literature.
Tandem Science Fantasy: A UK-based publisher, also published the Thongor books. They released editions of Lin Carter's series in the 1970s, making Thongor accessible to a British audience.
Even after more than half a century, the Thongor series retains its allure. It's a testament to Carter's ability to spin a captivating tale that still resonates with contemporary readers. As part of the sword-and-sorcery tradition, Thongor offers all the excitement and escapism one might expect, while also exploring themes of courage, resilience, and sacrifice.
While the Thongor series may not be as renowned as the tales of Conan or Tarzan, Lin Carter's skillful world-building and exciting storytelling make it a must-read for any fan of pulp fantasy. As we navigate Thongor's daring exploits and witness his transformation from a common thief to the savior of Lemuria, we are reminded of the enduring appeal of classic sword-and-sorcery tales – stories of heroism, adventure, and the ongoing struggle between good and evil. These timeless themes continue to connect readers to Carter's lost world of Lemuria and its unforgettable hero, Thongor
Thongor books and publication dates
"The Wizard of Lemuria" (1965)
"Thongor of Lemuria" (1966), later republished as "Thongor and the Dragon City"
"Thongor Against the Gods" (1967)
"Thongor in the City of Magicians" (1968)
"Thongor at the End of Time" (1968)
"Thongor Fights the Pirates of Tarakus" (1970)
"Thongor and the Wizard of Lemuria" (1970)
Please note that "Thongor and the Wizard of Lemuria" is an expanded and revised version of "The Wizard of Lemuria". It was not a new book in the series but rather a revised edition of the first book.
Collecting Thongor of Lemuria Books Price Guide
With a number of different publishers producing Thongor books there are a number of different covers to collect. There does not seem to be much difference between prices of the early editions. Expect to pay $5 for books in very good condition and $12-$15 for books in very fine condition.
Related
Collecting Conan Paperbacks
The Conan Books from Gnome Press Price Guide