If one collectable could epitomize the rise and fall of collectables in the last 20 years I would probably pick the famous NatWest Pigs. We look at the collectable phenomenon, some interesting NatWest Pig facts and look at prices.
The pigs were a promotion began by NatWest Bank who were looking to attract young savers to save with them. A family of collectable pig money boxes was created and these were gained by accounts saving regular amounts. The most famous baby pig (forget Babe) is  Woody which was available for investors who opened an account with a minimum of £5. After six months, if the account contained at least £25, the account received Annabel and then, after one year, the account will have needed to have grown to £50 to qualify for Maxwell. At eighteen months, the account that contained £75 would receive Lady Hillary and then, after a further two years, if the account had grown to £100, the account received Sir Nathaniel Westminster.
Interesting fact: It is thought that up to 1,000,000 Woody's were produced by Wade. According to Wade over 5 million pigs were produced during the promotion.
There was a pyramid of production so there are many more Woodys than Sir Nathaniels. Hence the price of younger members of the family was always less than the parents. Price Guide Value Guide of Wade NatWest pigs If I had written this piece when WCN first started in 1996 I would have been putting a price for a set of five in boxes at £300-£400 with Sir Nathaniel selling for over £100.  A set now (November 2018) is around a £100-£120. Without boxes sets with stoppers can be picked up for £60-£100. Sets without stoppers can be picked up for less than £50.
Did you know that the original five NatWest pigs were modelled by Paul Cardew and were initially produced by him at Sunshine Ceramics? Cousin Wesley was modelled by Kenneth Holmes.
What about Cousin Wesley? The main NatWest Wade Pig promotion ended in 1988 and in 1999 NatWest and Wade added Cousin Wesley as the sixth pig of the series. Cousin Wesley was to promote a NatWest personal savings bond for children which required an investment of £1000. Wade only produced 5,000 or so of Wesley so he is the rarest of the six family members. Price Guide Value Guide of Cousin Wesley £100-£200.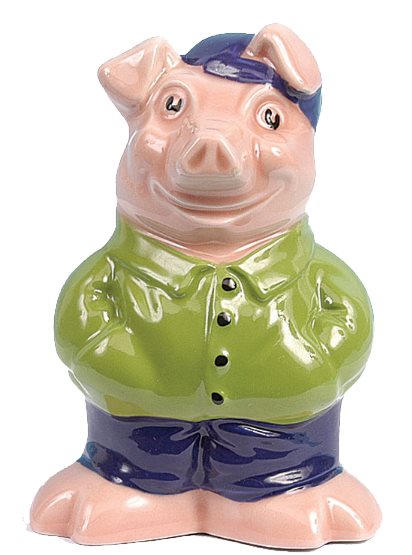 Wade NatWest Pigs at Auction

Join our FREE Newsletter for articles, updates and offers.