The famous Sadler Car Teapot  first appeared in 1937 and was manufactured by James Sadler and Sons Ltd at their pottery at Burslem, Stoke-on-Trent. The design is probably the most iconic teapots ever, and most teapots collectors would have one in their collection. They are also popular among collectors of automobilia. Production ceased during the war and was then started again when the war had finished. We take a brief look at the background of the Sadler Car Teapots along with a Sadler Car Teapots price guide. (Click for current Sadler Car Teapots on ebay.co.uk and ebay.com)
In the 1930s the teapot was initially made in black, blue, maroon and pink  were all decorated with platinum lustre. Later and found in greater numbers are green, yellow or cream colours. Later examples especially after the war were often of single colours and mottled and had less lustre than the 1930s examples.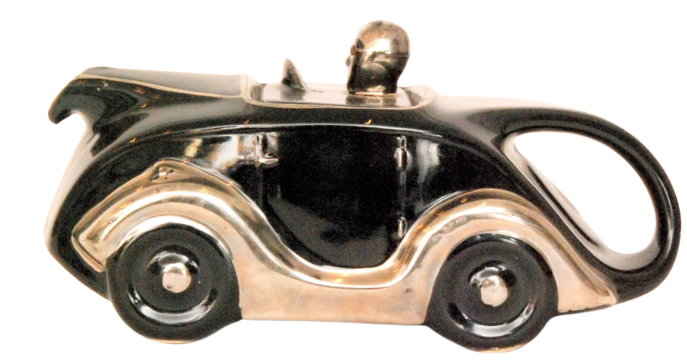 The base of the teapot was impressed with the mark "Made In England. Registered No-820236" and the decorator's initials in gilt. After the war a printed "Sadler" back stamp appeared.
The Mabel Lucie Attwell Sadler Car Teapot
This is the most collectables and valuable of the Sadler Car Teapots. It featured a white glaze with transfer prints featuring the designs of Mabel Lucie Attwell. Mabel Lucie Attwell designs include Betty's Tea Party, Wendy Watering, Your Licence Please and features the number plate OKT42.  It had orange paint features such as the driver's helmet and the car grill.
What did the OKT42 stand for on the Sadler Teapot?
Models made prior to the war  featured a number plate OKT42.
This number represented ' OKAY, TEA FOR TWO '.
Production of the Sadler Car Teapot ended in the 1950s.
The design and the production moulds of the racing car teapot were purchased by Peter Wood, an avid collector of original Art Deco novelty teapots and for a number of years he made his own high quality versions of the teapot in Stoke on Trent, these all have the "Racing Teapots" logo printed on the underside, production of these has also now ceased. 1
Sadler also produced creamer and sugar to compliment its line of early racing teapots.
Related
Collecting Novelty Teapots
James Sadler Racing Teapot with Mabel Lucie Attwell designs
Racing Car Teapot feature by Andy Titcomb 1