Norah Wellings has become well known for her range of cloth dolls (learn more about Norah Wellings Dolls) but she also created animals including rabbits which she designed and her company manufactured throughout up until its closure in 1959. In this Norah Wellings Rabbits feature we take a look at some of the rabbits created along with a realised auction price guide and value guide.
A rabbit named Towser was one of the earliest designs first appearing in the Norah Wellings catalogue in 1927. Towser had a model number 150 and a version of Towser even appeared in the final catalogue released in 1958. He was part of the Novelty Toy Animals Range and according Gillian Trotter (author of Norah Wellings Cloth Dolls and Soft Toys and the Norah Wellings Journal) he was initially called Towsers and created in three sizes, and later in 7 sizes ranging from 7 inches to 36 inches in height.
Towser was a very smart rabbit wearing velvet dungarees which were made in a variety of colours including as featured: red, brown and green. Other colours seen include orange and blue dungarees. He is definitely the most common rabbit found at auction.
Other rabbit designs created include: So-Soft Rabbit Model No 410; Dressed Rabbit Model No 561; Bunty Rabbit Model No K60; Novelty Rabbit Model 4120; Novelty Rabbit Model 5165. There are not many of these designs coming to auction so we are deeming them rare.
Norah Wellings Rabbit Nightdress Case
Norah Wellings created a number of different nightdress cases featuring rabbits. The first rabbit nightdress case appeared in the 1933 catalogue and had a Model No 970.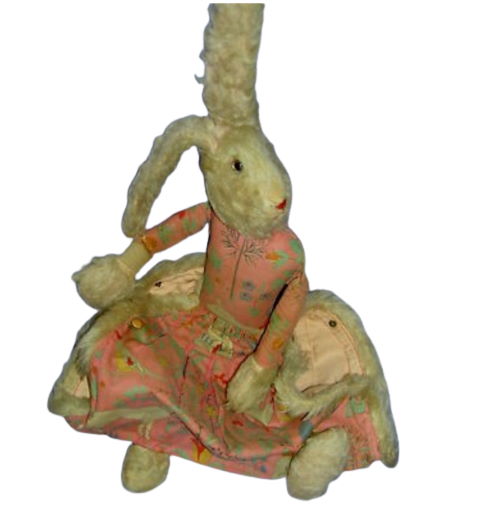 Pictured is a later example with a Model No 6053.
We will be adding to this feature so check back to see future auction prices.
Related
Norah Wellings Dolls
Norah Wellings Rabbits in the Norah Wellings Journal
.