When Hugh Hefner published the first issue of Playboy in December 1953, he made a gamble on an iconic figure: Marilyn Monroe. As the magazine's first cover girl and centerfold, Monroe's presence ensured that Playboy wasn't just another magazine—it was a declaration. Hefner once noted, "I'm the guy who said, 'Tie it in with Marilyn Monroe and the birth of the sexual revolution.' That's how it all began." This decision encapsulated Playboy's ethos of sophistication, sexuality, and revolution. In this feature we take a look at the iconic issue of Playboy 1 along with a price guide of sold editions.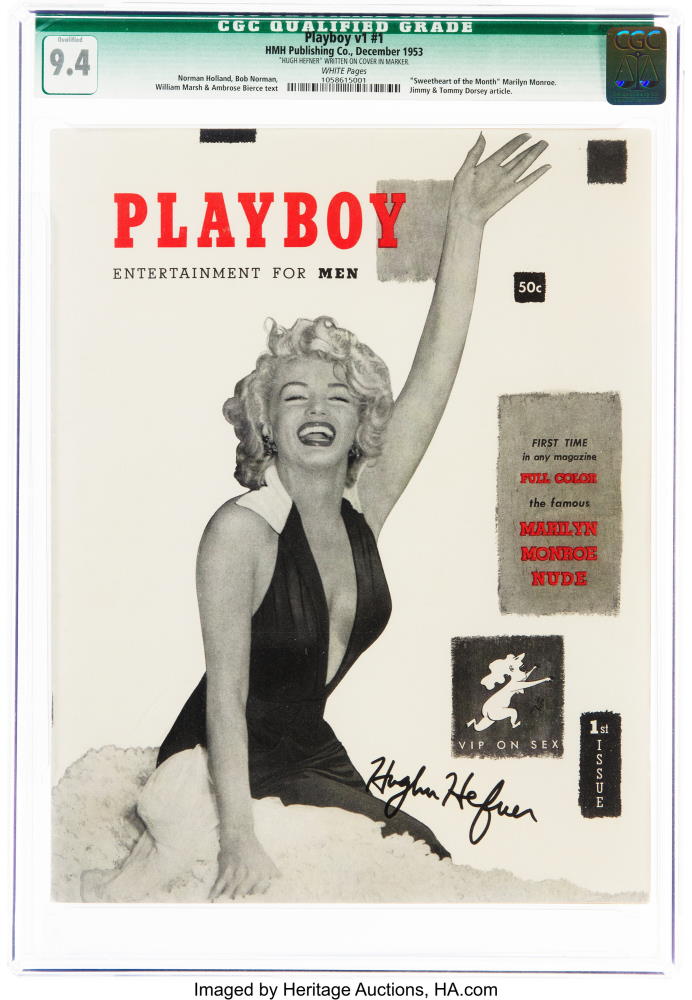 The Iconic First Issue
Hefner didn't commission new photographs of Monroe for his inaugural issue. Instead, he used Monroe's 1949 nude calendar photoshoot, a decision that was both economical and brilliantly provocative. About the choice, Hefner stated, "Marilyn was the key. It was her success in the first issue of Playboy that carried the magazine and set my life on its course."
Reflecting on his decision to buy the rights to one of Monroe's photos for $500, Hefner said, "If you're a man between the ages of 18 and 80, Playboy is meant for you." That first issue, backed by the allure of Monroe, sold over 50,000 copies, ensuring Playboy's position in American popular culture.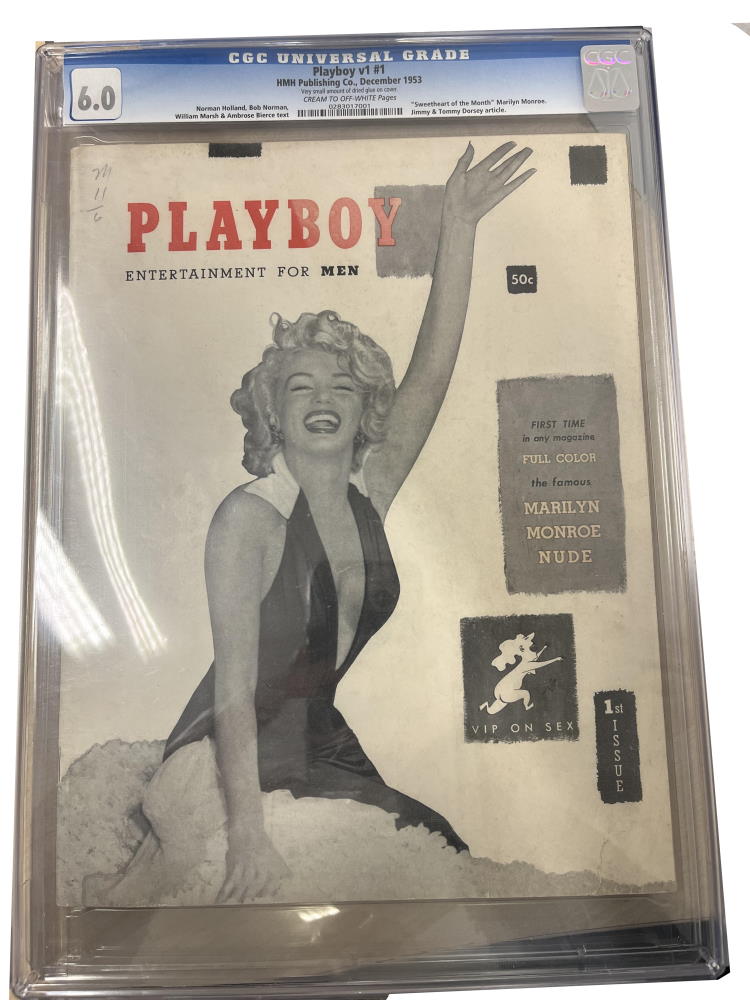 Monroe and Playboy's Mutual Legacy
When the images from her 1949 calendar shoot began to surface in the media after her rise to stardom, Monroe was confronted about them during an interview. Instead of denying or evading, Monroe addressed the situation candidly and with her characteristic wit. When asked about the photos, she famously quipped, "It's not true I had nothing on. I had the radio on."
Though Marilyn graced the first issue, her essence seemed to linger on, setting the tone for future editions of Playboy. Hefner noted the importance of their mutual legacy by saying, "Playboy was born out of a desire to enjoy the two things I loved most, beautiful women and music." And there were few as beautiful or as musically in tune with America's cultural heartbeat as Monroe.
On reflecting the cultural shift of the times and his intent with Playboy, Hefner said, "We enjoy mixing up cocktails and an hors d'oeuvre or two, putting a little mood music on the phonograph, and inviting in a female acquaintance for a quiet discussion on Picasso, Nietzsche, jazz, sex." This ethos aligned perfectly with Monroe's blend of intelligence and sensuality.
Reprints – The 1953 Playboy 1 featuring Marilyn Monroe has been reprinted on a number of occasions including 2007 and 2014. These issues have become collectible in their own right.
Reflections on the Cultural Impact
Both Playboy and Monroe stood at the crossroads of change in the 1950s. Hefner's ambition, as he put it, was "to create a lifestyle magazine for men, and to examine the world in a sophisticated, urbane kind of way." Marilyn, with her combination of vulnerability, intelligence, and sexuality, was emblematic of this vision.
While discussions about freedom, objectification, and empowerment continue today, the Marilyn Monroe issues of Playboy offer a snapshot of a transformative period in American culture. They serve as a reminder of a time when societal norms were shifting, and of the enduring legacy of two icons: Hefner and Monroe.
Related
Marilyn Monroe Picture Post 24 April 1954