Corgi Magic Roundabout Figures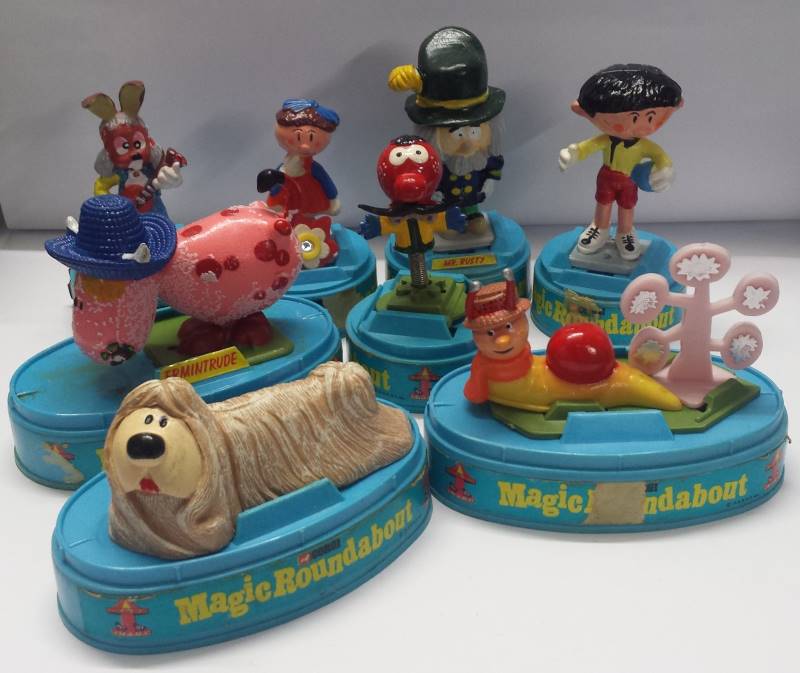 Corgi's Magic Roundabout figures and die-cast range included the fantastic Magic Roundabout Carousel and a series of 8 figures in the early 1970s:  Dougal, Florence, Zebedee, Mr Rusty, Brian the Snail, Basil, Ermintrude and Dylan, which were all produced on a stand with the characters name and covered in a dome. The plastic on the figures can degrade and condition of the piece along with the dome.
Corgi Magic Roundabout Figures Price Guide
Price guide for figures in excellent to near mint.
Corgi 860 Magic Roundabout Dougal £30/$45
Corgi 861 Magic Roundabout Florence £30/$45
Corgi 862 Magic Roundabout Zebedee £30/$45
Corgi 863 Magic Roundabout Mr Rusty £30/$45
Corgi 864 Magic Roundabout Brian the Snail £30/$45
Corgi 865 Magic Roundabout Basil £30/$45
Corgi 866 Magic Roundabout Ermintrude £30/$45
Corgi 868 Magic Roundabout Dylan £30/$45
Corgi Magic Roundabout items on ebay