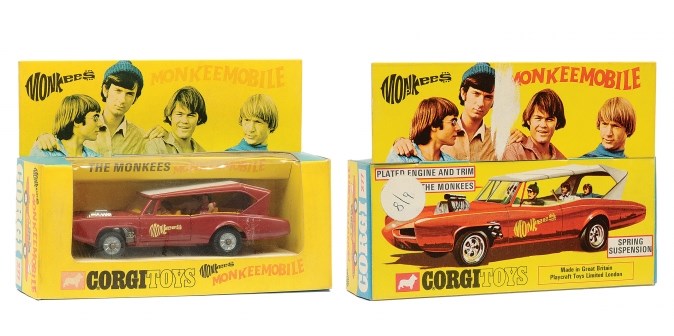 This very good example of a boxed Corgi Toy 277 The Monkees Monkeemobile (The Corgi Monkeemobile) sold for £520 at Vectis auctions February Specialist and Tinplate sale. This version was in excellent condition, in a slight faded box and adding to its value was the rare pictorial header. The original Corgi Monkeemobile was released in 1968 and 82,000 were sold.
Description – Corgi No.277 "The Monkees" – Monkeemobile – red, white roof, yellow interior with 4 x "Monkees" figures, cast hubs – overall condition is generally Excellent a lovely bright example in a Good (sun faded) blue and yellow window box with rare and hard to find pictorial header (one side has sun fading), other side is Good (although does have mark where label has been removed), with collectors club folded leaflet.
This was an excellent price and shows the importance of original boxes in the value of many die-cast vehicles.
Corgi Monkeemobile Price Guide
Corgi Monkeemobile in excellent condition out of box – £60/£80 $80/$100
Corgi Monkeemobile in box £100/£200 $140/$280
Corgi Monkeemobile in box with original header card £400/£500 $560/$700
Beware when buying for reproduction boxes.
About the Monkeemobile
The Monkeemobile is a modified Pontiac GTO that was designed and built by designer Dean Jeffries for The Monkees, a pop-rock band and television program. The car features a tilted forward split two-piece windshield, a touring car convertible top, modified rear quarter panels and front fenders, exaggerated tail lamps, set of four bucket seats and an extra third row bench where there was originally a trunk, a rear-mounted parachute and a GTO emblem on the front grille.
Related
Vectis auctions
Monkeemobile History from Pontiac Enthusiast Magazine
The Monkeemobile on ebay
[ebayfeedsforwordpress feed="https://rest.ebay.com/epn/v1/find/item.rss?keyword=corgi+monkeemobile&sortOrder=BestMatch&programid=15&campaignid=5335953011&toolid=10039&listingType1=AuctionWithBIN&listingType2=FixedPrice&feedType=rss&lgeo=1″ items="5″]