Halcyon Days was founded in 1950 and is among the rare international shops to specialise in both antique and contemporary collectors' items.
Pictured left: THE V&A MUSEUM 'COUNTRY FLOWERS' – Garlands of leaves surround delicate country flowers on this serpentine-shaped box. Length of box 2 3/8″ (6cm)
The company is honoured to have been granted royal warrants by Their Majesties The Queen and The Queen Mother, and Their Royal Highnesses Prince Philip and The Prince of Wales as the first ever and only 'Suppliers of Objets d'Art' and is one of only six companies to hold all four royal warrants.
Pictured right: JACK VETTRIANO 'BILLY BOYS' – An outstanding collectors' item inspired by the artist's, Jack Vettriano, 1994 oil painting, 'Billy Boys'. A limited edition of 350 Length 3 1/4″ (8.4cm) Copyright 2005 Jack Vettriano
Halcyon Days' antiques, enamels, porcelain and scented candles are incomparable collectors' items, gifts par excellence.
Pictured left: MARILYN MONROE HAND-BAG MIRROR – On one side of this slender ultra-glamourous enamelled mirror is Warhol's 'Lavender Marilyn 1962' and on the reverse is an indispensable mirror for the beauty conscious.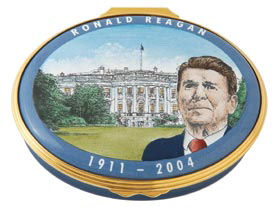 They are direct descendants of the rare and beautiful enamels of 18th-century England. They are made by craftspeople in Bilston, the traditional English centre of enamelling on copper. Prized by collectors all over the world, both as tokens of taste and sentiment and as small works of art, they are the antiques of tomorrow.
Pictured right:RONALD REAGAN – 40TH PRESIDENT OF THE UNITED STATES – This handsome enamel box celebrates the life of the man who once said 'I know that for America there will always be a bright dawn ahead'. A limited edition of 250
Each one is fitted into an elegant presentation case in the company's pale blue and mocha house colours and can be gift-wrapped on request.
Related