>
Seraphim
Classics introduced the first in a series of Angels in 1995 that have
the status of being called a "Limited Edition". These Angels are different
from the others in the collection in a few ways and in this article, I'll
go over the differences as well as tell you a little about each one.



One of the first and most noticeable of the differences is the size of the Limited Edition. They are all 12″ in height, whereas the other Angels in the collection average a height of 7″. The Limited Editions also have a handwritten number on the understamp of each one that is exclusive to that single Angel. With the exception of Hope, all Limited Editions are also exclusive to the year in which they were released, meaning after that year, they will never be produced again.



The first Limited Edition Seraphim Classics Angel, Alyssa – "Nature's Angel" (pictured right), was introduced in 1995. Today, Alyssa is virtually impossible to find on any retailer shelf and is a very sought after piece. Her secondary market value has increased more than four times over considering she sold for $145 when she was released and today commands a price of at least $650 and up. Consider yourself very fortunate if you have Alyssa and acquired her at retail price!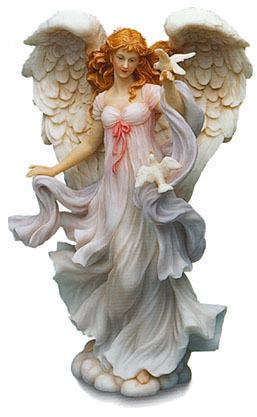 The year 1996 brought with it Vanessa – "Heavenly Maiden" (pictured left), the second Limited Edition Angel. She can still be found in various retail shops if you are up to the challenge of searching and look hard enough. Look quickly for her as she is on her way to being as difficult to obtain in the near future as Alyssa is now.



Ariel – "Heaven's Shining Star" and Chloe – "Nature's Gift" were the Limited Editions for 1997. This was the first year in which two Limited Editions were released. Ariel was also the first Limited Edition chosen as a catalog exclusive, meaning only retailers participating in the catalog program were able to order her.



Avalon – "Free Spirit" and Hope – "Light in the Distance" are the 1998 Limited Editions. This year has brought another first with the Limited Editions. Hope is the first 2-year Limited Edition Angel. There is also a Hope ornament, the first ornament made in the likeness of a Limited Edition, as well as the Hope Crystal Pin. Roman, Inc has dedicated a portion of the proceeds from the Limited Edition Hope, the Hope ornament and the Hope Crystal Pin to go to the Susan G. Komen Foundation to aid in the fight against breast cancer. Acquiring Hope is a wonderful way to help a worthy cause as well as adding a beautiful Angel to your collection.



Shari Procell has one of the leading sites on the Seraphim
Classics Angels websites.