For many, collecting is about reminiscing over bygone years, and Robert Harrop's whimsical, humorous character collectables are the epitome of nostalgia. By drawing inspiration from our favourite classic childhood favourites, Robert Harrop has successfully recaptured the collector's need to revisit those childhood memories in the form of 3-dimentional figurines. So it is no wonder that now in 2006, these designs have established themselves as one of the leading collectables on the market, enabling Robert Harrop this year, to celebrate its 20th Anniversary.
Robert and his wife Margaret, first established Robert Harrop Designs in 1986 from the front room of their cottage. Robert had already worked as a commissioned modeller for other collectable manufacturers but was tired of producing items along the same line as everyone else in the industry. He wanted to create a revolutionary range that would allow ceramic resin to develop into forms that were original in design.
Interpreting this idea into the company slogan "Originality by Design" it summed up exactly what Robert Harrop was all about and what they were trying to achieve. This was evident with their initial range "Doggie People." A whimsical confusion each design was neither dog nor man but as Robert says "A truly convincing member of the Doggie People Collection." An instant hit with collectors demand was high for this range so it left no alternative but for Robert and Margaret to move production from their front room to bigger premises at Coalport House in Shropshire.
"Doggie People" was the originality that collectors had been looking for, and although many other ranges were later also introduced such as Horsey People Set, Puppy Dogs Tails, the County Set and Purrfect Pets, it was "Doggie People" that had longevity and is still 20 years later, an ongoing collection.
In 1995 Robert Harrop Designs launched their first licensed range, the Beano/Dandy collection, with the first figure BD01 being launched in February. This exciting new range created plenty of media coverage and is still one of the most popular collections today. Some of the earlier pieces can command huge sums of money on the secondary market and of course this was the start of why Robert Harrop Designs has become synonymous with nostalgia and childhood memories.
Totally in tune with collectors, Robert Harrop are always on the look out to introduce new collections and add more pieces to their already successful existing ranges. This autumn sees the launch of "Andy Capp," a brand new collection for 2006 and additions to "Bagpuss", "Mr Benn", "The Magic Roundabout" , "Thunderbirds and Stingray", "Camberwick Green", "Clangers" "Beano/Dandy" and of course "Doggie People."
The brand new "Andy Capp" collection will include figurines and high-relief plaques all featuring that lazy, good for nothing character from the Daily Mail cartoon strips. Cartoonist, Reginald Smythe first introduced this character to the public in 1957 and since then the work-shy, womaniser, which is known, as Andy Capp has become an iconic figure. This exciting new range will initially feature two figurines, one of Andy (AC01) and the other of his long suffering wife, Flo (AC02), each retailing at £24.99. There are also three plaques to choose from, one of which is the Christmas Special in a limited edition of just 750 and retailing at £29.99. I know this is going to an extremely successful collection so recommend you snap up these pieces quickly before you miss out!
If you already have an existing collection of some of the other ranges produced by Robert Harrop Designs then you will be pleased to know that there are plenty of new additions coming this autumn.
One of my personal favourites, "Bagpuss" sees the arrival of three new pieces, "The Boney King of Nowhere" musical box which is available in a limited edition of 750, "Uncle Feedle" is the collectors club joining piece and the Christmas special is "Saggy old Wool Stocking."
Another of my childhood favourites the "Clangers" has two new additions "Tiny Clanger and the Music Trees", a musical box once again limited to just 750 pieces and the collectors club joining piece "The Hoot."
Additions to the "Mr Benn" collection include the first ever limited edition piece. "As if by Magic, a clockwork musical box, the front revolves whilst playing the "Mr Benn" theme tune, priced at £59.99 it is limited to 1,000. Other additions in this collection are "The Pirate" and "The Caveman" retailing at £24.99 and the "Dragon from the Red Knight" for £40.00.
Although Robert Harrop Design's collection are all successful, one of the most popular is "Camberwick Green." Again prices for earlier pieces can fetch good money on the secondary market so these new additions are sure to be just as sought after. These recent releases are taken directly from scenes of the Trumpton television series "Apples Galore" and include "Pugh", "Windy Miller and Grubb", "Barney McGrew" which is the collectors club joining piece, and limited editions of "Cuthbert and the Cider Press", "Jonathan Bell and Lord Belborough" both limited to 1,000 pieces. There is also the Christmas Special called "Murphy Christmas" which is available in a limited edition size of 1,500. Prices range from £18.50 up to £42.50.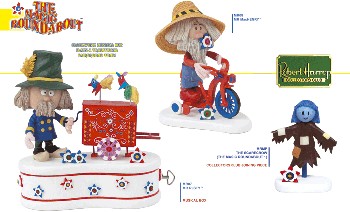 If this isn't enough to get your collectors taste buds going then there is also new additions to the "Magic Roundabout" collection in the form of "Mr Rusty", "Mr McHenry" and the club joining piece being "Mr Scarecrow." As well as "John Tracy", "Commander Shore", "Aquaphibian" and "Thunderbird 4" being added to the "Stingray and Thunderbirds" collection.
And of course we must not forget the collection that started Robert Harrop off on the long path to success back in 1986, as there are four new releases being added to the iconic "Doggie People" range. "The Fire-Fighter" and the "Crime Fight er" will retail at £29.99 each and are represented in the form of dogs synonymous with both the Police and Fire Services. The Dalmatian, has been the mascot for the Fire Service since the 18th Century, and a German Shepherd is a well-known breed used in the Police Services. First in a series entitled "Storytime" is Dick Whittington, a limited edition of 1,500 pieces, characterised as a Golden Retriever and complete with his cat. This year's Christmas Special features a Westie and is titled 'O Tannenbaum'
All of the above new releases are sure to be a hit with collectors, as Robert Harrop ensures each piece is created and designed with the collector in mind. As well as developing these existing ranges and constantly looking for new collections the Robert Harrop Collectors Club is also geared towards the collectors needs. Now in its tenth year, it is definitely worth joining because it provides free gifts and special members only figurines both for new and existing members. There is also a club journal twice a year, which features new additions, club competitions and information on retired pieces.
Over the past 20 years Robert Harrop have managed to satisfy the appetite that collectors have for nostalgia. The exact essence of childhood memories is evident in each collection produced, ensuring that our vintage favourites are able to live on, in the form of intricate stunning character collectables. The only collectables manufacturer that comes close to rekindling those memories, Robert Harrop's secret to success is without doubt – its "Originality by Design."
FURTHER INFORMATION
For further information on all of Robert Harrop Collections please visit www.robertharrop.com
COLLECTORS CLUB If you would like any further information regarding our Collectors Club please contact Cinta Wiseman : collectorsclub@robertharrop.com
Related Features
Note: This site is not affiliated with Robert Harrop. It is designed to provide information to collectors of Robert Harrop Figurines.