Pretty As A Picture
Discuss, Buy and Trade Pretty As A Picture with other collectors



>


Photographer Kim Anderson's trademark are timeless and nostalgic photographs
of young children in oversized adult clothing.

Pictured right: 'I'll Always Stand By You – Girl In Hat Holding Bouquet', which was the 1999 Exclusive Figurine available from
selected retailers.

His pictures have been made into
cards and posters for the last fifteen years and have won praise worldwide, especially in the US.

Pictured right: 1999 Limited Edition 'Sharing Friendship, Laughter And Love – Three Girls Having Tea'.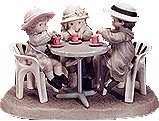 ENESCO produced a collection of figurines and other gifts based on
Kim Anderson's work.
The collection was titled Pretty as a Picture(tm)
and included porcelain bisque figurines, collector plates, musicals,
dated glass ornaments, plaques, photo frames, and mugs.
The collection from ENESCO is now retired.

Pictured left: A special Millennium piece 'I Have Only One Wish, To Spend The Future With You
– Girl With Rose Leaning On Wall'.
Outside of the Pretty as a Picture figurine range, Kim Anderson's work can also be seen in books, posters, on collectors plates, snowglobes and obviously original photograhs are very collectible.

Related







Note: This site is not affiliated with ENESCO or
Pretty As A Picture TM.
It is designed to provide information to collectors of Pretty As A Picture
Figurines.