Established in 1930, Merrythought is one of the oldest and most prestigious of England's toy manufacturers. Indeed Merrythought is now in the rather unique position as England's sole remaining toy manufacturer.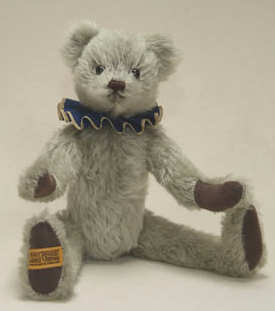 For over 75 years the magic of Merrythought has delighted adults and children of all ages with a range of traditional hand crafted toys that are more than mere playthings. A Merrythought toy is a joy forever – a treasured family friend to be passed down from generation to generation – valued heirloom that's guaranteed to give year after year of lasting pleasure.
The history of Merrythought provides us with a fascinating insight into early 19th Century England – a period of considerable industrial change and development. Our story actually begins in 1919 when Mr B.C. Holmes (the present Managing Directors grandfather) went into partnership with a Mr GHI Lax ton to open a spinning mill in Yorkshire to quite simply manufacture mohair yarn from imported raw materials. The introduction of synthetic fibres led to a decline in the demand for mohair fabric causing one of their yarn customers, Tyson Hall & Co Ltd of Bakersfield to lose a considerable amount of business.
Holmes and Laxton decided to buy Lyons plush weaving company and realised they had to find something to do with the mohair yarns.The Sales Director of the combined companies knew two men who were to play a vital role in the development of Merrythought. R Rendle was in charge of Production at Chad Valley and Mr A C Janisch in charge of sales at J K Farnell (another soft toy manufacturer). Both were keen to join Holmes and Laxton to produce Merrythought Toys and together arranged to rent space in one of Coalbrookdale's foundry buildings.
In September 1930 Mr Rendle together with some workers from Chad Valley moved into the former social room of the Coalbrookdale Co. Over the years the original Merrythought factory site at Coalbrookdale (now Ironbridge), which was purchased from the Coalbrookdale Co in 1965, has seen considerable improvement.
New buildings have been added but the large brick building built by the iron foundry in 1898 is still used today to lovingly create each and every Merrythought Toy.One of the former Chad Valley employees who came to work at Merrythought was a remarkable lady called Florence Atwood. A deaf mute, Florence had studied at the Deaf and Dumb School in Manchester which she attended with Mr Rendle's daughter. She created her own toys, translated drawings by well known artists including MGM studios Jerry Mouse and single handily designed the entire range of 32 toy patterns for the first Merrythought line in 1930.
The first company catalogue was produced in 1931 and featured the much-loved Greyfriars Bobby and company's now famous line of Teddy bears beginning with Magnet Bear. Florence's second catalogue in 1932 expanded the range to include other domestic animals wild animals, animals on wheels and even dressed animals like Toby a Movie Toy that could be place in different positions and hold them. Until her health declined in 1949 Florence Atwood was chief designer for Merrythought. Some of her characters remain as popular today as ever are still produced using the original patterns.
By 1939 over 200 people worked at Merrythought but on the 3rd September 1939 when War began the British Admiralty took over the Coalbrookdale factory buildings and used them for vital map-making work. Merrythought rented space in nearby Wellington and at the government request began to produce items for the war – Chevrons (sleeve badges) linings for helmets, tiny ignitor bags, gas mask bags covers for hot water bottles and a variety of practical products made from gabardine and velour.In March 1946 Merrythought were able to restart production at the Coalbrookdale works and Mr B Trayton Holmes, son of the founder, came to the factory and with his management the factory began to expand again. An automatic stuffing machine was brought over from America in 1955 – although it did not entirely replace hand stuffing, which still continues today.
The original foundry building was improved again, a new design and showroom were erected and an office block built in the grounds.Merrythought continues to produce innovative designs as well as issuing older models from its extensive production history that stretches back over three quarters of a century. What were once playthings for small children are also attracting the attention of adult collectors who now eagerly anticipate each new range of limited edition collectables from Merrythought.
The present Managing Director Oliver Holmes is the original founders grandson who joined the factory in 1972 after training as an engineer. Merrythought remains a family business to this day and continues to create a delightful range of beautifully made soft toys. There is nothing mass-produced about a Merrythought Toy because each animal is lovingly hand – crafted. No two animals of any design are ever exactly the same. In fact through every stage of production we do everything we can to ensure that only the best in top quality soft toys can bear the prestigious Merrythought Wishbone label.