>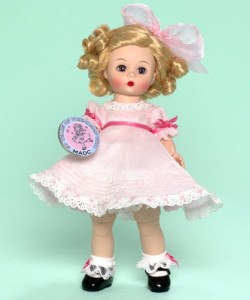 The official independent organization for collectors of Madame Alexander dolls, the Madame Alexander Doll Club (MADC®) has a worldwide membership of thousands of doll lovers. Its members join an enthusiastic group of people who share a passion for Madame Alexander dolls, and who seek to research, preserve, and promote their place in history. The club sponsors events while offering members an opportunity to form enduring friendships and to share stories about their beloved dolls.
Pictured right: Madame Alexander Doll Club 50 Years of Friendship Wendy Doll with Doll Club Pin – In honor of the cherished association between Madame Alexander and the Madame Alexander Doll Club (MADC), we have created 50 Years Of Friendship With MADC Doll, a sweet little bent-knee 8" Wendy sculpt with blue eyes, and short, side-parted, gay gold curls. For this special occasion she's wearing a full-skirted, pale pink, Swiss organdy dress, that has crochet trim at the hem and neckline, and also features hot pink satin ribbon at the waist and on the sleeves. A lace-trimmed pink flare petticoat, white panties with a hot pink satin ribbon bow, white lace-trimmed socks with hot pink bows and black patent leather Mary Janes finish the look for 50 Years Of Friendship With MADC who comes with a very special Friendship Pin to commemorate this 50 year celebration.
The Benefits of MADC® Membership
Upon joining, MADC® members receive these exclusive privileges:
•A Madame Alexander Doll Club pin.
•4 issues of The Review, the club's official quarterly magazine containing doll articles, club news, notices of upcoming events, and much more.
•The opportunity to buy special limited edition collector dolls available only to MADC® members.
•Discounts on purchases at the Madame Alexander Company Store.
MADC® members also receive invitations to the following special events:
•Annual MADC® National Convention: Held in the summer, the Annual Convention brings together collectors from around the globe in a four-day celebration of Madame Alexander dolls and their artistry. The event includes workshops, seminars, a competitive exhibit, and the Annual MADC® Meeting.
•Friendship Luncheons: Scheduled in various locations throughout the U.S., these events provide members with an afternoon of food and fun. Luncheons are also open to non-members, offering a great way to introduce friends to the club. A registration fee includes a special souvenir doll.
•MADC® Premieres: The first events of the year for MADC® members, Premieres provide a unique opportunity to view some of the Alexander Doll Company's newest dolls. Registration to each event includes an MADC® souvenir doll and selected meals.
Related
Madame Alexander information