A Look at Lilliput Lane Cottages by Randy Gulliver. In September 1982, sculptor David Tate founded Lilliput Lane in Skirsgill Penrith, in the Lake District of northern England. With a team of "seven employees and a dog", David had an ambitious dream, he wanted to capture Britain's architectural heritage with his Lilliput Lane Cottages.
"It isn't just a matter of making a product.
The whole company is design-led and design oriented.
It really is about authenticity, it's about research, it's about detail."
– David Tate, excerpt from Packhorse Bridge promo tape, 1986
"We didn't have any money, we didn't have premises, anything like that – but, you know, we were going to get started!"
His interest was "vernacular" architecture – a bygone construction method that relies on local materials. By its very nature, vernacular architecture produces distinctive building styles peculiar to its own area of the country.
"We drive thousands of miles a year, photographing cottages in and around the country, the cold, wet ones, as well as the warm, comfortable ones. It's from those photographs that we actually put a design together."
Usually based on a real building, Lilliput Lane Cottages are originally carved in wax, with each stone and shingle being added individually. From that model, a silicone mould is made, and from that mould, the final cottage is cast in Amorphite, which is a Lilliput Lane invention. The initial line released in that first September consisted of 14 models. Since the company name had not been determined as of yet, some early models, such as Dale House, Acorn Cottage, and Coach House, have no backstamp on them. This makes these pieces especially valuable to collectors.
Since its inception, Lilliput Lane has been a spectacular success, spawning several rival manufacturers of miniature cottages. But, the company's commitment to detail continues to make it the premiere creator of miniatures, and, at last count, there were over 50,000 members world-wide in the Lilliput Lane collectors' club.
In 1997, the company was acquired by ENESCO, and in 1998, at the age of 53, rumour has it that founder David Tate has announced his retirement.
The Collectibles
The quintessential source of information for serious collectors is still Dan Komar's excellent book, "Lilliput Lane – The Complete Collectors' Guide". It can be purchased for around $50 by calling 1-888-830-9465.
The Guide comes complete with a list of the previous year's secondary market auction prices. Although some rare pieces will sell for several thousands of dollars, it should be noted that sometimes the frenzy of an auction will produce a price that is higher than collectors would pay in a private transaction. On the other hand, some pieces sell at a bargain.
According to Dan and contributor Viv Marston, the three rarest Lilliput Lane pieces are: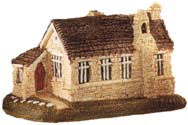 Drapers – Introduced in the original line of Sept. 1982. Only 360 pieces were made.
The Old Mine – Also introduced in Sept. 1982. About 200 pieces were made, the first 10 or so of which had an errant name tag, reading "The Old Mill".
Cliburn School – Created for the closing of this school in June 1983, only 64 of these were produced for pupils and staff.
The Old School is pictured left. This was the second version of the rare Cliburn School.
The Versions
In the early years, models frequently underwent "renovations", resulting in two or more versions of the same piece. Generally, the first version has the most value on the secondary market. Some notable examples of this are: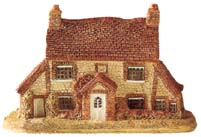 Stone Cottage (pictured right) – Introduced in Sept. 1982, it had no backstamp, and one beam beneath the upper dormer window. It was re-modelled within weeks, and another beam was added over the dormer. It kept changing, until there was a total of five versions!
William Shakespeare's Birthplace – Introduced in Feb. 1983, it had a simple "Lilliput Lane" backstamp with no copyright, and the front edge had Shakespeare's name embossed on it. Four months later, Shakespeare's name was dropped from the front, creating Version 2. And in 1984, the base was re-modelled yet again. Version 1 is the rarest.
Coach House – Also released in Sept. 1982, it was remodelled that same December. Scalloped barge boards were added beneath dormer eaves, more chimney pots were added, and a pat hway around the base was dropped. Fewer than 1000 pieces of Version 1 were made and they have no backstamp.
Although variations were a hallmark of the early days of the company, they still occur occasionally. The 1997 release, Canterbury Bells has an odd variation – the first 200 produced had a metal tree on them!
The Disasters
In spite of its success, Lilliput Lane has had some "learning experiences" along the way. These mis-steps have produced a boon for collectors.
Presumably in an effort to crack the American market, Lilliput produced a series of thirteen models, known as the "Roadside America" collection, in October 1984. Released only in the U.S., this line disappeared quickly, leaving in its wake some highly prized rarities. Amongst them:
Adobe Village – Only 225 pieces were made of the two verions released.
Grist Mill – Only 150 pieces made.
Covered Bridge – No records were kept, but probably fewer than 100 were made.
In 1987, Lilliput came up with a series of 10 flat-backed buildings intended as wall hangings. This line was known as "Street Scenes – 1-10" . This release was so poorly received that it vanished in 11 months.
The Oddities
Some Lilliputs have taken on a life of their own, "Dealer Signs" being a case in point.
The first Bridge House was created by David Tate solely as a dealer display sign in the Fall of 1982. Soon, people began requesting it to purchase, and, after only six weeks of production, the original was retired, and a new flat-backed dealers' version was created. Bridge House was then remodelled and released to the public in November, 1982.
Packhorse Bridge had a similar fate. It was created as a dealer sign in 1986, but this time, the company pre-empted what had happened with Bridge House by releasing a slightly different version to members of the collectors' clubs. No records were kept of the number of Packhorse Bridge – Dealer Signs produced, but it is far fewer than the 5000 made for the clubs.
All of these pieces are highly collectible.
Lilliput Lane Cottages Limited Editions
Numbered, limited editions have done very well for Lilliput Lane, and produced some of the company's most beautiful miniatures.
Some notables:
St. Peter's Cove – Introduced in Feb. 1989, this model of an entire village was so popular its 3000-piece edition sold out in nine months.
The Garden Series – So far, consisting of four limited editions: Leonora's Secret (2500 made) (pictured left); Tranquillity (2500); Reflections of Jade (3950); and Hestercombe Garden (3950). All of these have sold out, and the first two are the most valuable.
Saxham St. Edmunds – A notable exception. Based on a real village, this piece, introduced in July 1991, never reached its intended production run of 4500. It was retired in Dec. 1994 without being fully subscribed.
Lilliput Lane Cottages Special Events Editions

These pieces are normally introduced at the Annual Collectors' Fair in England, and available only for the year at Lilliput Lane events, which makes them rarities.
Some notables: Rowan Lodge, introduced in July 1990, Version 1 ("South Bend 1990"); Gamekeeper's Cottage, introduced July 1991, Version 1 ("South Bend 1991"); Aberford Gate, introduced Sept. 1993 ; Vanbrugh Lodge, introduced Sept. 1995. (pictured right)
Article by Randy Gulliver, based on research from Dan Komar and "Gulliver's World"