Harmony Kingdom UK Ltd took over production of the Harmony Kingdom box figurines in 2012. Led by one of World Collectors Net favourite designers Peter Calvesbert, it is great to see these wonderful figurines continue.
Pictured Carp Ark the 2018 exclusive figurine included in the Harmony Kingdom collectors club kit.
The Harmony Kingdom box figurines were one of the biggest selling and hottest collectables of the 1990s. The boxes combined humour, excellent craftwork, hidden messages, and the versatility of being a box. The models are crafted using crushed marble. They are then hand painted and tinted.
Many of the earlier retired boxes are very collectable and already sell for many times there original purchase price, most notably Backscratch, Who'd A Thought and The Elusive Few. This collection consists of the Shaggy Dog, Panda, Shoe Bill, Shark, Ram, and the Rooster.
Pictured Shaggy Dog one the The Elusive Few
The Royal Watch,  the Harmony Kingdom collectors club, ran for fourteen years and helped make Harmony Kingdom one of the hottest collectables of the late 1990s. There are now a number of local chapters and clubs, especially in the US. With Harmony Kingdom UK Ltd now producing the box figurines and are running the Harmony Kingdom Collectors Club.
For more information visit https://www.harmonykingdom-uk.com/
Harmony Kingdom Features
Message in a Box – A Look at Harmony Kingdom
Some Harmony Kingdom boxes and stories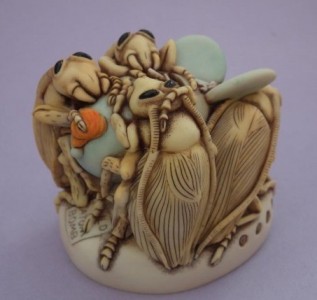 Pictured is Pest Control a 2014 release in the Black Box Series. Designed by Peter Calvesbert who says: "Growing up in the 1970s and 1980s during nuclear proliferation, I recall hearing stories that in the event of World War III the only winners would be cockroaches who would go on to inherit the Earth. This box is the result of my pondering how must cockroaches feel now, 30 or 40 years on from those warnings. It is now 2014 and mankind has stubbornly failed to destroy itself. Having waited long enough, I imagine cockroaches making their own atom bomb in an attempt to become the planet's rulers! This started off as an interesting study of cockroaches but once I got to thinking about it and carving, it turned itself naturally into a Black Box. You will find German, Madagascar and American carved into the piece. These refer to three well known species of cockroach. Also on there is 210mph. Size for size, if we moved as quick as a cockroach we would run at 210mph. Inside is a Tiny Treasure cockroach. This one is designed to be used as a pendant (if desired!). It is holding its head as cockroaches can apparently survive for weeks if decapitated!"
NOTICE – This site is not affiliated or associated in any way with Harmony Kingdom TM.
The purpose of these pages is to provide information to collectors of Harmony Kingdom Boxes.