The 2014/2015 Border Fine Arts Society figurines include:

Pictured right: Secret Store (B1543) Border Fine Arts Symbol of Membership 2014/2015 – 'First appearing in Britain at the end of the first ice age almost 10,000 years ago, the red squirrel's future is increasingly uncertain as one of its greatest threats, the larger and stronger American grey squirrel expands across the mainland. For this special anniversary year, Ray has returned to one of the most popular Symbol of Membership figurines for inspiration — Autumn Harvest, which was produced for the 1996/1997 Society year. The 'red's' cache of acorns — echoing the pinecones on the previous figurine, should help to sustain him over the long cold winter months.
'Right up there in the popularity stakes, our rare red squirrels are worthy of our continued protection,' says Ray 'and, even if it feels as though we are slowly losing the fight against the invasive "greys", we still have little pockets of population of our native reds in our area here in the Borders.'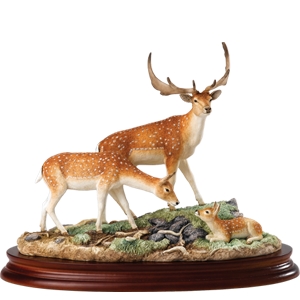 Pictured left: A Gentle Moment (B1544) Border Fine Art Society Members Only Model 2014/2015 – 'Thinking of a subject to celebrate the twenty-fifth anniversary of the Society, I wanted to come up with something that we had not produced before for our Member-only figurine, as we were already using 'old favourites' for the Symbol of Membership and the new Loyalty Figurine,' said Ray. 'Then I remembered the beautiful fallow deer that I had seen during the Annual Fair weekend a couple of years ago at Knebworth. We have produced red deer and roe deer over the years, so this seemed the perfect opportunity to capture the delicate fallow deer in a family scene for the very first time.'
A widespread species across Britain, found mainly in large parklands, ancient forests and stately homes, where visitors enjoy the splendid spectacle of the fallow deer wandering and grazing. The majority of the species are white-spotted during the summer. Our buck boasts spectacular antlers with their distinctive broad-bladed appearance.