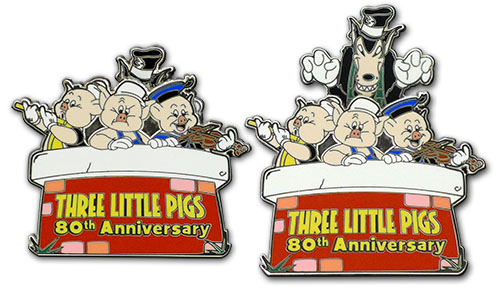 To celebrate the 80th anniversary of the Disney characters, the Three Little Pigs on May 27, 2013 a special pin has been released at Walt Disney World® Resort and Disneyland® Resort. The pin is being released in a Limited Edition of 1,000 and features a slider of the Big Bad Wolf popping up to frighten the Three Little Pigs.
The original film was directed by Burt Gillett, with this Silly Symphony cartoon from 1933 featured a musical score by Frank Churchill and animation by Fred Moore. It won major film awards and gave us the classic song, "Who's Afraid of the Big Bad Wolf?"
The Three Little Pigs 80th Anniversary Disney Pin is priced at $12.95.
It is one of our most favourite pins for a while, the Big Bad Wolf as slider is a great idea.