In the bustling world of 18th century Britain, creativity and originality were paramount not just in the arts, but also in the advertisement game. Enter the Mansion House Dwarfs, an exceptional advertising phenomenon that emerged in 1784 from Derby, offering a whimsical and memorable approach to publicizing various events and services. The Mansion House Dwarfs are sometimes referred to as Grotesque Punches. We take a look at some examples with some realised auction prices.
Originating from the vibrant ceramic industry of Derby, the Mansion House Dwarfs were porcelain figures, distinguished by their high hats. However, these were no ordinary decorative pieces. The hats of these dwarfs often carried advertisements and public announcements – a brilliantly innovative tactic for the era.
It is thought the dwarfs were so named after the figures that used to stand outside the London Mansion House, the official residence of the Lord Mayor of London. Standing in front of this iconic building, the real dwarf figures were often decorated with posters advertising plays, sales, public meetings, and more. The porcelain Mansion House Dwarfs took this concept and downsized it, creating miniature, mobile advertising platforms that could be easily moved and displayed.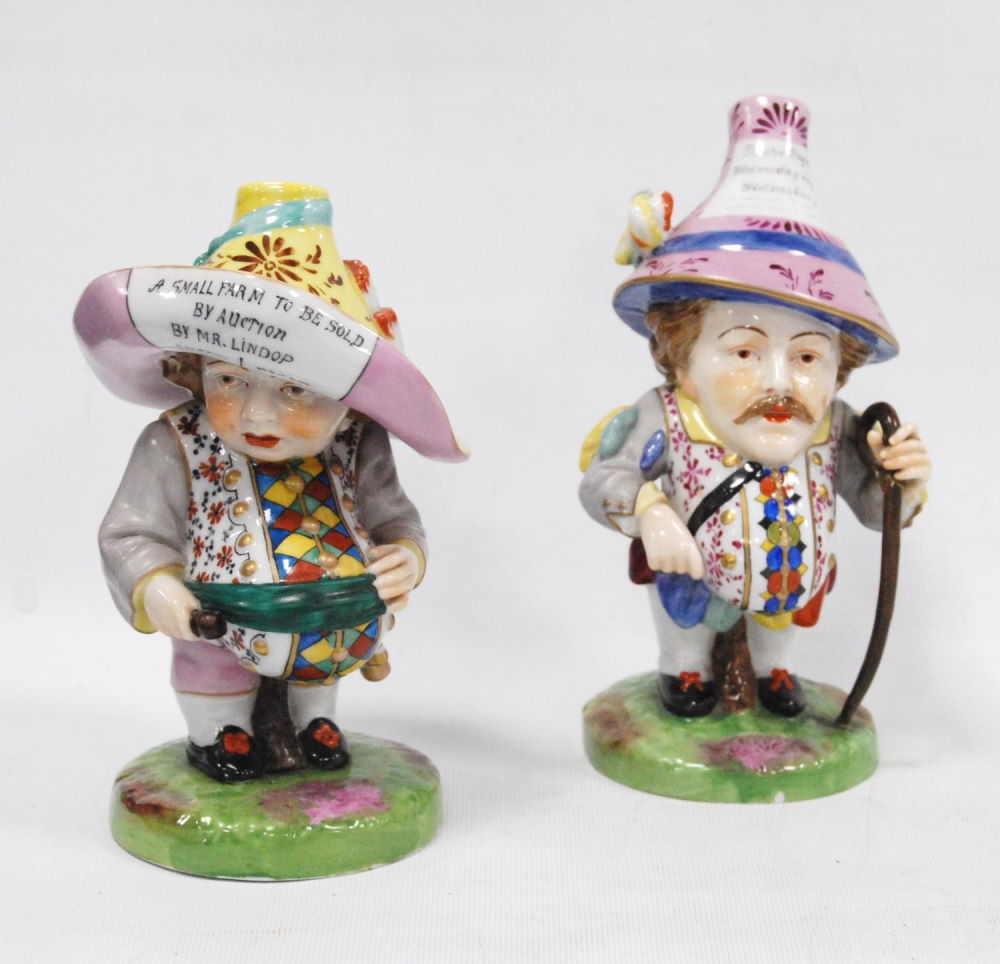 Given the influence of the Mansion House in London, these petite porcelain figures soon gained popularity. Their design was eye-catching – small, colorful, and unique enough to stand out in a world without electronic media. Their high hats, which were the main advertising platform, could be seen from a distance and often contained meticulously painted words or mini posters detailing the advertisement.
What truly set the Mansion House Dwarfs apart was their dual purpose. They were not just a creative advertisement tool, but also valuable pieces of art. They reflected the excellent craftsmanship of Derby potters, known for their intricate details and high-quality porcelain.
The advertisements carried by the Mansion House Dwarfs were as diverse as the events of the day, including theater plays, concerts, public sales, and more. In an era where word of mouth and printed posters were the primary means of spreading information, these figures served as an innovative and efficient medium for publicity.
Their influence gradually waned as advertising evolved with the introduction of newspapers, radio, and eventually, television. However, the Mansion House Dwarfs remain a fascinating example of innovative advertising and craftsmanship. Today, these pieces are treasured by collectors and museums, serving as a charming window into the commercial and social life of 18th-century Britain.
While the Mansion House Dwarfs might be a thing of the past, they remind us that advertising has always been an evolving field, requiring innovation and creativity. They stand testament to the lengths people have gone to ensure their message is seen and heard, a principle that remains at the core of advertising today. From porcelain dwarfs to digital pop-ups, the spirit of the Mansion House Dwarfs indeed lives on.
Related
Pot-Lids – one of the earliest forms of visual advertising