There seems to be a little confusion as to the origin of enamelled coins, and the subsequent artists who created and designed them. The craft sprang from the Victorian love of unusual jewellery. Enamel buttons were popular, and the skills of enamelling could be transferred to coins. Being decorative and not functional, these could feature elaborate designs. The main year of production was 1887, Queen Victoria's Golden Jubilee "The magic year of enamelling". The year saw a huge growth in the demand and production for Royal memorabilia.
The majority of enamelled coins are based on the existing design of the original coin. The first task in the production process was to take out all the background of the coin, leaving the letters and pattern in. In some cases the letters and design were even removed. The enamel was then applied in layers, fired and then ground down to enable the colours to come through in varying shades. This process was often done in more than one stage to enable the intricate colours and painted effect to be perfected.


It was most usual to enamel on just one side of the coin, but some coins are enamelled on both sides. These are considerably rarer, and leaves the question: How did they get the enamel to flow on the second side without the first side dropping of? As it was assumed that all enamel would fuse at about the same temperature. The art has now disappeared, so we cannot answer this question.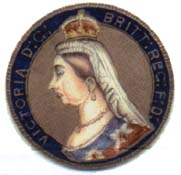 Popular designs included leaves and flower, coats of arms, Britannia and of course Queen Victoria. In some the bust of the monarch are completely removed and replaced in enamels. The coin pictured top right by an unknown designer features many of the popular designs in one coin. The rarest enamel coins are those of gold. Few examples can be seen today,  and those that do exist are mainly are made from dated sovereigns.
Pictured: An enamelled coin featuring Queen Victoria by Edwin Steel.
Two of the finest coin enamellers were William Henry Probert and the Steel family. The earliest enamelled coins were thought to have been produced by William Henry Probert in his Birmingham workshop. His initial designs were very plain with no more than three colours used. However, the coins were expertly engraved. As the coins became more popular his designs became more colourful an elaborate. Pictured above left is an early coin by William Henry Probert.
Edward Steele, was a well known engraver and enameller, who started a venture in his own name designing enamelled coins. His son Edwin and later Edwin's son Henry carried on the business of manufacturing coin jewellery. Edwin's enamel coins are thought to be the finest, with engraving under the enamel to enable light to filter through the enamel. This created superb variations to the reflections.