We all know the Whimsies and other small ornaments produced by Wade, but during the fifties, sixties and seventies, the company also issued a huge range of  unusual, often downright eccentric products, very much of their time.
Pipe Rests, for example – when was the last time you saw someone smoking a pipe? Yet even in the seventies, it was a very manly occupation, especially amongst older men, whose idea of comfort was to sit by the fire, dressed in a baggy knitted cardigan, corduroy slacks and a pair of comfy slippers, pipe in hand. Wade made a series of pipe rests, each decorated with a china dog, and they continued to be made until the early1980s. Presumably, they were deemed 'manly' at the time, but nowadays, the pipe rests just look quaint. They are becoming harder to find as collectors begin to home in on nostalgia.
Each light-green pipe rest consisted of a circular base approximately 3 inches in diameter, and the pipe fitted neatly into the hollow of the base with the stem resting in a groove. The dogs included a Cairn, Alsatian, Red Setter, Yorkshire Terrier and a Corgi. The Yorkie and Corgi seem to be more difficult to find than the other four in the set.
Dogs must have been very popular then, as another range produced by Wade at the same time also featured dogs, with just one token cat. This range were little dishes known as pin-trays, and were in the shape of dog baskets, each containing a puppy.
Although most of these are easy to find, there are a couple which are rarer, and collectors will probably need to pay around £20 for these if they want to complete the set. The cat, though, often turns up. In all there were eleven baskets, glazed in muted shades of brown and beige, measuring 3 x 2 inches. Puppy breeds included were the young of the dogs on the Pipe Rests, and each can be found either standing or lying. The colouration depended on the breed; honey, dark brown, red-brown or grey and brown, and the features were highlighted in brown. Each little dog was well-detailed – often, these Wade models aren't appreciated until closely examined.
The cat – a light brown tabby, 2 inches high, seems to tower over the puppies. His basket is a rich chocolate brown rather than the beige/grey of the dogs. He sits bolt upright, and sometimes has startling green eyes, though frequently they are pale. A cat also features in one of the most beautiful dishes which Wade has ever produced. This little hanging plaque/dish, first issued on the late 1950s, measures just over 3 inches across, and portrays a pointed, Siamese-type face, large blue side-glancing eyes and a benign expression. The realistically moulded fur follows the contours of the face. Wade collectors easily recognise the unmistakable, high-gloss glaze in a mix of blue and beige, which featured on so many pieces from this era.
The items gleam when they are polished with a soft cloth, and are a joy. It seems fashionable to look down on fifties and sixties Wade at the moment, but some of these pieces are stunning, in both design and colouring. A companion piece to the cat face dish was the Pekinese dog dish, using the same colourway.  Other dishes include an attractive angel fish and a bloater, again using this glaze, while, continuing the seaside theme, the Starfish pin tray is a pretty and easily found item. This six-armed creature has intricate details in the modelling. The striking blue/beige finish was used to great effect on many Wade items, many of which today's collectors think of as classic pieces, and which are still very affordable. This colouring is eye-catching yet subtle.
One of my favourite pieces is the neat and compact Crab Box, a particularly tactile item. Measuring just under 4 inches across, this little box is in two halves, with the crab's shell lifting off to reveal a trinket dish beneath. The legs of the crab tuck neatly at the sides with two large pincers at the front, while the shell is beautifully moulded with spots and bumps, recreating the pitted texture of a crab. Crab Boxes sell today for around £20 – an absolute bargain for such a well-designed item!
Other Wade trinket boxes include the Hedgehog Dish and the Treasure Chest, both in a honey/brown glaze. The Hedgehog's spiny back lifts off disclosing a shallow tray beneath, while the Chest is a more conventional square box. Expect to pay £20 for the Hedgehog and £10 for the more easily obtained Treasure Chest.
One of the easiest quirky items to find is the ubiquitous Viking Ship, which also utilises the blue/beige glaze. This is another Wade classic piece and seems to turn up everywhere. Consequently it is often treated with disdain, yet the modelling on this graceful ship is exceptional; it has a dragon's head at one end, a dragon's tail at the other, and a row of six circular shields decorating the hull, with the planking clearly marked out. There are even moulded waves. The ship measures 7 inches from prow to stern and can be also be found in deep-brown patterned with either blue or green. Originally, the Viking Ship was sold as a vase, but it is just perfect as a small ornament. First issued in 1959, it was withdrawn in 1965, and reissued during the 1970s.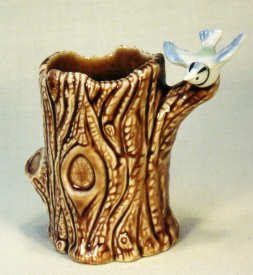 Vases featured prominently in Wade's range of products, amongst them, as you might expect, several unusual ones – for instance, not many companies would have thought to issue a small posy vase bearing a figurine of a chimpanzee! The vase is shaped like a green tree trunk, with a 2 inch high dark grey chimp, in a typical scratching-under-the-arm type pose, standing to one side. In similar vein is the Koala Posy Vase which has a 1 inch beige black-nosed koala perched rather uncomfortably on a small branch.The vase itself is just an inch tall, and would have held a few tiny flowers. Larger, and more useful, was the Bird Posy Vase which, at 3 inches high, could accommodate a few pansies or primroses. Again, shaped like a tree-stump, with swirling bark and knot-holes, it came in beige, green or white, with a small bird perched on the side. The wings of the bird were outstretched and vulnerable to damage, so check for chipping before you buy.
Many of the Wade vases were of
unconventional shape, often long and narrow – some were shaped like bridges with ducks and rushes moulded onto the side, or like a canal barge complete with a man at the tiller. There was also a series of shallow vases shaped as an 'S', a 'C' or just straight, and which came in assorted plain glazes of dark green, light green, beige, blue, white and pink. The sides of the logs were realistically moulded, and the ends were patterned using a variety of techniques, such as rings to represent a cut branch, circles or cross-hatching.These shallow vases were eminently fashionable in the 1950s, and were filled with flower heads to decorate the dinner table. The odd shapes meant that they could be grouped to form circles, ovals or squiggles. Occasionally they can be found adorned with a small rabbit or squirrel figurine. Vases of a more traditional shape were also made, including some with a moulded mermaid or horse design – the former had a mermaid at each end, rather like a ship's figurehead, while the latter was patterned with horses, leaves and branches.
Perhaps, though, of all the Wade quirky pieces, the absolute classic must be the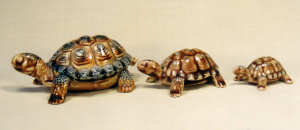 Tortoise Dish. Sold in its millions, this cute, blue/beige 4 inch tortoise was a trinket box and his shell lifted off to reveal the tray below. He was complemented by a mummy and baby tortoise (whose shells were fixed) and by a large turtle, which measured 6 inches from nose to tail, and which also had a removable shell. Wade were obviously inspired by the pattern on a tortoise's shell, because they issued a particularly striking design in 1965 – the Tortoise Bowl, which not only resembled the shell of a tortoise, it also had a tortoise figurine fixed to it. This bowl, probably intended as an ashtray, came in two sizes, 7 inches and 6 inches in diameter. The nicest thing about these various Wade items with their subtle, shiny colouring is the way that they sparkle and gleam when polished. With all the interest in 1950s and 60s collectables, it can only be a matter of time before these eccentric Wade pieces take off!
FACT FILE
1 Sets of  Leaf Dishes are often found. Delicate but impractical, the Horse Chestnut is most common and the Ash is the rarest.
2  The dogs from the Pipe Rests and the Puppy Dishes were also available separately.
3 A set of 1960s dishes featured cartoons by Ray Davies depicting items such as cement mixers and a cute little elephant!
4  When the Hedgehog Dish was first issued in 1961 it cost 6/6d (33p).
DID YOU KNOW?
A 1958 series of pin-trays featured designs by Roland Emetts, an eccentric cartoonist cum designer, who dreamt up strange machines and hilarious incidents involving vehicles.
Quirky Post War Wade by Susan Brewer (follow Sue on Twitter @bunnypussflunge)