Pomp, Pre-Fabs And Poodles – Dolls in The 1950s by Sue Brewer
Just as a black and white film explodes into technicolour, this decade dawned grey, but ended in dazzling colour. This eventful ten years gave young people more power that ever before, and propelled Britons into a completely new lifestyle.
Though the war had ended five years previously, many goods were in short supply and some rationing was still in force. Bomb sites scarred many areas, and thousands dwelt in 'pre-fabs' – prefabricated buildings designed as emergency accommodation for those who had lost their homes during the bombing. Britain needed something to cheer her up, and the Festival Of Britain was a great start. Held in 1951, on London's Southbank alongside the Thames, and dominated by the Dome of Discovery, it featured all that was new in design. Towering above the site was the Skylon, a delicately-shaped edifice which was illuminated at night, and which entranced me as a child.
Millions of people thronged the festival, which spilled over into nearby Battersea Park. One of the great attractions there was the Guinness clock, a marvellous timepiece which featured toucans and other creatures popping out of windows and doors on the quarter-hour. Ideas seen at the exhibition gradually filtered through into people's lives – geometrical designs were in vogue, bright colours, and, conversely, black and white patterns. The most famous 1950s ceramics' range is probably 'Homemaker', which featured black and white drawings of coffee tables, cutlery, settees and lamps. Homemaker, designed by Enid Seeney, was made by Ridgway and sold in Woolworths stores throughout the country in the mid-fifties. Black pottery 'African' hands and figurines were in vogue, as was formica, spindly-legged furniture, coloured 'atom' knobs on small fixtures, ballet scenes on crockery, open-plan living, and poodles on everything!
In 1953, patriotism was truly to the fore – Queen Elizabeth II was crowned in Westminster Abbey. Union Jacks fluttered from lamp posts, commemorative mugs were give to school children, and street parties were held throughout the country. Young and old sat down to enjoy cakes, sandwiches and jellies, and to raise a toast to her Majesty in tea or lemonade. People crowded the front rooms of those fortunate enough to own television sets to watch the beautiful young Queen ride in a fairytale coach along the Mall from the palace, and to see the Archbishop of Canterbury place the crown upon her head in Westminster Abbey.
For one lady, Peggy Nisbet, the Coronation proved a career change when she was inspired to dress small dolls which were sold through the prestigious Harrods store. Little could she have known that those small dolls would be the start of a huge concern, which would go on to produce millions of Peggy Nisbet costume dolls over the next three decades. Naturally, other manufacturers jumped aboard the bandwagon, most notably Pedigree Toys, who issued an 14 inch hard plastic doll called Little Princess. Th is doll had blonde, curly hair, just like the toddler Princess Anne, and her outfit was designed by Norman Hartnell, the man responsible for the Coronation gown. Pedigree also issued a 'Bonnie Charlie' doll, presumably modelled on Prince Charles, and a slender, teen-type called Elizabeth. All these dolls are very much sought-after today by collectors.
Hard plastic was extensively used in the world of doll manufacturing for much of the 1950s. Developed during the war, it was enthusiastically embraced by toy makers, being light, colourful and cheap to produce. It rapidly replaced the older-style composition dolls, and many beauties were made during this time. Towards the end of the decade, however, an even more revolutionary product, soft vinyl, was introduced. Vinyl enabled the hair to be rooted directly into the head, and didn't crack when it was dropped. Soon vinyl replaced the hard plastic, though for a time, dolls often sported vinyl heads on hard plastic bodies as the new machinery was expensive to install.
Barbie, the most successful doll of all time, made her debut in America in 1959, created by Ruth Handler. This sophisticated curvy teen in her black and white striped bathing costume, was a sensation, though she was scarcely known in Britain until the 1970s. Girls in the United Kingdom were less mature than their American counterparts, and although teen dolls were gradually arriving, they were softer-featured and tended to wear the everyday fashions of the time – flared skirts, blouses, smart coats and dainty hats. Even in their early teens, girls still read 'Girl' comic, filled with colourful comic strip adventures featuring nurses, schoolgirls or ballet dancers – children were unsophisticated in those days. Palitoy issued a tie-in 'Girl' doll, who wore a white dress patterned with the logo of the comic. Her knickers and hair-ribbon bore the same motif while her belt had a plastic 'Girl' head as a buckle.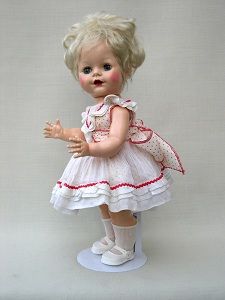 At the beginning of the decade, teen girls dressed like their mothers, often wearing twin-sets and pearls, but as the fifties progressed, they rebelled. Permed hair gave way to ponytails, and skirts were full, often with layers of net or 'paper nylon' petticoats beneath. 'Pedal-pusher' trousers, which ended at mid-calf. were in vogue for a while, as were 'sloppy Joe' sweaters, but, on the whole, girls still had a very feminine look – the love-affair with blue denim was not, as yet, widespread.
Music-wise, Rock 'n' Roll was in – Bill Haley and Elvis Presley were listened to on large 78 rpm records which broke when they were dropped. However, Britain had its own teen stars too, especially Tommy Steele who appeared on the '6.5 Special' tv programme every Saturday, rocking to the music. Teddy Boys loved Rock 'n' Roll, and wore narrow drainpipe trousers, long jackets and winklepicker shoes, combing their hair into a quiff. Skiffle groups, who performed on guitars, washboards and broom handles affixed to tea-chests, were also extremely popular.
As the decade progressed, television grew to play a large part in people's lives; programmes were followed so avidly that 'What's My Line' made front page headlines when Barbara Kelly's earring dropped off in full view of everyone! Children's programmes included an array of cowboy adventures, while the younger tots enjoyed Andy Pandy, The Flower Pot Men and Muffin the Mule. At the cinema, kids thrilled to the adventures of Davy Crockett (it seemed mandatory that every boy at the time had to sport a Davy Crockett hat complete with raccoon tail), and musicals were very much the in-thing, with films such as Oklahoma. South Pacific and Carousel making their debut, while 'My Fair Lady' opened in 1956 on Broadway.
C.S Lewis's book, 'The Lion, The Witch and the Wardrobe' was greatly acclaimed, though most children, once they had progressed from 'Janet and John' were reared on a diet of Enid Blyton. Classics published during the1950s included 'Under Milk Wood' by Dylan Thomas, 'Lord of the Flies' by William Golding, and John Braine's 'Room at the Top'.
By the end of the decade, vinyl played a major part in the toy world. Children could now wash and comb their dolls' hair as much as they wished, and they could bathe their dolls knowing they wouldn't come to harm. Manufacturers produced dolls in their millions to meet the frenzied demands of the 'baby boomers' – the children born in the immediate pre-war years were now a consumer market to be reckoned with.
Related

Dolls at WCN