These days there is a definite tendency to over-use adjectives such as 'extraordinary' and 'inspirational' but when these words are applied to the achievements of Margarete Steiff, founder of the world famous Steiff company, their use is amply justified. In the nineteenth century, to be female was almost as great a stumbling block to achieving international commercial success as being disabled. Margarete was both and yet she overcame these 'disadvantages' to establish a business that was phenomenally successful in her own day and remains so today, 127 years after it was founded.
Pictured right: Recreation of Richard Steiff's workshop, featuring a scale replica of 55 PB, the world's first teddy bear
Born in Giengen, Germany in 1847 to a master builder and his wife, Margarete was stricken with polio before she reached her second year, leaving her paralysed in both legs and with a severely weakened right arm. It was a devastating setback that left her confined to a wheelchair for the rest of her life but whilst the polio was able to damage Margarete physically, it was unable to destroy her spirit. Surrounded by a loving family, she grew up with a strong sense of confidence in her abilities and with a vision to earn her own living. She took the first step towards achieving this goal when she began dressmaking in 1866 and, eleven years later, opened her own shop selling felt garments which she had designed and made herself. As the business prospered, Margarete was able to employ a few people to help produce her garments.

Pictured left: PB 28, Richard Steiff's second jointed bear, also known to collectors as the Rod Bear
The switch to toy making occurred in 1880 when Margarete used a pattern from a German magazine to create a small felt elephant which could be used as a pincushion or simply as a toy. Encouraged by the positive reaction of friends to whom she showed the elephant, Margarete started to experiment, making felt dogs, cats, horses, rabbits and pigs as well as the original elephant. The more she made, the more people wanted them, and thus Margarete Steiff GmbH was born.
As her business grew, Margarete devised ways of bringing her products to the attention of an ever-increasing audience. In 1892, for example, the company produced its first catalogue which featured the maxim, 'Only the best is good enough for our children.' Simple and to the point, the motto is still used by the Steiff company today. Another step towards worldwide recognition came in 1897 when Margarete booked a stand for the first time at the Leipzig Toy Fair, the toy industry's most important trade event. Unable to attend in pers on, Margarete arranged for a new employee to represent her company at this prestigious fair. The young man in question, fresh out of college having just completed his studies at the Stuttgart School of Art, was to play a seminal role in the future of Steiff. A favourite nephew of Margarete, his name was Richard Steiff and his gift to the world was the Teddy bear, arguably the best-loved toy of all time.
Pictured right: First Steiff catalogue, produced in 1892; it introduced the company's motto, 'Only the best is good enough for our children'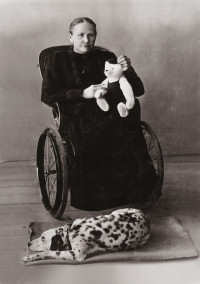 Until the early twentieth century, bears had been represented in toy form as fierce and somewhat unlovable but Richard Steiff was determined to change that. He had a passion for real bears and made it his mission to create a soft toy bear that would win the hearts of children. To this end he made countless sketches of the bears he saw at Stuttgart Zoo as well as those found in travelling circuses and animal shows. At the end of the nineteenth century he designed a number of bears on wheels that could be ridden on or pulled along, and he also produced bears that stood up on their hind legs. In all his experimentation, his object was to give the toy bears life-like movement but nothing quite satisfied him. Then, in 1902, he made a significant breakthrough, creating a bear that was able to move thanks to its innovative string-joints.  Called Bär 55 PB, it was destined to take the world by storm.
Pictured left: Margarete Steiff holding Richard Steiff's perfected bear  
First, however, the new toy had to be unveiled to the world and the venue chosen for this was the 1903 Leipzig Toy Fair. At first, the reaction to Steiff's new, jointed bear was disappointing but that changed when an influential New York buyer, searching for something new and unusual, placed an order for 3000 of them. The arrival of Bär 55 PB in America coincided with President Theodore 'Teddy' Roosevelt's much publicised refusal to shoot an injured bear for sport. Public perception linked the new toy bear with the popular President and thus the 'Teddy' bear was born. To cope with the unprecedented demand for the bears and to accommodate the rapid expansion of the company, a state-of-the-art glass and steel factory was erected in Giengen in 1903. So revolutionary was the design of the building that it does not look dated and is still in use today.
For all its success, however, Richard Steiff was not entirely satisfied with his jointed bear and he continued to experiment and develop. His aim was to perfect his design and in 1905 he achieved this by replacing the bear's string joints with disc joints, an ingenious method that has remained in use to the present day, 100 years after its invention. This 'perfected' bear met with unparalleled success, requiring Steiff to produce 974,000 of them in 1907 alone. Margarete Steiff died just two years later but her company continued to flourish in the capable hands of her nephews. Their combined vision and business acumen enabled the company to grow and to weather the worst that the troubled 20th century had to offer. Today, Steiff has an unrivalled worldwide reputation for the excellence of its products, a reputation that is grounded in Margarete Steiff's simple philosophy that 'only the best is good enough for our children'. 
Visit the WCN Steiff Message Board and Information Pages