Measham Ware pottery  and especially teapots were popular in the mid 19th century to the early 20th century, and is often referred to as bargeware. It was popular with people who worked and lived on the canals and inland waterways of the UK, and became synonymous with the barge people and hence the name bargeware.
Measham ware pottery is earthenware with a treacly-brown glaze. The items were decorated with applied clay that has been moulded into flowers and birds, and sometimes fruit and animals. The Measham ware teapots are typically pear shaped and the larger versions can have smaller teapots built into their lids. They had applied features in white clay, coloured dark pink, green and blue. Some pieces have applied panels featuring mottos, names and sometimes dates. Phrases on pieces include A Present from a Friend, A Present From and Love at Home.
Giant teapots can also be found which were created for displays in teashops.
They were most popular in the late 19th century, with their popularity gradually declining within the general public in the 20th century, the last pieces being made in the 1930s, but really most production ceased about 1910. Some pieces have been found with dates from the 1930s. They remained of interest to barge and canal workers and residents for much longer and for a while were very collectable. Prices have declined in recent years and examples can be now be found for just £20 to £30 / $25 to $40.
Rare Measham Ware Teapots
There are still some rarer pieces appearing at auction and recording excellent prices. An example featuring a cricket motif achieved a price of £2,400 at Tennants Auctioneers, September 2019; and a rare double spouted impressed British Temperance Tearooms 1889 sold for £600 at Bearnes Hampton & Littlewood, January 2020.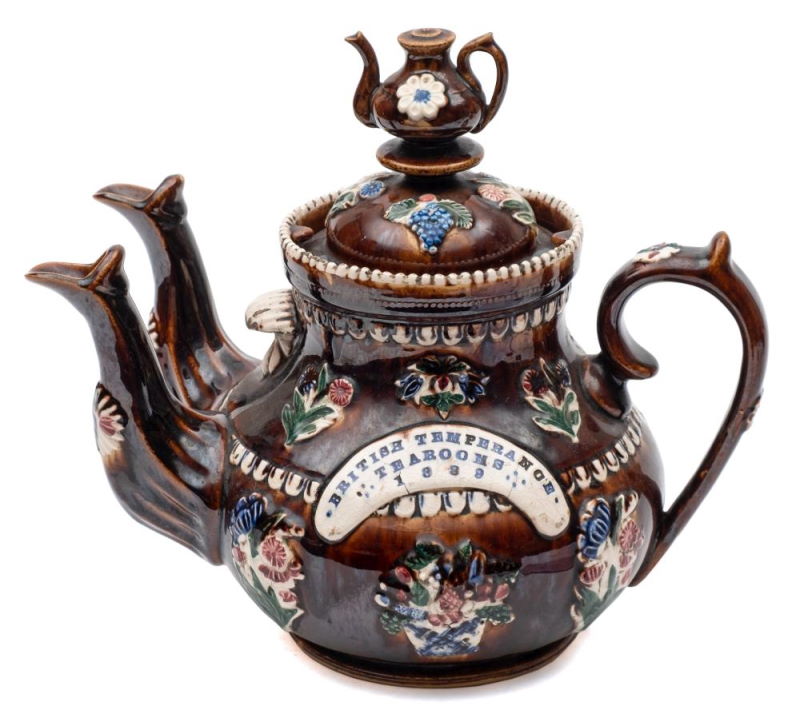 Why Measham Ware?
Many of the pieces were made at the potteries in Derbyshire, around the village of Church Gresley including W. Mason & Co. The village of  Measham was located a few miles from Church Gresley and the Ashby Canal passed through. It is believed the name Measham became associated with pottery due to a shop on Measham High Street ran by  Mrs Anne Bonas and the large volume of wares that were sold.
As well as teapots, Measham Ware also included jugs, tobacco jars, jugs, kettles and chamber pots.
There is also a type of painted bargeware which feature brightly coloured functional items and we will feature these in a future article.
Related
Victoriana
Boat Antiques: Measham Pottery
Current Bargeware Teapots on ebay