In the realm of TV shows, some fade away into oblivion, some earn their deserved applause, and then there are those that stick in collective memory, haunting the edges of pop culture. "Man From Atlantis" belongs to this rare breed, an ambitious endeavor that captures the imagination despite its brief time on the small screen. As well as exploring the TV series and TV movies, its legacy, we take a look at some of the related collectables and ephemera.
Aired in 1977, "Man From Atlantis" was a bold attempt to marry science fiction with the age-old tales of the lost city of Atlantis. Premiering first as a series of television movies, it then transitioned into a short-lived series, starring the enigmatic Patrick Duffy (later of "Dallas" fame) as Mark Harris, the sole surviving citizen of Atlantis. With webbed hands, gill-like structures, and the ability to stay underwater for extended periods, Mark was no ordinary man.
The series itself consisted of 13 episodes. Before the series commenced, however, the character and his world were introduced through a series of TV movies. There were 4 TV movies that set the stage for the subsequent episodic series:
Man from Atlantis (Pilot Movie) – Premiered on March 4, 1977.
Man from Atlantis II: The Death Scouts – Premiered on May 17, 1977.
Man from Atlantis III: Killer Spores – Premiered on June 12, 1977.
Man from Atlantis IV: The Disappearances – Premiered on June 20, 1977.
Following these movies, the episodic series began airing from September 22, 1977, and ran until December 6, 1977.
A series of books by Richard Woodley were written based on the series.
Man from Atlantis Collectibles
The show was short lived and and as such the range of toys, collectibles and merchandise created was limited. The main items available to collectors are books, annuals, comics, pictures from the show, puzzles and series and movie compilations of the series. Sadly, there were no action figures created – BUT there nearly was!
In mid-1977, amidst much anticipation for the upcoming "Man From Atlantis" series, actor Patrick Duffy and Solow Production Company (a spin-off from Hanna Barbera Animation's live action division) headed to Cincinnati, Ohio. They met with renowned toy manufacturer, Kenner, to conceptualize a toyline complementing the show's aquatic allure. Drawing inspiration from its successful "Six Million Dollar Man" toyline, Kenner envisioned two sizes for the figures: 3.75″ and 12″. This proposed line would feature characters like Mark Harris and his adversary, Mr. Schubert (known for his role as King Tut in the 1966 Batman series). A 12″ prototype showcased Harris, intriguingly repurposed from the Steve Austin figure, retaining its distinctive robotic right-eye. The showstopper would have been the intricate Cetacean submarine playset, equipped with myriad features and accompanied by figures like Dr. Elizabeth Merrill. Artist Steve Hodges conceptualized additional aquatic alien figures, diving ships, and an "Undersea Explorer" vehicle. Kenner's ambitious plans also included a "Dip Dots Painting Design" book and a 3D "See-A-Show" Viewer, reflecting the era's penchant for immersive toys. (Source LostCollectibles)
Plot & Characters
Rescued by Dr. Elizabeth Merrill (Belinda Montgomery), Mark becomes the subject of scientific interest due to his unique physiology. Alongside Merrill, he works to fend off threats to humanity, often of underwater origin, and occasionally spearheaded by the sinister Mr. Schubert (Victor Buono).
What distinguished "Man From Atlantis" from other series was its dedication to an underwater setting, pushing the boundaries of special effects for its time. Though sometimes criticized for its simplistic storyline, the show's imagery, music, and setting made it an enchanting watch. It was ultimately the cost of the underwater settings and special effects that led to its cancellation.
Legacy & Impact
Despite its short lifespan, "Man From Atlantis" pioneered a subgenre of oceanic adventures, inspiring generations to wonder about the lost city and its possible survivors. The show took a deep dive (pun intended) into ecological themes, with many stories focusing on environmental hazards long before such topics became mainstream.
Patrick Duffy's portrayal of Mark Harris was both engaging and sympathetic. He was a stranger in a strange land, a last-of-his-kind character who tried to reconcile his lost past with an unfamiliar present. The show also boasts of having the first Asian-American actor, Soon-Tek Oh, in a recurring role on an American TV series.
Key Episodes of "Man From Atlantis"
The pilot episode of "Man From Atlantis" set the stage, introducing viewers to the water-adapted stranger found washed ashore. His survival and unique abilities became the central focus, leading to numerous adventures. "Man O' War," for example, was a standout episode where massive, poisonous jellyfish threatened the coastal areas, emphasizing the theme of environmental disturbance. In "Killer Spores," alien organisms threatened to change Earth's atmosphere, bringing to light concerns about global atmospheric changes and environmental disruptions. "The Death Scouts" was another significant episode, featuring humanoid beings from another planet. Yet, it was the confrontations with the villainous Mr. Schubert, especially in episodes like "The Disappearances" and "Imp," that consistently brought the series back to its central conflict: the clash of ideals between the last Atlantean and those who sought to exploit or harm Earth's oceans. Each key episode not only advanced Mark's personal journey of discovery but also underscored broader themes of environmentalism, exploration, and the unknown wonders and threats lurking beneath the sea.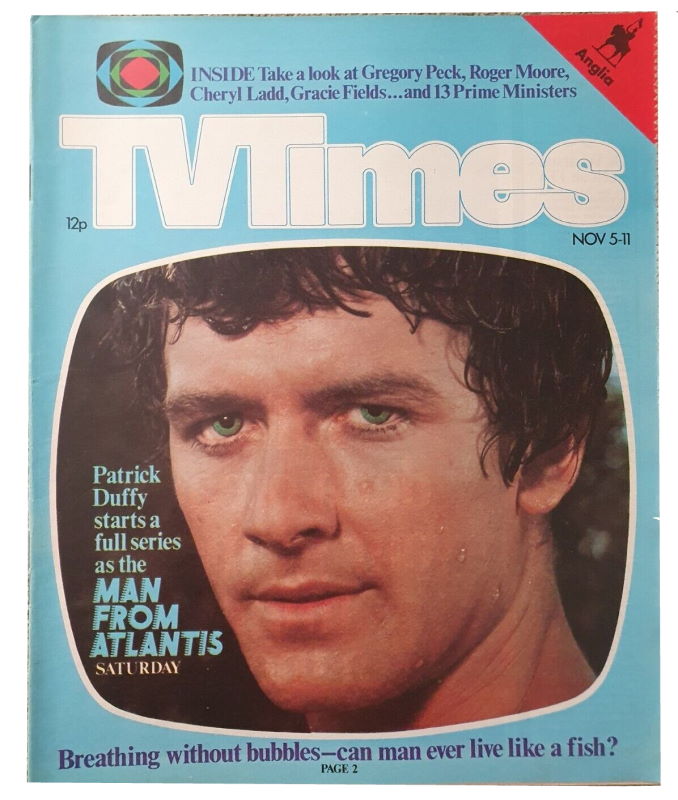 Today, "Man From Atlantis" is remembered fondly by those who grew up watching it and discovered it later. It remains a testament to the idea that sometimes, even a fleeting moment on screen can leave a lasting impact. Its themes of environmentalism, identity, and discovery are as relevant today as they were in the '70s. For those looking to relive their childhood or delve into vintage television, "Man From Atlantis" offers a deep-sea journey unlike any other. It is a dive into the mysteries of the ocean, the wonders of forgotten civilizations, and the boundaries of human imagination.
Related
Kenner Bionic Bigfoot The Sasquatch Beast and the Six Million Dollar Man
The Man From Atlantis and Scuba Squad