Louis Wain was one of the most famous British artists of the early 20th century. He is best known for his paintings and drawings of cats in various humorous and abstract poses, but what some people may not know is that he also created a series of Cubist Cats.
Some art experts believe that the Cubist Cats are a reflection of Wain's mental state at the time, as he was diagnosed with schizophrenia later in life. Others believe that the cats simply reflect his love of experimenting with different styles and mediums. Regardless of the reason behind them, the Cubist Cats are an important part of Wain's oeuvre and offer a unique glimpse into the mind of one of Britain's most famous artists.
The Cubist Cats were created between 1910 and 1912, at the height of the Cubist movement. They are considered to be among his most avant-garde and experimental works. Many of the cats in these paintings are shown in fragmented, geometric forms, with their features often distorted or hidden. This was in keeping with the Cubist style, which sought to break down objects and images into their basic shapes and forms.
While the Cubist Cats may not be as well-known as some of his other works, they are significant in that they show the artist's experimentation with new styles and techniques. They also provide a rare glimpse into his process and thinking at this stage in his career. The collection was made first by the Max Emmanuel factory and later by Amphora.
The Cubist cats first appeared at an exhibition in 1914 where Wain designed a set of nine cats, a pig and a dog. Most were given a Lucky name such as: The Lucky Futurist Cat, The Lucky Black Cat, The Lucky Knight Errant Cat, The Lucky Haw Haw Cat and The Lucky Master Cat. One of the rarest is The Lucky Sphinx Cat.
Louis Wain's Cubist ceramic models of cats and animals were created in very small quantities, and one batch bound for the US was hit by a torpedo and the shipment lost. Being produced in small numbers means they are quite rare and are much sought after when they come up for sale in galleries or at auction.
It is clear that Louis Wain was a talented and versatile artist, who was always exploring new ideas and styles. The Cubist Cats are a great example of this, and they provide us with a rare glimpse into his early development as an artist.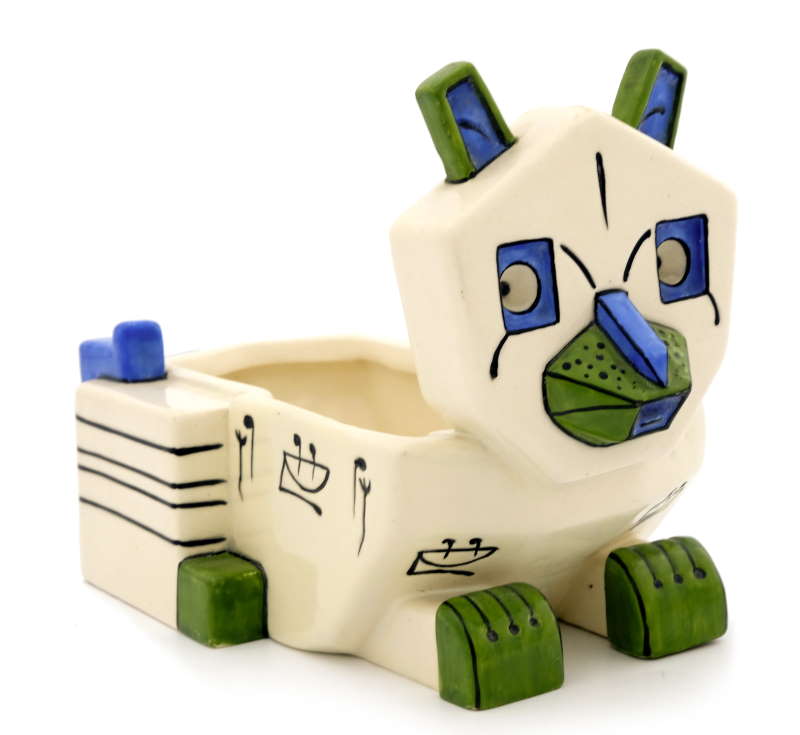 Related
Louis Wain and His Cats Life & Pottery
The Life and Cats of Louis Wain