Laurel and Hardy were one of the most popular and critically acclaimed comedy double acts of the early Classical Hollywood era of American cinema.
Pictured left: LAUREL, STAN AND OLIVER HARDY. Photograph Signed ("Stan Laurel" and "Oliver Hardy"), 8 by 10 inch silver print, of both men wearing bowler hats, signed at lower margin and additionally inscribed "Hello Charles!" tipped to mat with archival tape, framed. Sold for $671 inclusive of Buyer's Premium at Bonhams, California, April 2011. Image Copyright Bonhams.
Laurel and Hardy Autographs
At the heart of every Laurel and Hardy Collection will be autographs and signed photographs. Autographs of the pair range from $150 (£100) to $450 (£300), with some signed documents going for more. Laurel and Hardy signed photographs start at $450 (£300) with sort after and exceptional images fetching significant premiums.
Composed of thin Englishman Stan Laurel (1890–1965) and heavy American Oliver Hardy (1892–1957) they became well known during the late 1920s to the mid-1940s for their slapstick comedy, with Laurel playing the clumsy and childlike friend of the pompous Hardy.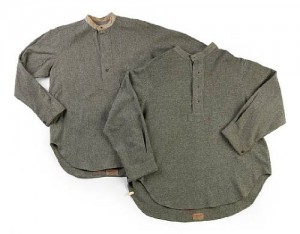 They made over 100 films together, initially two-reelers (short films) before expanding into feature length films in the 1930s. Their films include Sons of the Desert (1933), the Academy Award winning short film The Music Box (1932), Babes in Toyland (1934), and Way Out West (1937). Hardy's catchphrase "Well, here's another nice mess you've gotten me into!" is still widely recognized.
Pictured left: A Stan Laurel and Oliver Hardy set of shirts from "Bonnie Scotland" Metro-Goldwyn-Mayer, 1935. Both made of gray wool, collarless with four-button front closure; Laurel's has added striped collar detail; each have Western Costume Company labels reading "Laurel 2148 15 2" and "Hardy 2150 18 2;" each have additional 'WCC' stamps on inside; worn by the duo as they played characters who had their same real names; both pieces altered for later use. Included are reprinted images showing the two in costume. Sold for $4,575 inclusive of Buyer's Premium at Bonhams, Los Angeles, June  2010. Image Copyright Bonhams.
Prior to the double act both were established actors with Laurel appearing in over 50 films and Hardy in over 250 films. Although the two comedians first worked together on the film The Lucky Dog (1921), this was a chance pairing and it was not until 1926, when both separately signed contracts with the Hal Roach film studio, that they began appearing in movie shorts together. Laurel and Hardy officially became a team the following year in the silent short film Putting Pants on Philip (1927). The pair remained with the Roach studio until 1940, then appeared in eight "B" comedies for 20th Century Fox and Metro-Goldwyn-Mayer from 1941 to 1945.
Pictured right:Stan Laurel's trademark Bowler Hat, the undersized black felt bowler hat, with black grosgrain ribbon trim — worn by Stan Laurel circa 1930s – 1940s, signed and inscribed inside To Anne, Stan Laurel; accompanied by a two page autographed letter in Stan Laurel's hand, on Laurel And Hardy Feature Productions illustrated and headed paper, 511 Pacfic Mutual Building, Los Angeles California, November 28th, 1941 to Anne, thanking her for her correspondence and Hope you recd. the photos and also the hat… Am also enclosing you a little song book of parodies that was sent to me, thought you may enjoy it and get a few laughs.; the song bookSing-A-Laff by L. Wolfe Gilbert as mentioned and an early photograph of Stan Laurel inscribed in Laurels hand To Anne From Sweet Sixteen!! — 7×4½in. (18×11.5cm.); and stamped envelope. Sold for £26,250 inclusive of Buyer's Premium at Christies, London, November 23rd 2011. Image Copyright Christies.
After finishing their movie commitments at the end of 1944, they concentrated on stage shows, embarking on a music hall tour of England, Ireland, and Scotland. In 1950 they made their last film, a French/Italian co-production called Atoll K, before retiring from the screen. In total they appeared together in 107 films. They starred in 40 short sound films, 32 short silent films and 23 full-length feature films, and made 12 guest or cameo appearances, including the recently discovered Galaxy of Stars promotional film (1936).
Pictured left: Laurel and Hardy, Nothing But Trouble MGM, 1945, half-sheet, style B, condition B-. 22 x 28in. Sold for $568 inclusive of Buyer's Premium at Bonhams Los Angeles June 2006. Image Copyright Bonhams. Image Copyright Bonhams.

A common comedy routine was a tit-for-tat fight. Their silent film Big Business (1929), which includes one of these routines, was added to the Library of Congress as a national treasure in 1992. Notable Laurel traits included crying like a baby while being berated and scratching his hair when in shock. On December 1, 1954, the team made their only American television appearance, surprised by Ralph Edwards on his live NBC-TV program, This Is Your Life.
Pictured right: Rare bisque headed Laurel and Hardy wind-up toys, Hertwig & Co Germany 1920's. Well moulded bisque heads and hats with painted features, card cylinder bodies with wooden lower arms and metal feet, wearing black and white felt suits with bow ties, mechanism to body and key to rear when wound the figures move about, both 20cm (8in) tall. Sold for £3,600 inclusive of Buyer's Premium at Bonhams, Knightsbridge, May 2008. Image Copyright Bonhams.
The works of Laurel and Hardy have been re-released in numerous theatrical reissues, television revivals, 16mm and 8mm home movies, feature-film compilations, and home video since the 1930s. They were voted the seventh greatest comedy act in a 2005 UK poll by fellow comedians. The duo's signature tune, known variously as "The Cuckoo Song", "Ku-Ku", or "The Dance of the Cuckoos", played on the opening credits of their films. The official Laurel and Hardy appreciation society is known as The Sons of the Desert, after a fraternal society in their film of the same name.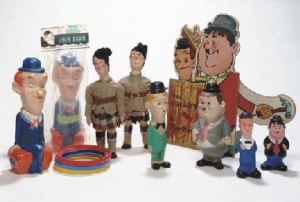 Pictured left: Laurel and Hardy – A collection of character dolls modelled as Stan Laurel and Oliver Hardy, comprising: a pair of wind-up dolls — ½in. (14cm.) high, a pair of plastic squeezie dolls — 8½in. high (21.6cm.), a pair of cloth dolls with Scottish uniforms — 11.in (27.9cm.) and two Stan Laurel Coin Banks — 11in. (29.3cm.) one in original packing; accompanied by a Laurel and Hardy card standee — 14½x13in (35.6x33cm.) . Sold for $2,160 at Christies, New York 2007. Image Copyright Christies.
There seems to be continued interest in Laurel and Hardy, their movies and their memorabilia. The Sons of the Desert is the name of the International Laurel and Hardy Society and whose aim is to provide a group for Laurel and Hardy enthusiasts – click here for more details.