I ought to say 'bless you'. Not only for belated New Year felicitations, but also as so many of us have been snorting into our hankies lately. I too have been doing much the same, and when I saw a superbly colourful collection of glass handkerchief vases on a photo shoot for a book last week, I got thinking.
Pictured: A Venini Latticino glass handkerchief vase. Sold for US$ 366 (£233) Bonhams Los Angeles 2011. Image Copyright Bonhams. 
The handkerchief vase shape screams the 1950s to most of us, especially thinking of the examples illustrated here that are seen at fairs up and down the country. And we're not far wrong. The form was developed by Italian artist, designer and glassmaker Fulvio Bianconi around 1948- 1949. It wasn't necessarily a single-handed effort, as he was working with Paolo Venini of the renowned 'Venini & Cie' glass factory on the Venetian island of Murano at the time. The vases became known as 'fazzoletto' (fats-o-let-o), which quite simply is Italian for 'handkerchief'.
Pictured: 1950s Murano Venini Freeform Pink Handkerchief Vase. Sold for £395 Ebay May 2015.
They were made in a huge variety of different colours and sizes, but all looking like up-turned hankies concealing something invisible, then frozen in place. The most commonly seen forms are low, transparent and contain stripes of fine spiralling threads, known as 'zanfirico' rods. Others are opaque, or cased in different colours. Not all these vases were made by Venini however because, as with most Murano glass, the design was widely copied by the many other factories on the island and sold less expensively to tourists.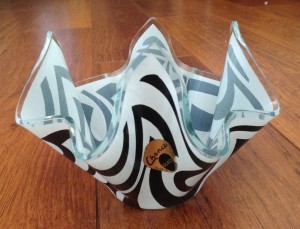 Pictured: 1960s Chance small psychedelic black and white printed pattern glass handkerchief vase. This version sold for £17.99 on ebay February 2015.
Look on the bottom for a small three lined acid-etched mark reading 'venini murano italia' or a metallic cream on gold Murano sticky label to be sure you're buying an authentic Venini piece. This isn't to say that other factories' examples aren't worth having, but they are generally less desirable and thus less valuable. An authentic marked Venini piece may fetch around £200-800 or more, depending on size and the type of glass used. A copy can be found more easily and for under £150, quite often under £80-100. Genuine Venini, or those in large sizes or very unusual patterns have the best chance of rising in value to me.
Desirable as the Italian originals are, how about a version that is more varied, more colourful and also more affordable? Chance Glass, based near Birmingham, produced handkerchief vases in their thousands from the 1950s until the late 1970s, before the factory closed in 1981. Found in many fashionable and young homes at the time, these are also the most common examples you'll see today. They're immediately recognisable, as for a start they often look more like real handkerchiefs with their printed patterns, and secondly they have a sharper, more angular look.
They were produced by resting a thin square pane of glass on a tall cylinder, and then heating it in a kiln, causing the plate to melt a little and sag down around the cylinder when encouraged by a tool rather like a metallic spider. Although roughly the same each time, the folds are not regular, which explains why they don't stack, or even begin to stack if you carefully try. I say carefully try as the screen-printed pattern is on the outside and tends to scratch very easily.
This is one of the most important things to look for when planning a purchase as scratches, particularly on and around the base, make a piece worth considerably less. Similarly, examine the sharp edges and corners to ensure that they are not chipped as the same rings true. Talking of ringing, try tapping one. Weird as it sounds, it doesn't create the expected high-pitched ring, but one more like the ring of a cowbell – try it when you get one home and you'll see what I mean!
To blow out a common misconception, they were produced in four, not three, different sizes. The 'oversize' is the rarest and is really rather large, making quite a visual impact. The next rarest is the 'medium' size and the two most common sizes are the 'small' size at around 4 inches high and the 'large' size at around 7 inches high. Chequered prints in all their variety are more common, and indeed 'Gingham' was one of the last patterns to be introduced in 1977. Polka dotted (my favourite) and broad banded examples are also often seen. More sought after are the ones with 'funkadelic' 60s-tastic swirls. Pinstriped examples also seem to get the winning vote, especially in acidic colours typical of the 1960s.
Not all examples have printed surface patterns, instead using textured glass produced by Chance's owner, Pilkington, the industrial glass giant. In fact, next time you open your glass panelled back door or the door to a pub loo, look at the textured glass. Remember it, as much of that was produced by Pilkington, who also used it in resonant colours on Chance's ranges. A varied linear pattern, a bark-type effect or a gently 'hammered' effect are three typical examples.
Regular readers will know how fond I am of collectables we can all afford to collect, and these currently fall into that category. Most fetch under £40-60, with common sizes often being under £25. Unprinted examples are currently generally less desirable unless large, usually fetching under £20 for small sizes. The exceptions to look out for are the very rare intaglio cut examples, such as the broad-banded ruby example on this page, which can sometimes go for over £100.
Just as well they're comparatively inexpensive, as the variety of patterns and sizes is truly vast and would make a superb and addictive challenge to collect. As they appeal as much to people looking for a 1950s touch for a room as to diehard collectors, prices should rise further, especially for the large examples or rare printed patterns. Chance glass in general is rising in the desirability stakes too. So when you're next at a fair and see one that catches your eye, why not do what Agnetha, Benny, Bjorn and Anni-Frid once sang and 'Take a Chance…'. That'll be going around in your head all day now!
Top Tips
Always look for examples of Chance's vases in the best condition–really. There are plenty out there, especially in the more common sizes, so there are no excuses! Chance's examples are not marked, but look out for the company's gold foil oval label.
Not all Venini pieces are marked, so it's best to handle a couple of genuine articles to get used to the weight and form. Real Venini examples are more finely made, with a more delicate and 'understanding' form.
When out and about, look around as often as possible to build your experience – this will help you to spot scarcer patterns.
Useful Contacts
www.chanceglass.net Chance Expressions, by David Encill, published by Cortex Design, 2007
eBay – www.ebay.co.uk
Great Glass – www.great-glass.co.uk Jeanette Hayhurst Fine Glass, Kensington Church Street, London.
by Mark Hill visit https://www.markhillpublishing.com/