The George Ohr Pottery is one of the most fascinating ceramic art movements in history. The eccentric artist George Edgar Ohr was its founder, and his unique pottery has become highly sought after by collectors. However, much of George Ohr's fame, recognition and interest in his work came posthumously. In this feature, we will take a look at the history of the George Ohr Pottery and explore why it is so unique. We will also discuss the life and work of George Edgar Ohr, and see why he is considered to be one of the most important ceramic artists of all time.
George Edgar Ohr was born in Biloxi, Mississippi in 1857. He was the second of five children, the son of a German immigrant who ran a successful grocery business. As a young man, Ohr showed an interest in art and began to experiment with clay. He later studied ceramics at the Pennsylvania Academy of the Fine Arts, and then apprenticed in 1879 with a local potter and family friend Joseph Fortune Meyer at his factory in New Orleans. After a couple of years of learning to be a potter Ohr travelled throughout America discovering the art-pottery movement.
After learning how to "boss a little piece of clay into a gallon jug," Ohr set out on his own to see what other potters were doing. In the early 1880s, he traveled through 16 states, dropping in on ceramics studios, shows and museums. By the time he got back to Biloxi in 1883, he had absorbed the essence of America's burgeoning art-pottery movement. In Cincinnati's Rookwood studio and a few others, potters were decorating their wares based on Japanese or French ceramics, adding animals, birds and bright floral designs. Ohr returned home determined to make art, not pots. (Bruce Watson)
On his return Ohr opened his own pottery studio and shop in Biloxi, actually next to his father's house. He found and used a red clay for the pottery along the banks of the Tchoutacabouffa River. Initially he created utility pieces such as pitchers, planters and chimney flues. He would later experiment with pots in anatomical shapes and eventually with pieces he called his "mud babies". He did take his experimental pottery which featured unusual shapes glazed with wild colours to exhibitions in New Orleans and Chicago but they were not greatly received and did not sell well.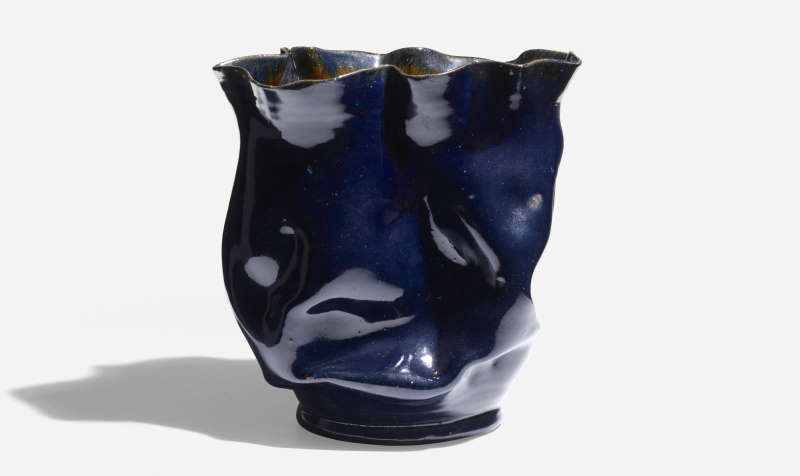 The Mad Potter of Biloxi
More eccentric than mad, George Ohr was happy to self proclaim as the "Mad Potter of Biloxi". This was fuelled by the way he looked and his pottery and shop which was unlike anything that had been seen before. It is also said that his eccentricity can be seen in his pots.
Several striking features were evident his large stature, his amazing 18 inch mustache and his eyes. Bruce Watson mentions "And there was something in Ohr's eyes—dark, piercing and wild—that suggested, at the very least, advanced eccentricity." The George Ohr Pottery was a mass of colour and the signs advertising the pottery and on the pottery also provided a great deal of humour including "Pot-Ohr-E", "Get a Biloxi Souvenir, Before the Potter Dies, or Gets a Reputation", and "Unequaled unrivaled—undisputed— GREATEST ARTPOTTERON THE EARTH." He was certainly way ahead of his time.
His work really evolved after a great fire in 1894 destroyed a lot of downtown Biloxi including Ohr's fathers shop and his own pottery.  Ohr collected his "killed babies" (the burned pots he had made) and apparently kept them forever. Ohr was able to rebuild his pottery including its pagoda. The fire ignited a new desire in Ohr to make pottery as distinctive as he was. He stopped glazing pots stating "God put no color in souls, and I'll put no color in my pottery".
The best of Ohr's pots are formed, thrown paper thin and then manipulated with twists, crinkles, crimping, ruffling, off-centering, twisting folds and dimples using his coil and pinch method. He threw perfectly formed pots and then misshaped them. He was creating Abstract Expressionist objects 50 years before the movement started. There is debate on how he could have created such fine, thin pottery at the time and it is possibly something in the red clay he gathered himself. He was against large scale factory production and thought that only real art could be made by the individual. Ohr's work is extraordinarily idiosyncratic and he practiced his own mantra of "no two alike."
George Ohr stopped potting in 1909 having claimed he had not sold a pot for years. Articles and features suggest that at the time of his death in 1918 there were some 7,000 (although some articles refer to 10,000 to 20,000) pieces of unsold pieces. One reason that Ohr did not sell many of his pots was the high prices he put on them.
"When I am gone, my work will be praised, honored, and cherished. It will come." George Ohr
Surprisingly, it was not until fifty years later that the collection was once again discovered and a few years later started to trickle into the market. In the 1980s his work started to receive critical acclaim and pottery that a hundred years previously struggled to sell were now selling for thousands of dollars.
Artists, including Jasper Johns and Andy Warhol, bought Ohr's pots, as did several collectors, though the curator of ceramics at the Smithsonian's National Museum of American History protested Ohr's inclusion in a show in 1978, calling him "just plain hokey." Only in 1984, when Ohr pots appeared in paintings by Johns at New York's Leo Castelli Gallery, did praise and critical esteem begin to flow. After a series of one-man shows of Ohr's work, collectors such as Steven Spielberg and Jack Nicholson purchased pieces and drove prices up. Today, the same pots scorned a century ago sell from $20,000 to $60,000 each. (Bruce Watson)
George Edgar Ohr is considered the most important US ceramic artist for several reasons. First, he was a pioneer of the art pottery movement in the United States. His work challenged the traditional notion that ceramics were purely functional objects, and instead presented them as works of art. Secondly, George Ohr was highly experimental, constantly pushing the boundaries of his medium. He was never satisfied with simply replicating existing techniques; instead, he sought to invent new ones. This led to the development of his signature " coil and pinch" method, which produced uniquely organic and asymmetrical forms. Lastly, George Ohr's work has been highly influential in the field of ceramics. His unique style and approach to clay-making has inspired generations of artists, and his pots are now highly sought-after by collectors. George Edgar Ohr truly is the Father of Modern American Ceramics.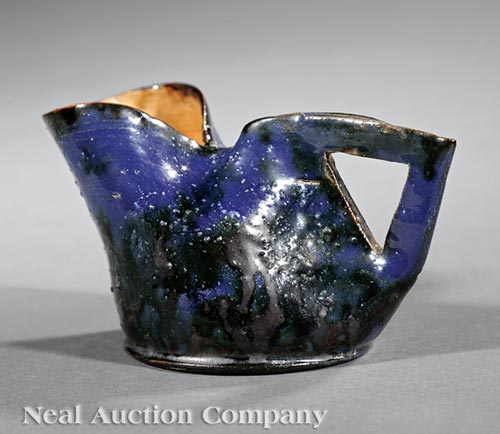 The Ohr-O'Keefe Museum Of Art
The Ohr-O'Keefe Museum Of Art is a non-profit art museum located in Biloxi, Mississippi, dedicated to the ceramics of George E. Ohr, the self-proclaimed "Mad Potter of Biloxi". The museum is named for ceramic artist George E. Ohr (1857–1918), as well as Annette O'Keefe, late wife of former Biloxi mayor Jeremiah O'Keefe, Sr., who was instrumental in donating money and raising funds for the completion of the museum campus. (Source Wikipedia).
Related
Watson, Bruce – The Mad Potter of Biloxi in The Smithsonian Magazine This is a great feature and well worth a read.
George Ohr pieces at The Met
George Ohr Pottery on ebay
American Pottery at WCN