Glass designer Geoffrey Baxter is one of the most renowned and celebrated designers of his era. His elegant and timeless designs are still popular today, and his work has been exhibited in galleries all over the world. Born in 1922, Baxter started working at the Whitefriars Glassworks in 1954, where he designed for nearly 40 years, finally leaving Whitefriars in 1980. His work is iconic and has defined an era in glass design. Baxter's timeless designs are characterized by their simplicity and functionality. His work is often credited with popularizing the use of glass in modern design.  Thanks to his enduring popularity, Geoffrey Baxter is considered one of the most important glass designers of his era.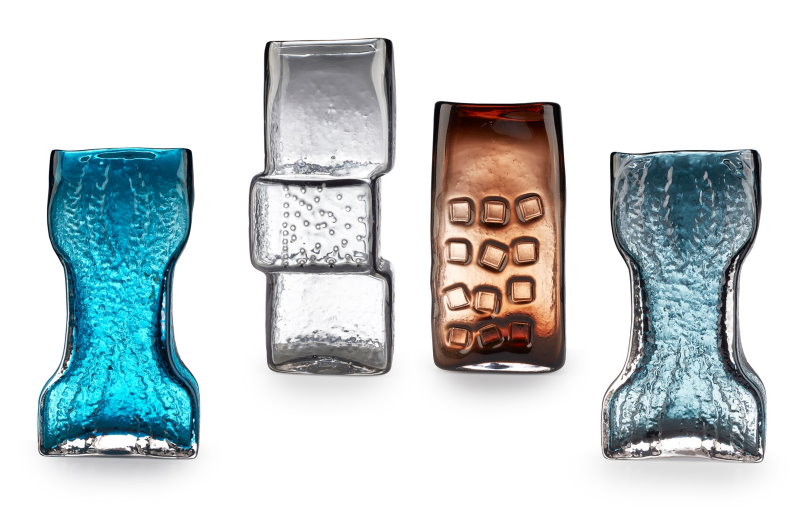 Baxter went to school at Godalming in Surrey before gaining entry to Guildford School of Art at the age of 14. He spent a brief time at the Guildford Glassworks and later he won a place to study at the Royal College of Art in the early 1950s in the newly established Department of Industrial Glass. He finished with a First Class honours and a travelling scholarship to the British School in Rome in 1953, the first time such an award had been given to an industrial designer. Baxter's work at Royal College of Art had attracted a lot of attention even before he graduated. Baxter was approached by William Wilson who was the managing director and chief designer at Whitefriars Glass, to work as his assistant. After only a few years he was designing the majority of domestic glass at Whitefriars.
Baxter's Glass Designs and Colours
In the 1950s the modern Scandinavian glass was at the front of glass design. Whitefriars had long been at the forefront of British glass design embracing the Arts and Crafts movement, Modernism and the Industrial Art Movement. Baxter's involvement from the late 1950s helped Whitefriars continue to be at the forefront of British glass design.
Baxter's designs are characterized by their simplicity and functionality and his use of colour and pattern. His designs ranged from contemporary style patterns for cut glass to creating thick-walled free-form organic bowls and vases. Arctic Blue and Ocean Green were two cool new colours he helped to develop in 1959, followed by the darker-toned Midnight Blue and Shadow Green in 1962. The latter were used for a stylish new range of simple mould-blown soda glass vases that were made using two part moulds, and then finished by hand and which were light in weight and had unusual angular profiles. The Whitefriars Blown Soda range was introduced at the Blackpool Show in 1962 (click to learn more about Whitefriars Blown Soda)
Baxter's most iconic designs are his textured range which was introduced in 1967. The Banjo vase (Model No 9681)  and Bricklayer vase (Model No 9672) are two of the most popular designs created by Geoffrey Baxter for Whitefriars. The Banjo vase, which was first introduced in 1967, is characterised by its tall, slender neck and bulbous base, while the bricklayer vase takes a more playful approach, with a series of stacked blocks forming its body. The Nuts and Bolt vase (Model No 9668) featured a series of 12 hexagonal and other bolt shapes to the side. The textured pieces came in a range of colours including Meadown Green, Aubergine, Tangerine and Kingfisher Blue. Some colours are rarer than other.
Baxter's Influence on Modern Glass Design
Geoffrey Baxter's work at Whitefriars had a profound influence on modern culture. His unique approach to glassmaking helped to redefine the medium, and his bold use of color and form inspired a generation of artists. Baxter's work is characterized by a sense of playfulness and experimentation, and his willingness to push the boundaries of traditional glassmaking techniques helped to create a new aesthetic for the 20th century. Today, Baxter's legacy can be seen in the work of many contemporary artists, who continue to explore the potential of glass as a medium for expression.
Related
Whitefriars Glassworks
Whitefriars Glassworks Price Guide
Whitefriars Blown Soda
Obituary of Geoffrey Baxter in The Independent