Emmett Kelly Collectibles The Worlds Most Collectible Clown
Emmett Kelly, Jr 'The World's Most Famous Clown' has become a classic images of Americana. Born in 1923 into a Circus family Emmett was always destined to perform but it was not until 1960 that he answered the Circus call and began performing as 'Weary Willie', the lovable mime character his father Emmett Kelly, Sr had played all his life.
Pictured Emmett Kelly, Jr In 1964 Emmett Kelly Jr shot to fame when he was employed by Eastman Kodak at their Pavilion at the World's Fair and he became one of the top attractions during the Fair's two year run.
After the Fair Emmett Kelly, Jr became a touring Ambassador of Goodwill for them. This relationship lasted for over four years during which Emmett visited thousands of towns and hospitals. During these years Emmett Kelly , Jr. became America's most photographed and recognized clown.
Emmett Kelly, Jr. continues to perform in public appearances nationwide and helps promote various lines of merchandise and collectibles, which bear his name and likeness. Green Stuff Licensing is the exclusive licensing arm of Emmett Kelly, Jr.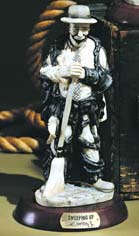 The licensing of his products was almost prior to 1980. Green Stuff were careful in selecting its first major licensee because its marketing strategy is not to have fad-type licensing. A line of ceramic figurines was developed with Flambro and through a well-planned merchandising program, the Emmett Kelly, Jr. figurine collection became the third best seller in America
according to Giftware News.
Pitured Emmett Kelly Sweeping Up by Flambro
The recently released "Nostalgia Collection" by Flambro is a recreation of original designs from 1980. Additionally, "Nature's Palette" is a wondrously colorful range of decorative porcelains in five different motifs from an English artist.

Pitured Sculpture Route 66 in Arizona by Ron Lee
Other companies producing merchandise and collectibles include Suns Out, Bachman Trains, and figurines by sculptor Ron Lee.


Pictured Bachman Emmett Kelly Train Set
Flambro also run the Emmett Kelly, Jr Collectors Club e-club which produces a newsletter which has over 4000 members providing information, news and special offers. 
NOTICE – This site is not affiliated or associated in any way with Emmett Kelly, Jr.
The purpose of these pages is to provide information to collectors of Emmett Kelly, Jr Collectibles.